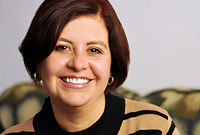 Lynne - A Very Satisfied
I have purchased short term memberships and used your website many times in the past, whenever I've been considering making a change to my style. Being able to try on various styles really does help in the decision process so what a great service you provide. And... it can be quite a bit of fun too. I have recommended The Hairstyler.com to family and friends before, but after such excellent service, will be sure to give even higher praise in the future. Thank you again!


Lucy
Really enjoyed your website. Found it very easy to use and heaps of choice and advice. Well done!


Kathy
It actually works pretty good with uploading a picture, etc. I'm impressed with that. It really is a great concept...I congratulate you on that!


A Really Happy Customer - USA
This website REALLY, REALLY helped me choose and be HAPPY with a hairstyle for myself and my husband. I took photos to my hairstylist and they FINALLY were able to give me EXACTLY what I wanted. PLUS, I realized that darkening my hair was a far better option for my skin tone. THIS REALLY MADE ME VERY HAPPY. THANK YOU!


Kylie - UK
I've had long straight hair for more than 20 years and this website gave me the confidence to go for a complete change. Thanks.


Shelly - USA
I have wanted a change for a long time and this website had everything I needed. The ultimate experience was having the "how to style" segment.


Crystal - USA
I love this site! It's awesome that I could upload my own photo. It also has great instructions; it's easy to navigate and has super editing options!


Charlotte - USA
Your virtual hairstyler option is totally awesome! I uploaded my own photo and played with different styles at my leisure. I have very naturally curly hair and getting a new style is always frightening since I'm not into looking like a poodle. Thanks so much!


Anna - UK
Your site is absolutely fabulous! I have chosen a hairstyle and am waiting for the appointment! I can't thank you enough. Even the tips on styling are making a huge difference to the appearance of my hair. Many, many thanks.


Erin - USA
I just wanted to say, first of all, that this program is amazing! I was very skeptical at first, now I am a true believer in this thing! I will recommend it to all of my friends, and their friends too, for that matter! Thank you, thank you. Secondly, without this program, I don't think that I could have even begun to make a decision based on my hair. It's only hair but it's a big deal, and you at TheHairStyler.com understand that. Thank you. I'm very, very satisfied.


Shanee - USA
I just wanted to comment on how your celebrity section is a wealth of suggestions for hairstyles. Thank you for making it available to all! And thank you for keeping it up-to-date, quite helpful!


Michelle - Beaumont, USA
I had been wanting to cut my hair short for several months, but feared that I'd end up with something I wouldn't like. By using this site, I was able to put together a series of looks that helped my hairdresser and I come up with the perfect 'do. Thanks!


A Very Happy Customer - Tybee Island, Georgia USA
I just want you to know that I have been so extremely happy with my new hair cut. It is the age old story... I have had long hair for about 15 years. I decided that on my 60th birthday that I was going to get a daring new 'do. I used your website and picked out a short style. It was so helpful to be able to see the different hair cuts on "me." Thanks to your service I just LOVE my haircut. I wish I had had it cut this way 30 years ago. I have shared your website with all my friends and my hairdresser. Thanks to the MAX.


Vicki - USA
I think your website is great. It really opened my eyes to what hairstyles I should have and the ones I shouldn't!


Anne from Chester (MD) - USA
I took a couple of my favorites with me to the hairdresser and I really, really like my haircut! In 3 years I have not been able to get the kind of cut that I wanted, but your website really helped me explain what I was looking for and the pictures I took in were helpful. So, thanks a lot! It is amazing how much better you feel when your hair looks right!


Denyse - New Zealand
I want to thank TheHairStyler for help for my hair for my daughter's wedding last month. I really appreciated the extra styles that you advised me on, especially for the mother of the bride. I had lots of lovely comments on the day about how I looked and how my hair was done. Thank you for your help.


Callie from Salem (MA) - USA
I have spent way too much time today playing with all the hairstyles. For the first time in my life I will walk in to the salon and know exactly what I want. Thanks!


Cathy from New Jersey - USA
Excellent service which I will be telling my friends (and hairdresser) about! Particularly useful when looking for a change of hairstyle or help in explaining to your hairdresser what you want. You never seem to find the right hairstyle in magazines. I reckon every salon should use your services!


Betty - New Zealand
Had great fun trying different looks and colours. This website has been really helpful... I have sucessfully gone from dying my hair black to blonde. I wouldn't have done it without being able to get an idea of how I would look first... Thanks! :)


Melissa from Redmond (WA) - USA
This is GREAT!!! I found the perfect hairstyle for me and almost made a HUGE mistake on a cut that was horrible for my face. Thank you a million times over!


Amy from Atlanta (GA) - USA
I had long hair... I registered onto your website. I found some short cute hairstyles that I loved and I printed them and took them to my hairstylist. We were able to talk and see what I really wanted and suited me. The end result?... I LOVE my hair. This website is great! Sincerely, Amy.


Susan from Sydney (NSW) - Australia
This is an excellent site. Extrememly informative and tons of hairstyles to choose from. I am getting my hair cut and styled tomorrow and I was worried I would come out with something I wasn't sure of. Thanks to your site, not only do I know how I will look, but I have so many hairstyles to choose from. It's great! Thank you.


Monica from Miami (FL) - USA
This is just the best thing on the internet in hairstyling I've ever seen! I could really visualize myself with many hairstyles!


Peter from New Knoxville (OH) - USA
This website is great! It really helped me pick a style best suited for me.


Jodie from Scottsdale (AZ) - USA
I had really long hair and have had long hair for 20 years and this site helped me decide to change it. I would never have taken the risk without seeing it first. Thank you so much!


Anne from Deltona (FL) - USA
I am really enjoying using the site. I am interested in getting a new hairstyle for summer and am always afraid to get a major cut. You never know how it will turn out... until now.


Laura from Mexico City - Mexico
Fabulous website! I have had so much fun today here in Mexico (instead of working, I have decided on options for a new change .... oh well, still very important!). My hair is very dark. I am considering something like doing foiling. The Yasmine Bleeth example probably does a fine job of illustrating this to me. Thanks a bunch for your great work!


Michelle from London - United Kingdom
I am enjoying using the website a lot. It is great to be able to get an idea what my hairstyle will look like without taking the plunge. I also learned more in 5 minutes what looks right and why than I have in many years of trying different hairstyles. Thanks for a great site!


Jenny - England
Thank You. I have been on your website for over an hour and a half now, enjoying the many ways I can style and color my hair. I will recommend this program to all my hairdresser friends and salon owners alike.


Kim from Houston, Texas - USA
I appreciate the time you took to help me out. I am suggesting your website to others at the office because I think your software program is great.


Becky from Kansas City (MO) - USA
Thank you! I for the first time went "shorter" and I love it. If it had not been for this, I would not feel so comfortable with my hair for the first time in many years!!!


Diane from Nobel (LA) - USA
I am having so much fun, trying on all the hairdos and different colors. Thank you so much for this site. I love it.


Misty - USA
I will start by saying that your response time was impressive. Furthermore, the fact that YOU took your own time to alter the format of my photo was great added service. I have had a fabulous time so far with the program.


Sarah from Sydney - Australia
Thank you so much for coming up with a quick and easy solution to my problem and also, thank you for responding back so quickly! I greatly appreciate it.


Judy from Front Royal (VA) - USA
I printed off a few styles and took them with me to my hairdresser and she said that was a good idea to bring them in. Sometimes you can not explain how you want your hair. Thank you very much for your site, it has really come in handy and I'm telling everyone about it.


Crystal from Gloversville (NY) - USA
I don't think I will ever cut my hair again without first consulting this program. For the first time, I went to a hair stylist and left fully satisfied and happy with my new hairstyle and cut. Also I was able to go shorter than I've gone before because I was able to see how it looked, therefore giving me the courage to do it :) I have had so many compliments about my new haircut, and my husband doesn't usually like short haircuts and he LOVES IT. I am very satisfied with this program.


Annette from Churchville (PA) - USA
I just joined your site today and I think it is a GREAT site. I am in the process of growing my hair from a very short haircut and am not sure where I want to go, but I know I want it longer. Your website is giving me the ability and MANY CHOICES to help me determine what I like and in what direction I want to go. I just wanted to say THANKS for helping me out and GREAT SITE!!!! KUDOS to you site!!