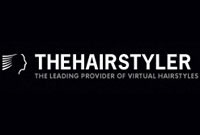 Who are We?
TheHairStyler.com has been a leading provider of online computer hair imaging since December 2000. We sit atop an extensive website packed with information about hair and buzzing with a hairstyle obsessed social network. With over 20 million yearly visitors, TheHairStyler.com has become the primary source for everything to do with hairstyling and beauty.
What Do We Do?
We've got the biggest and most realistic virtual hairstyler. Manipulate virtual hairstyles on bigger and better images of yourself, try on some authentic hair colors and highlights and complete the picture with a little makeup. Our wizard-style tips will effortlessly guide you through the process.
We've got an extensive hairstyle database. It contains over 11,000 hairstyles, 50 colors and 35 highlights: everything from the absolute latest celebrity hairstyles to classic hairstyles worn by movie stars of the past, as well as a big range of hairdos from salons around the world.
We've got up-to-date news and opinions. Our dedicated team of writers make sure all our users enjoy a regular flow of entertaining and informative feature articles. We write everything about hairstyles and celebrities, as well as fashion forecasts, tips and daily blogs.
We've got leading expert opinion. Check out our simple question-and-answer based hairstyle consultations, and while you try on a hairstyle read about its suitability for your face shape, hair type and texture. There's easy to follow styling tips too.
How Can You Get Involved?
There are some great opportunities for collaboration with TheHairStyler.com. If you're a stylist one of the easiest things you can do is become a member and add your salon to our database. Other opportunities include joining TheHairStyler.com's affiliate program or incorporating our Virtual Hairstyler into your website- either as an API or custom built.
More Information?
For more information take a look at TheHairStyler.com's media kit and style guide. The media kit contains further information about what we do as well as some demographic information about our website traffic. The style guide is intended to assist designers by providing a visual guide for using TheHairStyler.com logo.
Alternatively please email: media@thehairstyler.com.
Thinking of Advertising with us? Please email: sales@thehairstyler.com