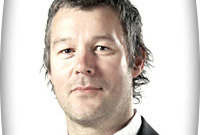 The Hair Stylist
Steve Rowbottom is one of the hairdressing industry's hottest talent.
This very creative hair genius was the mastermind in creating the hair looks for GHD as the brand flourished under his artistic leadership, becoming a regular session stylist backstage at London Fashion Week Shows for the likes of Frost French and Matthew Williamson.
Steve left GHD last year to take up a position as European Creative Director for Hempz haircare, and to become a key L'Oreal Artist in their prestigious Portfolio of Hairdressers. As part of this role, Steve has been teaching for L'Oreal, as well as producing the imagery for their latest advertorial campaigns in Vogue and Elle. 
A brilliant session stylist, he heads up West Row's own Art Team producing shows both nationally and locally, including the likes of Leeds' Graduate Fashion Show. Steve has been nominated 3 times in the British Hairdressing Awards, and enjoyed various finalist spots for the British Hairdressing Business Awards and HAIR Magazine Consumer Awards. 
The Salon
Established in 1986 by hairdressers Marc Westerman and Steve Rowbottom, West Row now boasts seven salons and employs more than 80 staff, priding itself on maintaining the same high standards as the company grows in both size and reputation.
West Row is the leading hairdressing name in the North, and is constantly in demand with celebrities, film and TV producers as well as major product companies within the hairdressing industry.
Achievements:
West Row Hairdressing has pulled off an incredible triple awards nomination for 2007, cementing their position as Yorkshire's leading salon group. Led by Directors Marc Westerman and Steve Rowbottom.
These A list salons boast an enormous amount of awards and prides them self of always being on top of the hairdressing industry. Recent West Row awards include:
2007 - Finalist (winner tba) - Best Local Salon - HAIR Magazine Awards
2007 - Finalist (winner tba) - Salon of the Year - BHBA
2007 - Winner of Northern Region Category (Nicola Hulett) - L'Oreal Colour Trophy (UK Finalist)
2006 - Winner of Hair Extensions Length Award (Anne-Marie Atkinson) in the HJ Creative Competition
2006 - Winner of Northern Region Category (Nicola Hulett) - Wella Trend Vision Award (UK Finalist)
Fashion forecast from Steve Rowbottom:
"The bob will still be strong for autumn and winter with the emphasis on quality and finish. Strong square eye skimming fringes, geometric shapes and jaw length cuts are key. One color, unfussy looks with lots of shine, or shadow coloring with discrete glamorous shades are gorgeous - think luxury foods such as rich chocolates for color in hidden panels."
"Longer hair will be influenced by 1940's glamour using Marcel waving again, and will be all about sleek and shiny elegance."
"Men's styles are back to short hair, with sharper, more gentlemanly looks. Everything will be clean with low partings or no partings - think very grown up with cooler colors.
"Curls are huge for autumn winter- natural or styled. A sexy aureole of shining curls will give you instant sex appeal and guaranteed red-carpet glamour."
Hair Tips - Curls from Nicola Hulatt, Assistant Art Director, West Row Hairdressing:
Curly hair is completely different from straight hair. Its structure is different and its needs are different. Moisture is the key to keeping natural curls healthy. Kerastase offer a brilliant oleo curl range from cleanse to condition to styling.
 
If you aren't blessed with natural curls then I strongly recommend faking it! It's a big trend so use rollers to get the glamorous looks of the season. The larger the roller, the looser the curl. So for tight spirals, get the smallest rollers; for loose curls, choose mid-size rollers; and for large waves, go with big rollers.
 
Don't brush your curls; otherwise you'll end up with a frizzy mess. Instead, use your fingers to break up curls add smoothing products like gloss wax to give shine and definition.