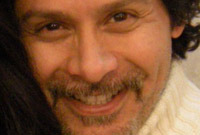 John-Francis Maseda started his career at Sebastian, but considers his real start at the Chris McMillan salon. He assisted Chris when he first opened up his salon for 2 years, 11 years ago. Since then, John-Francis has become one of the top stylists at Chris' salon and just recently took a chair at the world renowned "Prive" Salon.

Achievements: Through booking celebrity clients over the years and many photo-shoots, John-Francis' clientele has grown and he even made the "Allure" best of issue listed as someone that A-Lister's adore! John-Francis is also a consistent contributor to In-Style magazine's best beauty buy's and tips!

Hairstyling Tips: An easy way to get body, wave and movement in straight hair is to put a light weight mousse in your hair after cleansing and to create a very loose braid and let dry. "This is one of my favorite looks that is easy to do".

With a bit of light serum, hairspray and a few Bobbi pins, you can do a quick, hassle free updo in a matter of seconds. You can also make it casual or chic...once you find the shape you like!

Lastly, I love a well groomed ponytail. A pony is fast, effective and suits all types of occasions, from casual to chic! I either like a pony pulled straight back at eye level or a low ponytail.