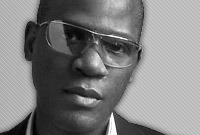 "What do you want to be when you grow up?" I've already started asking my nephew this question. The problem is, he can't talk yet - or walk, or really even look at me without making me feel invisible. Knowing what you want to be when you grow up is tough for most of us, and the reality is (if you're even just a bit like me), you chop and change and end up finding yourself in the most unlikely place. But that's not the case for Masters. I mean, Masters of their domain. You know: talented, creative types who have totally excelled in something (a sport, a skill, or maybe politics).
What strikes me as the main thing setting me apart (so vastly) from masters - like Nicky Hayden, Paul McCartney, George W. Bush - is the fact that they always knew what they wanted to be when they grew up. And, in interviews, they've always got a little anecdote, something like: "I remember when I was a kid . . . I could hardly walk, but I always had a guitar in my hands - you know, I used to strum and strum . . . and the joy I got from it, oh it's like it was yesterday." These anecdotes, for me, are a painful reminder of my own averageness. I might start forcing a guitar into the pliable hands of my nephew.
Errol Douglas, a hairstylist from London, is a Master. No doubt. And anecdotes abound (rightfully so). Errol was the shy young age of eleven-years-old when he realized his dream of working in hairdressing. Eleven years old! Soon after his epiphany, he took his first job at a local hair salon in East London. Now, more than twenty-eight years later, he's a big noise in British hairdressing: he's got a cutting-edge salon in London's Belgravia Village; his styling is hailed as a fusion of European and Afro trends; he's been on TV (more than once); he's styled for the stars; and what else . . . oh yeah, he just received an MBE from the Queen.
It seems Errol's passion for his profession is reflected in his relentless pursuit of accolades. Competing is clearly a way for him to nurture and hone his knowledge and experience. He's been nominated eleven times for British Hairdresser of the Year at the British Hairdressing Awards, and he's won the Afro Hairdresser of the Year category three times. At the Black Beauty/Wahl Awards he also won the Afro stylist of the year. He's won the British Master Award, the AIPP Grand Trophy, and the NHF Celebrity Hairdresser of the Year Award (to name only a few).
So there's a vision (since infancy) that sets Masters like Errol apart from the pack, and there's a sustained drive too. But also, amongst all this individual pursuit, is a selflessness - a selflessness, I think, that marks a Master's genuine commitment to their domain. Most recently Errol was presented what some might consider the most prestigious award of all: an MBE from the Queen at Buckingham Palace. Of this achievement, Errol's reflections are telling: "It's an amazing honor," he said, "but I've received it for my industry, not for me personally. It gives inspiration to young hairdressers . . .
"What do all these achievements amount to? A trendy salon, expensive cuts? Sure, your average punter can go along to Errol's London salon (through the salon you can even arrange a chauffeur to pick you up) and throw down quite a few quid to relax in the "gallery-style" salon while getting their hair trimmed. There are more than forty staff on hand, and more than thirty styling stations. But that's not to say quality comes in second to quantity at Errol's boutique salon: eye catching antique furniture abounds and there are also panelled ceiling-to-floor windows.
What else? Smoothies of course. Alongside the exhaustive professional services offered by Errol and his staff (there's a nail technician, a masseur, an exclusive jewellery range, express styling options for those who've left their limo running outside-and a VIP entrance) is an in-house catering service. Apparently, the smoothies they make are delicious. Errol's clearly operating in a completely different league than most salons - my local "boutique" salon, for example, offers me a lukewarm beer from a measly bar frig; or if I'm really lucky, a pint-sized latte from a nasty little instant machine next to the register. Luxury.
All the perks at Errol's are great, and it's fantastic he's set up such a beautiful salon to make his clients feel so pampered and special. But for me Errol's dedication to hairdressing and success in the industry amounts to so much more. He's played a huge role creating a strong foundation for expertise and creativity in hairdressing, paving the way for further innovation in hairstyling. Errol says his central aim is to make all women look beautiful. He's done heaps of cutting-edge and highly creative catwalk styles and competitions, but his personal maxim means he hasn't lost sight of the mainstream either. In many ways it seems clear to me that Errol (at the back of his mind) uses his creative experimentation as a training ground to get his expertise as polished and shiny as possible - to broaden his palette - so that at the end of the day he can tackle anyone's hair, anytime (in between smoothies?) and make them truly look their best. Errol is a master.
Now, if most of you compared yourselves to Errol, then he'd make you feel a little dull. But that's only in terms of the strength of his vision and his exceptional achievements. I'm quite positive that if you were to visit Errol's London salon, make an appointment and sample his services, he'd make the most of what you've got and make you feel great - and that goes for exceptionally average guys like me too.