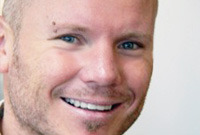 Loots is a native of South Africa and is passionate about the creative art and business of hair. Part of his far reaching hair enterprise, Studio DNA, includes three chic salons and a unique program for continued education opportunity for new stylists. Loots works primarily in Los Angeles and New York and is a go-to hair stylist for film, TV, and the red carpet.  Aubrey is proud of his association with Wella Beauty and is honored as one of the Wella's Top Artists.  Wella chooses only 25 professionals for this prestigious honor and Aubrey has been on this list for 7 consecutive years.  In this capacity he serves as an international ambassador and educator for the brand, which involves teaching color, techniques, and trends.
In his younger years Aubrey visited Los Angeles and always knew he wanted to live there. At 16, he enrolled in the prestigious Beauty Academy in South Africa, while finishing high school and working in a salon on weekends. After graduation and a period of intense apprenticeship, he did relocate to LA and worked with Carlton Hair for seven years. His entrepreneurial mindset was awakened by a chance meeting with his potential business partner Daniel LeClair. LeClair's family ran salons in Canada and while the creative art of hair was not his interest, the business side certainly was. Studio DNA (simply Daniel And Aubrey) was born in a chic area of Santa Monica and still thrives. A second location opened on West Hollywood's Beverly Boulevard and now serves as a salon and academy for stylists who have recently received their cosmetology license.
At Studio DNA/Hair Art Science Academy they have initiated a system of welcoming new stylists and providing them expert advance training and hands on experience at the school and in other prestigious salons in the Los Angeles area. The newest Studio DNA location opened March 2013 on trendy La Brea Avenue. The partners expertly execute their own interior design in this open architectural space accented with salvaged, oversized wooden doors from Maine. Every aspect of the salon is functional, resourceful, repurposed, and elegant.
Aubrey splits his time in the salon, runway, tv studios, red carpet events, and at personal and editorial photo shoots. Aubrey says "Doing makeovers is my passion. I love to help with the transformation of my lovely clients inside and out! I feel a deep connection with everyone who sits in my chair and I share their history, their goals, and their joy."
Next he returns as head hair stylist for the second season of ABC's "The Taste" and continues his many treks to New York's Fashion Week to create the hairstyles that compliment the newest fashions on the catwalk. "They call me the 'Zen Master' of backstage because I keep my cool. I like being real, grounded, and positive. It's simple: do good work with good people."
Aubrey and the Studio DNA group have developed the new non-profit NOVA/FORMA, which translates as new shape/form, to empower women who have been abused. The Studio DNA team visits shelters to counsel women and their families and give them the "makeover" look to "makeover" their lives. We all know looking good is feeling good. Confidence is success. Studio DNA provides some of the tools and creativity to help women on the journey to becoming themselves.
Aubrey Loots recently created a knockout "twisty chignon" for actress Lauren Bowles at the season six premiere of True Blood.

 
Information
-Studio DNA-Â 
151 S. La Brea Ave. Los Angeles, CA 90036Â 
323-930-0700
 
-Studio DNA -Â 
902 Broadway, Santa Monica, CA 90401Â 
310-451-3200
-Hair Art and Science Academy 
7218 Beverly Blvd, Los Angeles, CA 90036Â 
323-634-1900
 
Some of Aubrey's favorite runway looks - from New York and LA Fashion Weeks