Uber cool screenwriter, director, producer and actress Sofia Coppola is one lady who has her own unique look and sense of style. Men and women alike are desperate to copy her effortlessly cool style and of course, it doesn't hurt that she is extremely talented as well. Sofia has very strong features and is famous for her imperfect nose and bee-stung lips, in addition to her delicate feminine sense of style. Designer Marc Jacobs once said of her, "Young and sweet and innocent and beautiful. The epitome of this girl I fantasize of." Sofia Coppola isn't only his muse however; she is a favourite on the red carpet and always looks so chic, even when running errands in her native New York, making her a style icon for women all over the world. If you love Coppola's style, check out these ways to copy her look.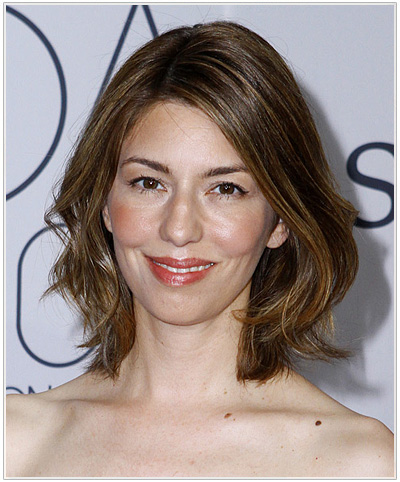 Sofia did have a period of wearing her hair very long years ago, but is usually seen sporting a 'messy' bob that looks great with her face and matches her fashion sense as well. If you like this effortless look, have your stylist cut your hair into a shoulder-skimming bob with layers cut into the ends. Add some sun-kissed highlights as well to get Sofia's subtly-enhanced color. To style, use a large round brush to first add volume to the roots when blow-drying, and then twist the ends around the barrel to create a slight wave. Mix up the direction in which you twist your hair so it has some interesting dimension at the ends.
Makeup-wise, it doesn't hurt that Sofia has amazing bone structure and can pull off any makeup look with ease. But us mere mortals can try to pull off this look too and make it work to the best of our ability using what we've got! Start with a clean, fresh base like Sofia's- try using a mineral-based light-reflecting foundation. Then, use a rustic bronze shade of eye shadow and blush. Sofia's looks like a cream formula that has a bit of sheen and gives a fresh rosy glow, so try that instead of powder. Finish the eyes off with a bit of brown eyeliner and mascara, and highlight your lips with warm sienna shade of lippie.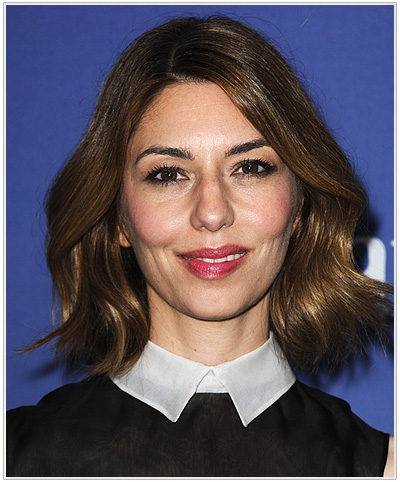 For an evening look, a la Coppola, use black eyeliner on both the top and bottom lash lines and a heavy duty mascara- Sofia's a fan of Clinique Lash Power. Try a rosy blush on the cheeks and finish it off with a stunning berry or red lipstick. Her favourites are the Nars lippies Dolce Vita, Fire Down Below and Scarlet Empress, so take your pick! To get this hairstyle, simply blow out your bob and wrap large sections around a 2-inch curling wand. Don't separate the curls this time—instead spray them into place for a polished look.
And don't forget about the fashion! Sofia goes for simple, girlie styles like baby doll dresses and loves to dress in black and white. Whatever you wear, make sure it has an arty vibe to it to really pull off the Sofia Coppola look.