Sarah Jessica Parker is an actress whose look is one of a kind. Her facial features are completely unique. From her small, icy blue eyes to her prominent nose, SJP oozes a different kind of beauty that is a breath of fresh air when compared to all of those Hollywood clones!

Sarah's look has the X factor and she knows how to work it, especially when it comes to her hair. Before, Sarah was known for her wild, curly blonde mane, but these days she has transformed her locks into a sleek and sophisticated style. Her makeup has always remained quite neutral over the years but SJP will go for a powerful eye or lip on occasion. We love the fact that she doesn't care about the "rules" of makeup—even though she has small, close set eyes she goes heavy on the eyeliner (usually, a no-no for this eye type), but she has made it her own and continues to work this look on the red carpet.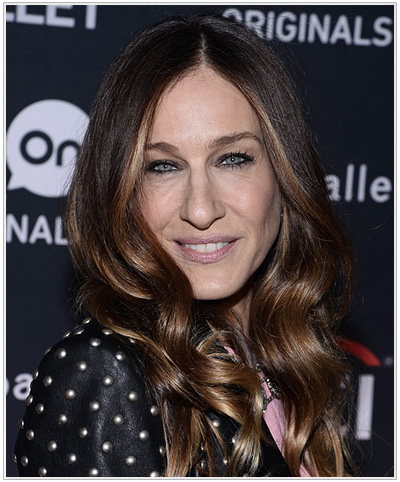 But before we get too deep into the SJP signature makeup look, first let's discuss her gorgeous new hairdo. Although she has been wearing this style for a long, long time, she keeps it looking trendy by playing with the color, parting and texture.

Formerly, SJP was flaunting a similar hairstyle—the centre parting, long length and soft curls were her trademark look. This is a fantastic style for her long face shape and it makes the most of her hair's natural texture. Her ombre hair color was copied by nearly everyone (Can her SATC Carrie Bradshaw character take the credit for making dark roots cool?), so it's no wonder that she went for a dramatic hair color change, even if the blonde did look fantastic on her.

Now, SJP has gone back to her roots and then some, with a deep espresso brown base. Warm brown highlights were added using the balayage method (where the color is painted on freehand, rather than put into foils) to give her peek-a-boo color on the under layers. This is a great color technique for ladies who hate having roots showing but still want some warmth around their face.

The hairstyle is similar to her classic style, but this time around, Sarah is going for a smoother, sleeker finish and more uniform curls. Instead of using her natural texture, it looks like she is opting for a straight blow-dry first, followed by waves created from a curling wand. This styling method gives a more polished look and really shows off the sheen of her dark hair. On a side note, if you want to amp up the gloss of your locks, try using organic rosehip oil as a weekly treatment. This is said to be a favourite product of SJP's for both the hair and skin.

Now, SJP has admitted to being useless at doing her makeup, which may explain why she prefers simple looks. Here, she has gone for a fully lined eye (in black, if you couldn't tell!) and loads of mascara. Apparently, she can't get enough of Benefit mascara, so check out that line if you want to try something new. On her lips and cheeks, a soft pastel pink shade is all SJP needs to look glam, whether it's as a blonde or brunette.

Although not everyone can pull off SJP's updated hairstyle and makeup, we can all take a style tip from her: keep it simple to let your natural, unique beauty shine through.