You can't deny that television presenter Maria Menounos is a true beauty, but she also has brains—and brawn! Yes, you read correctly. This former beauty queen is a regular on the pro wrestling circuit as well as a television personality. It's obvious that Maria likes to keep in shape, but rather than go for the athletic look she always keeps herself looking polished and glamorous. With a great head of hair, large expressive features and flawless olive skin, we can take more than a few hair and makeup tips from Maria. Thanks to her Greek background, Maria has an olive complexion, so her hair colour and makeup palettes will work best on those who have similar colouring.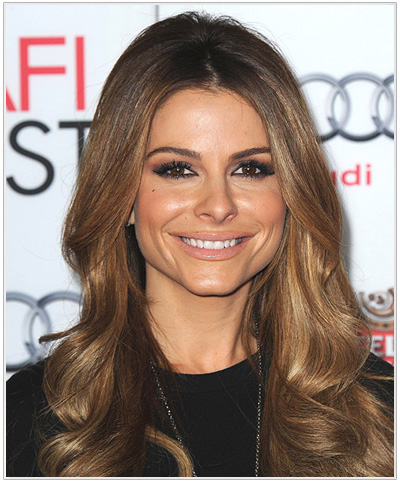 The Hairstyle – Great for Heart Shaped Faces
In this recent photo, Maria has made the most of her long locks by adding soft waves throughout. Although she has a heart-shaped face, her jawline and chin are quite square which means that she will benefit from hairstyles that have added softness. The long layers throughout the haircut also work to soften up Maria's face and frame her gorgeous cheekbones nicely.

If you want to copy this hairstyle, just follow these simple steps:
- Start by adding a root booster or mousse to the roots of your towel-dried hair.
- Blow-dry the hair and concentrate on adding volume to the roots by first drying the hair with your head upside down. Then go over each section with your head right side up using a large round brush, first drying the roots in an upward motion and then the rest of the hair down and under for a sleek finish.
- Using sections starting from the bottom and working your way up, create ringlets with a curling iron or wand. Spray each section with hairspray after it has been curled.
- Once the hair has been set, use your hands to apply a small amount of lightweight styling cream or shine oil throughout your hair, softening the curls. To loosen them even further, use a paddle brush to brush through the hair.

For an extra dash of style, create a lift in the crown like Maria for a retro Sixties vibe!

The Hair Colour- Best for Warm Complexions
Maria has naturally dark brown hair which suits her olive complexion. But her dark blonde and light brown highlights really enhance her complexion without washing her out. Ladies with olive skin can sometimes look 'green' when their highlights are too blonde or ashy, but Maria has nailed the colour here. Take this photo with you to the salon if you want to get the best blonde highlights for olive complexions.

The Makeup - Perfect for Olive Skin
Maria's makeup here consists of the classic dark brown smoky eye and nude lips. If you have olive skin, use the same palette of rich chocolate brown on the eyes and warm beige on the cheeks and lips. To make sure your nude lips don't look too 'chalky', add a dab of tinted lip-gloss on top to give a subtle pop of colour.

Here is a list of Maria's favourite beauty products from a recent interview in Allure:
- ColorScience Primer- She loves that it's mineral-based and prevents breakouts
- L'Oreal Voluminous mascara
- Stila eye shadow in various grey shades
- Cargo blush in hot pink for dramatic looks and MAC coral cream blush for a more casual look

If you want to copy her flawless look, you may want to try these products out too!