We're used to hearing about the popular face shapes such as round, oval and square, but the less common triangular face shape is often overlooked. This may not be the case anymore though, as actress and singer Lucy Hale is flying the flag for triangular face shapes everywhere! To check if you have a triangular shape, pull your hair back and look at the outline of your face. Triangles have a prominent jawline that is wider than the forehead and temple area.
Just like square and round faces, the triangular face shape (also known as a pear face shape) usually retains a youthful look well into old age, which is just one benefit of this shape.
On the other hand, like all face shapes, triangles also have their problem areas to deal with. In this case, a prominent jawline is the number one issue that pear/triangle faces have. If this applies to you, check out Lucy Hale's hairstyles below to get some ideas on how to make the most of your face shape and minimize those problem areas.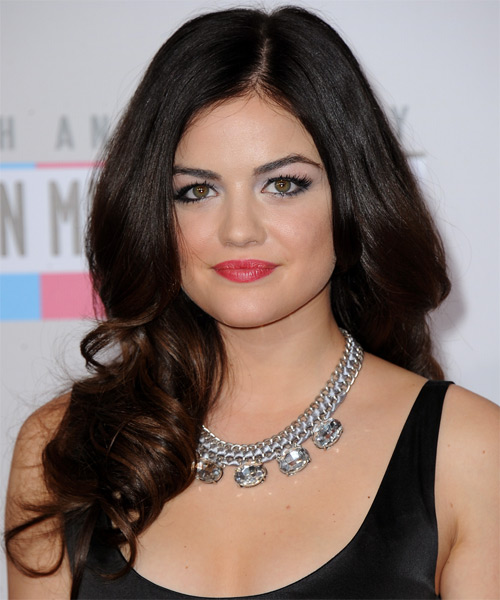 Here, Lucy is looking amazing in a sleek and elegant long hairstyle. Long hair is great for triangle shapes as long as it has lots of layering around the face for contouring and camouflaging a strong jaw line. Curls also work wonders for this too, as you can see here with Lucy's long bouncy ringlets. To get this look, start with a high volume blow out to make the hair sleek and smooth. Then set the hair in large rollers or use a curling iron to make big bouncy curls. A little styling spray will finish off this hairstyle and keep it looking glam all night.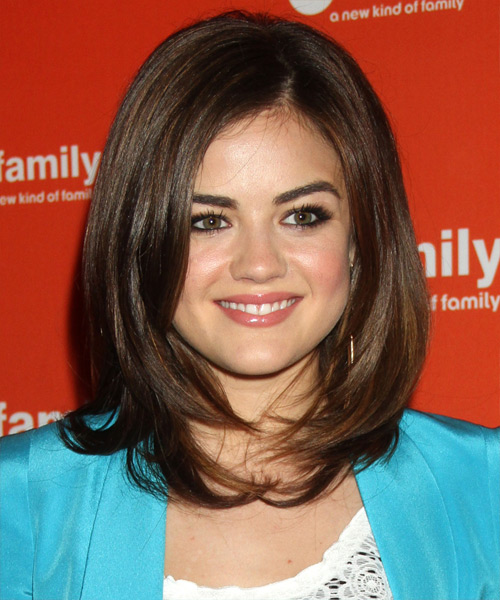 For ladies with a triangular face shape who prefer shorter 'dos, check out this layered bob that is working wonders for Lucy. This simple and sleek hairstyle is heavily layered around the jawline to create a more heart or oval shape to the face and balance out the proportions, while the sleek texture minimizes extra width in the jawline. This hairstyle is a great look for professional women that has the added advantage of being versatile - wear it up or down depending on your mood!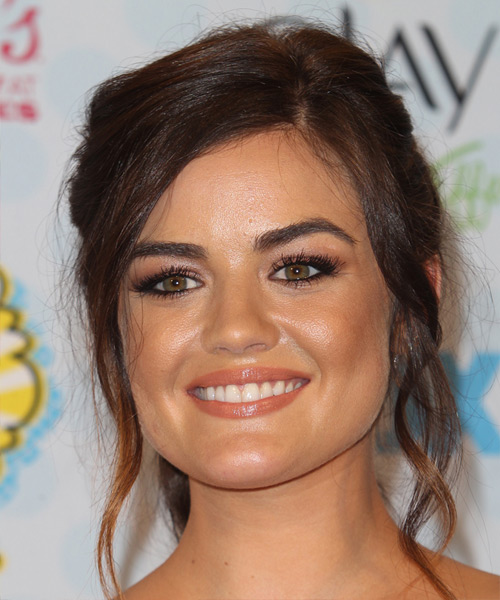 And if you're in the mood for an up-do, check out this gorgeous wavy hairstyle. Lucy is wearing her long hair in an elegant twist, with some curled tendrils left out for added softness around the face. She has kept a small side part in the front which is a great style tip for triangles to follow- always maintain a deep side part if possible and avoid centre parts at all costs!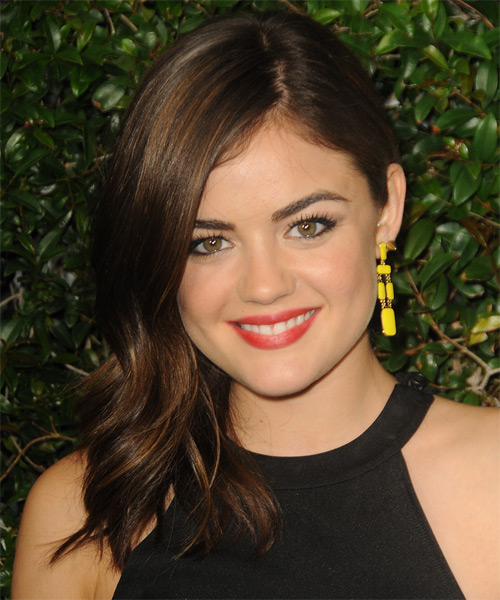 Finally, here is Lucy in a medium length wavy hairstyle that is making the most of her triangular face shape. In addition to a sleek side part, Lucy's glossy mane has been waved using a curling wand and then swept to one side. Asymmetrical hairstyles are perfect for pear faces as they minimize extra width and have a nice slimming effect on the face. This hairstyle can work on any hair length from long to short as long as you have enough length to wrap it and pin it to one side.
As you can see, triangle face shapes look best in long, sleek styles that contour a strong jawline. Don't be afraid to experiment with your hairstyles though because triangles look fabulous in a multitude of styles. To get some more ideas, check out hairstyles for triangular face shapes!