Kim K. enjoyed a brief respite from the spotlight following the birth of baby North, but now she's back- and she's even sporting a new look. Kim has lightened up her locks and has been wearing hairstyles that are softer these days, probably due to the fact that she now has a little lady to look after. In contrast to Kim's usual super-styled hairstyles, her post-baby hair looks more natural and relaxed. Although the new colour looks less natural on Kim (her dark brown hair matches her complexion much better), this hairstyle really works well on her and may just be the start of a lower-maintenance Kim. If you are a fan of Kim and want to copy this look at home, here's how you can do it.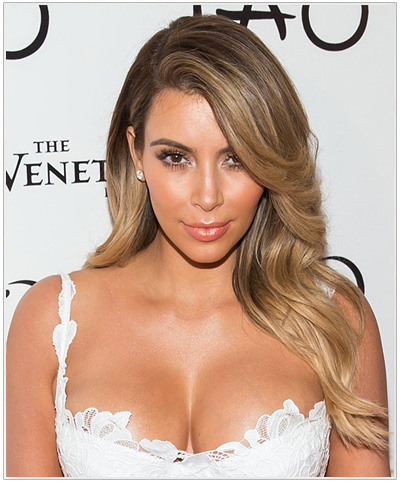 Supplies you will need:
- Mousse or root booster product
- Heat protectant spray or Argan oil
- Hair dryer
- Rollers or curling wand
- Round brush
To style:

This hairstyle will work best on hair that has been washed and towel dried. Kim is a big fan of shampooing her hair every two days, but in this case, not washing your hair before styling it will result in less volume and bounce. Especially if you are going to wear this out for the evening, give your hair a good cleanse and then add your mousse and/or root booster to your towel-dried hair.

Next, you will need to add volume to your hair as you blow-dry it, but first, don't forget to protect your strands from the heat. Use a good heat protectant styling spray or argan oil. Try the much-loved Moroccanoil, as used by the likes of Kim, Beyonce and Taylor Swift. It will only cost you about $15!

Start to dry your hair in sections using a round brush to create lots of volume at the roots and then dry the lengths and ends super sleek. In this look, Kim has added her waves with a curling wand, but you can also create soft curls by using your round brush if you prefer that technique. Note: This will give you more uniform curls, rather than Kim's loose waves.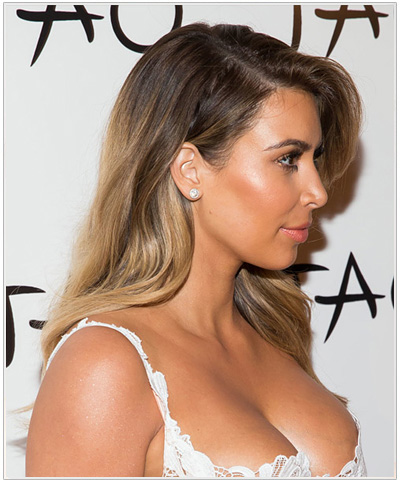 If you prefer to use a curling wand, simply take sections of hair starting from the bottom of your head and work your way to the crown, wrapping each section around the barrel away from the face. This is especially important when you're curling the fringe so you can get Kim's flicked out look as seen here. Tip: don't over curl the hair here, just wrap it around once at the ends to add curl to the bottom of the hair, not the mid-lengths.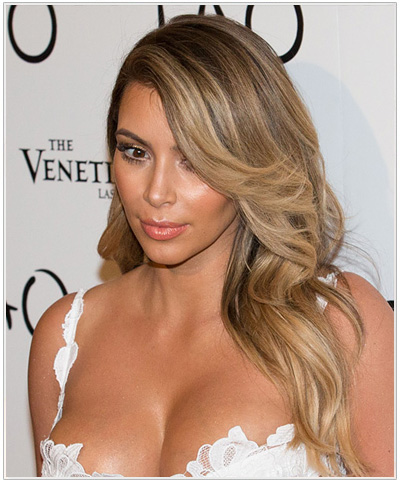 Finally, use hairspray to keep this style in place and hold the waves. Kim has tucked one side behind her ear and worn the other side in font of her shoulder, which creates a seductive, feminine look. Plus, it's a good way to show off a great pair of earrings. You can take this style one step further and sweep it all around to one side of the shoulder and pin into place for another variation. And don't forget to really add the Kim. K effect and wear some bronzer for a sun-kissed glow.