Julianne Hough definitely has the California beach babe look going on. From her tanned skin to her bright blue eyes and icy blonde hair, she has an image that is 100% Hollywood. But rather than going for a sleek and sophisticated hairstyle both on and off the red carpet like most young starlets, she has created a signature look for herself- the perfectly messy bob. So what is a "perfectly" messy bob, you ask? Well, it's one that has the bedhead look without the un-washed, unkempt feel to it. It's styled to look effortless but in reality it does take a bit of work to get it look this good! Here are some of Julianne Hough's best messy bob hairstyle looks for you to try at home: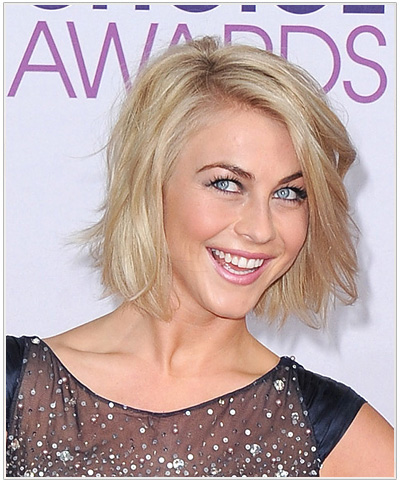 Here, Julianne is wearing a softly-styled version of her messy signature 'do. Her chin-length bob has had soft waves added to it with large rollers before being combed through softly. To add body and bounce, volume was added at the root with a bit of backcombing after styling, and a side part finishes it all off. This isn't a "piecey" hairstyle, but the ends do have a bit of styling product in them to maintain volume and shape. This is a more sophisticated version of her classic style which is perfectly suited for the evening or a red carpet event, and for her soft and feminine makeup palette as seen here.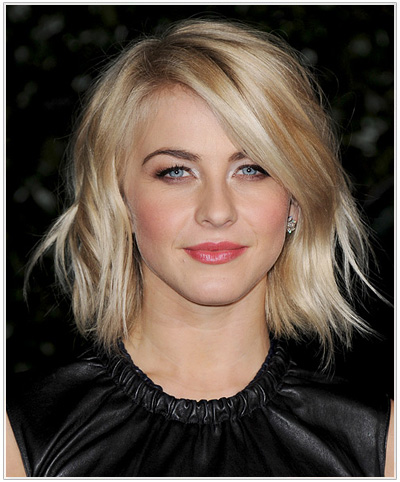 For an edgier version of the messy bob, Julianne has added extra bounce and body by using a high volume mousse to her hair before blow-drying. This gives her that awesome body on the crown and throughout the lengths of the hair. To style, she has used a curling wand with a large barrel of 1.5 to 2 inches. If you want to copy this style, take large sections of your hair and add loose kinky waves randomly around the head by wrapping the section only one and a half times around the barrel. Make sure to wave the middle sections only - this is where you want to texture to be concentrated. When you have added your waves, use a wax or gel to separate the ends and emphasize the waves. Use a strong hold hairspray for this look. Bonus points if you can find a fabulous leather-look dress like the one Julianne is wearing here!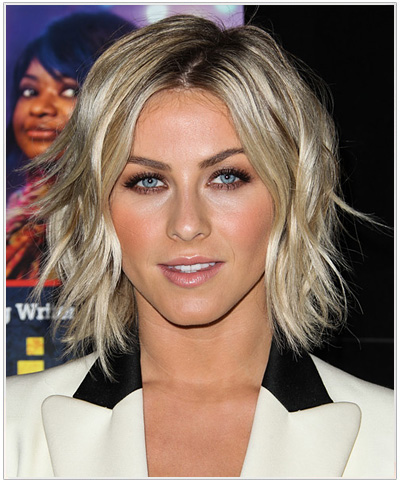 In Julianne's most recent messy bob hairstyle, she has gone for more waves and more texture. To get this look, use a smaller curling wand (1 inch barrel or less) and use smaller sections of hair, starting from the bottom layers and working your way up. Unlike the previous look where waves and straight hair mixed together, for this look you want your whole head covered in loose waves. After you have finished curling it, use a pomade or wax styling product to define each section of hair and then spray into place. Julianne has paired her messy platinum blonde hairstyle with a whole lotta bronzer and dark smoky eye makeup for an exotic look.
As you can see, Julianne's messy bob may look chic and effortless, but it does take a bit of work to look that good! But, it's totally worth it so give a try the next time you feel like flaunting a sexy new hairstyle.