Julianne Hough—singer, actress, dancer, and wearer of fabulous hairstyles. Although this girl is incredibly talented, Julianne has a large following of fans simply because she always has amazing hairstyles on show. Her platinum blonde hair is always styled to perfection and although she keeps her hair short, the style is changing constantly. Julianne is never one to get into a hairstyle rut!
Before we take a deeper look at her hairdos, let's check out what Julianne has to work with. She has a heart shaped face with a well defined chin area that also gives her face some square aspects. So her best looks will cater to heart and/or square shaped faces. The color is usually a light platinum blonde, which looks great with her skin tone and light blue eyes. Ladies with similar features will be able to rock Julianne's 'dos with ease. Now, let's check out her hairstyles for some inspiration!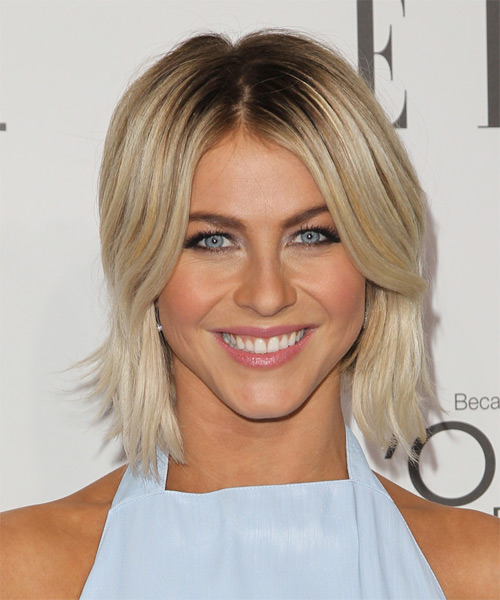 Her latest hairstyle is quite simple and looks great with her face shape. This layered cut features a centre part with a longer fringe that is swept to the side. The ends of Julianne's bob are jagged cut to give it some edge and movement. The choppy, layered look is perfect for a heart shaped face because it adds volume and body right where it is needed. This low maintenance casual 'do can go from day to night and gives a cool, effortless vibe.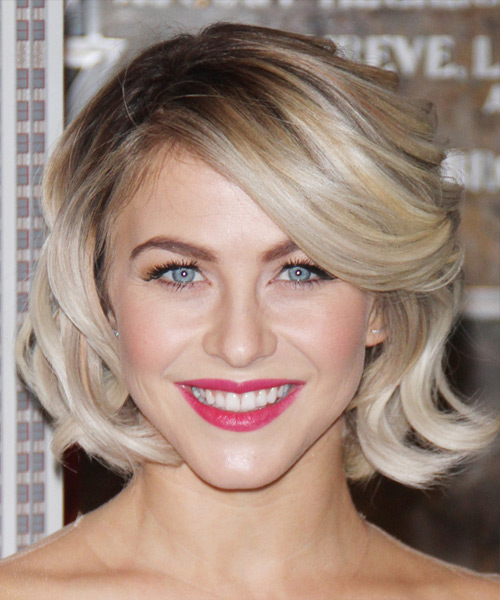 Here, Julianne goes glam with glossy waves and a deep side part. This hairstyle has a bit of a vintage feel to it but of course, still looks modern and chic. To get his look, Julianne has side parted her layered bob and used a curling iron or wand to create waves in her hair, while curling her sideswept fringe off to the side. This is a gorgeous evening look that ladies with shorter haircuts can pull off for an elegant night out.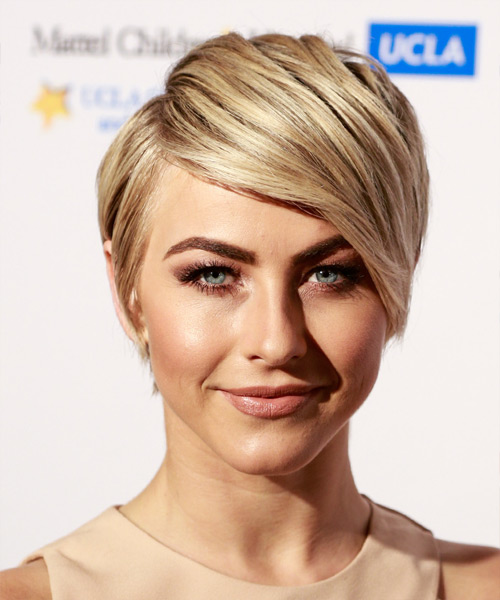 Julianne wasn't immune to the Jennifer Lawrence haircut rage that happened this year, as we can see here. In her version, Julianne went for long layers on top and short tapered hair on the sides and back, which gave her a polished sleek look. This hairstyle is perfect for square and heart shaped faces because the thick side-swept fringe creates a diagonal line that will balance out any excess width or strong jawlines.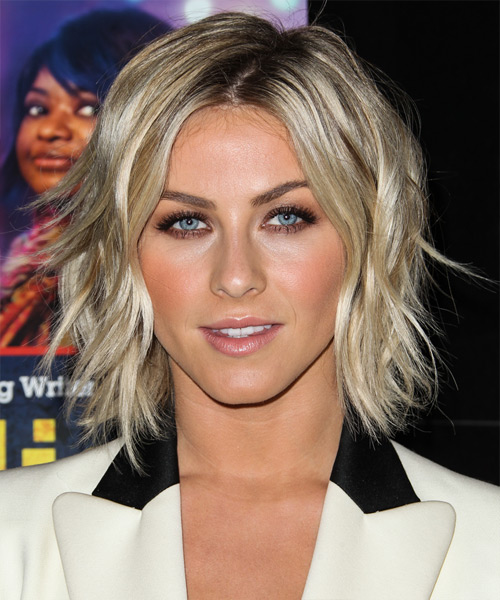 And finally we have Julianne wearing a super cool wavy bob that has been the 'do to have this year. Julianne's platinum blonde locks look amazing when cut into a shoulder length bob and styled with kinky waves. This look can be achieved by using a flat iron instead of a curing iron to create messy waved sections in the hair and then running some styling wax through to style it up.
As you can see, Julianne is a hairstyle chameleon and even though she has short hair, she makes sure to always keep it interesting. She provides some great hairstyle ideas for women with square and heart shaped faces, and her hair color(s) are always to die for!