Oh Jenny. The harsh black eyeliner with glossy red lipstick. The blush. The super-cleavage. And those paint-in highlights. Have we gone back in time to the Nineties?! Jenny is no shrinking violet and has always had a wacky sense of style, but there is a certain time in a woman's life when she must stop dressing up like a twenty year old…and Jenny's way past it. Granted, she can pull off the bubbly blonde look with ease, but in the past she has managed to do it without looking so…cheap (sorry Jenny). On the other hand, Jenny has also sported her fair share of sleek and sophisticated looks…so we're not sure what is happening here. Could it be that she is going through a style regression?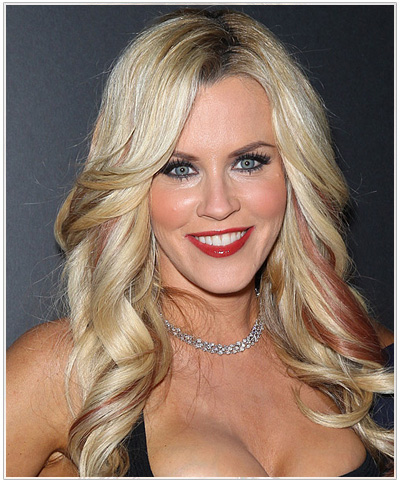 Before we go on, here's how to avoid this brash look:


Choose a black-rimmed eye or glossy red lipstick for your look—never wear both at the same time.


If you do go for the red lip, keep the rest of your face understated-ie. Skip the bright blush and heavy eye makeup.


By all means, lowlight your hair. But know that if you choose bright pink, red, blue, purple or green and you are over 21, you'll look ridiculous.


Keep the eye-popping cleavage under control, unless you want to convey the Playboy Bunny look (which at Jenny's age, you shouldn't be).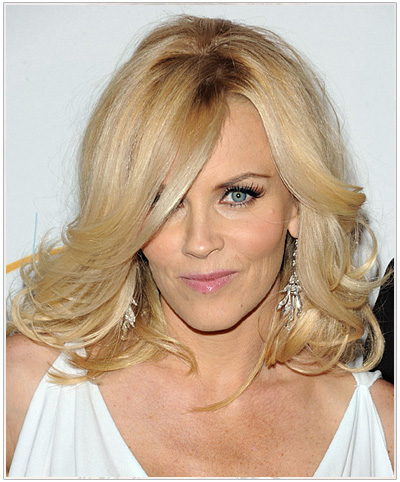 Now to be fair to Jenny, let's take a look at one of her previous looks that actually worked well. Here, she looks gorgeous in a bouncy layered bob with a long side-swept fringe, and soft makeup. Although this is one of her more subdued looks, she still looks like her bubbly blonde self but with an extra dash of class. This style looks much more carefree and soft. Not to mention her feminine makeup that takes the years off and gives her a sophisticated image. This is one look that was a winner for Jenny.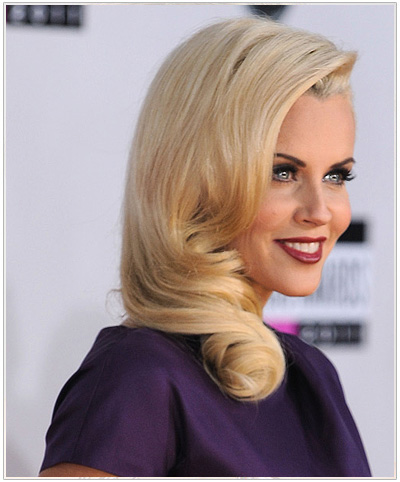 And check out this vintage look! Jenny looks amazing wearing a curled vintage 'do with vampy makeup. This is one way for bleach blondes to look more classy and less trashy - go for a sleek old Hollywood hairdo and darken up your makeup palette. You can achieve this hairstyle by using large rollers to set your hair, then combing it into place. Make sure to go for a deep side part for best results. For makeup, think vintage vamp. This is one look where it is okay to go for dark eyes and lips, just make sure to keep your lippie away from bold reds and go for deep, mysterious berry shades instead. Get Bette Davis eyes by using dark brown shadow, a thin line of liquid black eyeliner and some false lashes. Of course, the wardrobe has to match, so grab yourself a retro ensemble in deep jewel tones, white or black.
Jenny has certainly rocked some stylish looks in the past that turned heads for all of the right reasons. Her latest look unfortunately screams, "Look at me!" - and not in a good way. Avoid a style regression and remember that as you age, soft and sophisticated is the way to go!