If there's anytime to break out the deep, dark and delicious hair colors, it's winter! Demi Lovato must be feeling the opulence of the festive season as her new colour is perfect for Christmas and New Year's party-hopping. Not many can pull off bright blue hair, but Demi's deep teal blue will actually suit a variety of complexions and eye colors. If you love Demi's hair colour, use this checklist to find out if you can pull it off before you visit the salon.

- Do you have warm undertones to your skin? If you don't know, check the veins on the inside of your arm—the majority of them will look green rather than blue.
- Are your eyes dark brown, black or dark blue?
- Is your natural hair colour brown or black?

If you answered yes to these questions, then you most definitely can rock deep jewel tone hair colors. But for now, let's focus on how to get Demi's sexy sapphire 'do.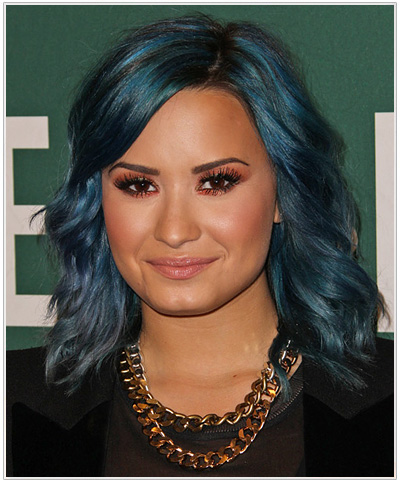 Technically, this hair colour isn't a true sapphire because it has more of a teal tinge to it. But in any case, it is still a rich jewel tone colour that looks fabulous with Demi's tanned skin and dark features. To get the best results when dying your hair this shade, follow these tips:

- Intense and unnatural shades like deep teal work better on shorter lengths like Demi's shoulder length bob, so be prepared for lots of maintenance if you have longer locks.

- To keep depth and dimension in the hair, use your natural colour as lowlights throughout. Demi's black low lights blend in with her jewel tone teal shade nicely and make it look less 'punky'. Plus, when the teal starts to fade out, she won't be left looking so washed out.

- Layers and waves throughout this hairstyle help to show off the colour better and bring out shine—something that can be lost when dying your hair an unnatural shade.

Once you have dyed your hair a rich jewel tone shade, it's time to modify your makeup so it matches. Of course, you will look clownish if you pair vibrant makeup with this hair colour, so take some style tips from Demi and stick with deep tones that will accentuate your hair colour.

Demi has used a deep metallic copper-bronze eye shadow to create a dramatic smoky eye effect. While this would be too much for someone with fair skin, Demi (and ladies with medium to dark skin tones) can pull it off easily. Dark brown eyeliner and dramatic false lashes finish the eye makeup off with a bang!

Keep the rest of your face natural looking, as Ms. Lovato demonstrates here. A simple beige blush and natural sheer lipstick is all you need to finish off this luxe look.

And don't forget to accessorize this jewel tone hair and makeup look. Demi has chosen two chunky gold chain necklaces to enhance her hair and makeup here. Go for heavy metal jewellery in gold or bronze, or wear sapphire, emerald or garnet stones to bring out the best of this opulent look.