Coco Rocha is one of the hottest models around at the moment. With her strong bone structure and almost androgynous looks, it's not hard to see why she is a favourite amongst the fashion set. If you love Coco Rocha's hair and makeup, check out her latest looks and see how you can copy them at home.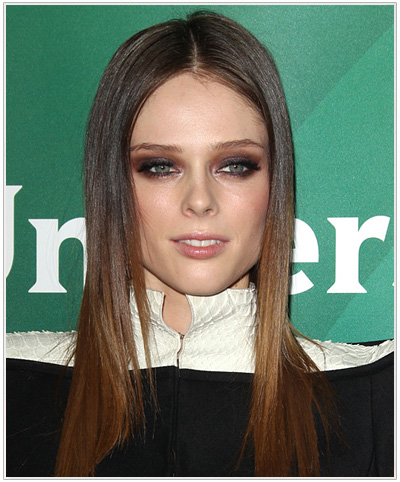 Coco may be a high fashion model, but even she can barely pull off this harsh look- so proceed with caution! Here, Coco is wearing her chestnut tresses in a long, sleek style that is parted in the center. There is absolutely no volume in this hairdo, and the harsh, straight lines may be hard for most women to pull off. When it comes to the makeup, Coco has gone for a crazy smoky eye made up of copper, brown and black shades that has been applied all the way up to her brown bone. While this does make her blue eyes pop, the lack of eye shadow blending makes this one odd look to try and copy!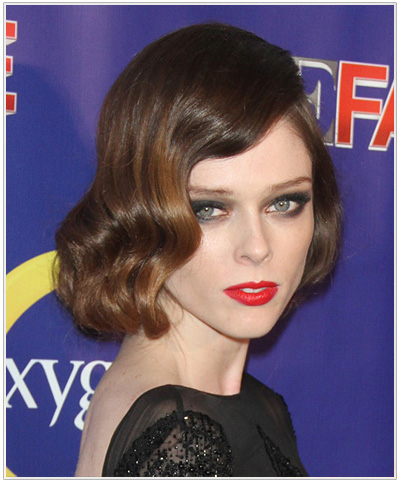 Phew- here is a glamourous look that will be very easy for die-hard Coco fans to copy, and look amazing in. For this flapper-inspired hairdo, simply style your hair with a deep side part and then set it in rollers to create Old Hollywood style waves. Brush it out with a paddle brush to create this soft waved look, and then spray into place. For the makeup, you can begin by creating a smoky eye using grey and black eye shadow, followed by a sleek line of black liquid liner on the top lash line and loads of mascara on the top and bottom lash lines. Keep the rest of the face plain and flawless, but add the piece du resistance, the bold red lip. Go for a true cherry red like Coco has done here. Or, for an extra vampy look, choose a black red shade instead.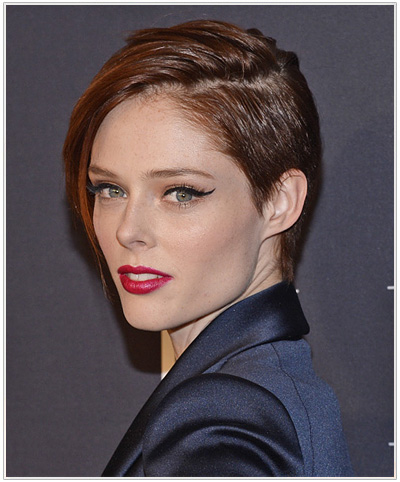 In her most recent look, Coco has gone for a super chic asymmetrical, undercut hairdo that looks amazing with her strong bone structure and feline eyes. This haircut is perfect for women with long face shapes and an edgy sense of fashion. Another bonus of Coco's cut is the minimal styling time. All that is needed is a few minutes and a bit of gel and you are ready to rock. For the makeup, Coco has chosen to exaggerate her eyes by creating a dramatic extended line using a liquid eyeliner pen. With such bold eye makeup, nothing else is really needed except mascara, but you can also apply a neutral eye shadow for a bit of extra color if you so desire. Coco lets her naturally flawless skin take center stage in this look, but still creates a statement with her bold, deep berry lippie that looks fabulous in contrast with her red-toned hair. Overall, this is a fantastic look for city chicks who love to be one step ahead of the fashion game.

Coco's looks seem to be getting better and better, what do you think her next style transformation will be?