Heart-shaped faces are characterized by being wider at the brow area and narrow at the chin. Usually, ladies with a heart-shaped face will have gorgeous cheekbones and a tiny, but prominent chin. Celebs like Reese Witherspoon and Jennifer Love Hewitt are typical hearts that know how to wear all the right hairstyles to suit their face shape. But what if you're not a fan of long hair? Well, heart ladies, look no further than Chelsea Kane. Always a fan of short and funky hairstyles, Chelsea has lots of great style ideas to choose from. Check them out below!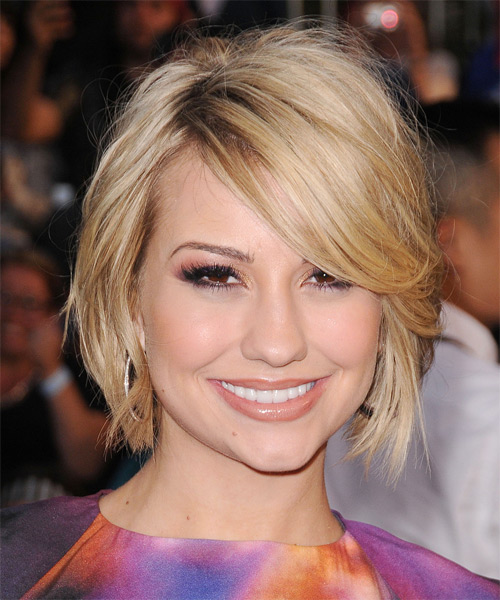 Here, Chelsea looks fabulous in a short, tapered bob that is full of layers and volume. This hairstyle has short layers that start in the crown area and move towards the back and sides. A thick, side-swept fringe looks fantastic with her heart-shaped face and highlights her cheekbones and dainty chin. To style this cut, a little mousse at the roots of your towel-dried hair is all that is needed, then a quick blow-dry using a round brush to add volume and body.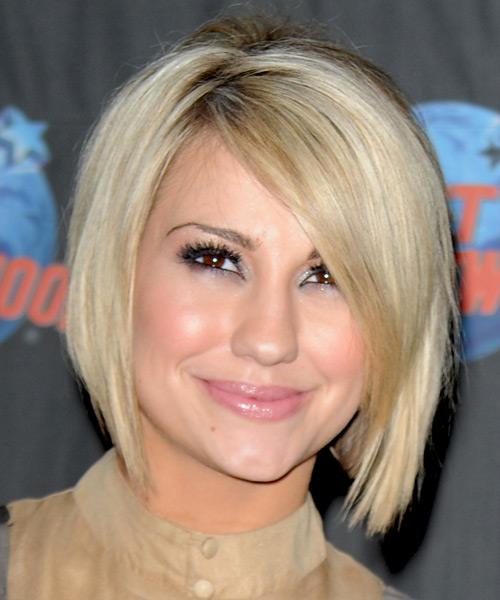 Or, if you prefer a sleek look, check out the same haircut styled straight. The tapered layers and jagged angles are more apparent when this haircut is styled straight which really flatters the heart-shaped face.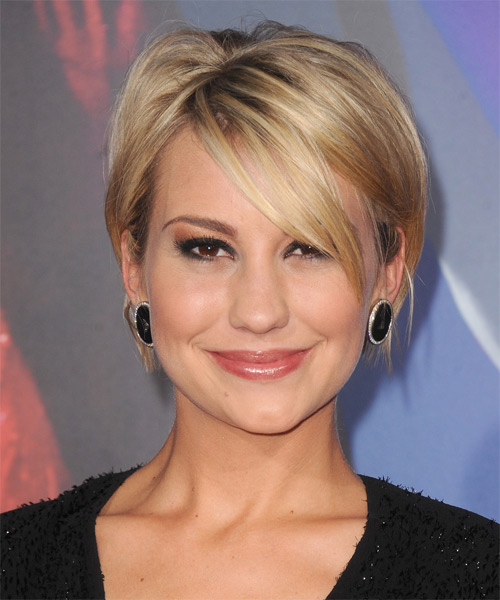 For a more sophisticated and less edgy hairstyle, Chelsea goes for a tapered cut with longer layers on top. This hairstyle is more sleek than voluminous but still provides great volume at the crown. The side swept peek-a-boo bangs draw attention to the fabulous cheekbones of the heart-shaped face, while the ends, which have been tapered close to the head, can be sleekly tucked behind the ear, showing off the jaw line. You can see here how the extra volume from having long layers gives Chelsea a more square-shaped face, compared to the styles above which were more slimming. Tucking both sides of the hair behind the ears has this effect on heart - shaped faces, so take note.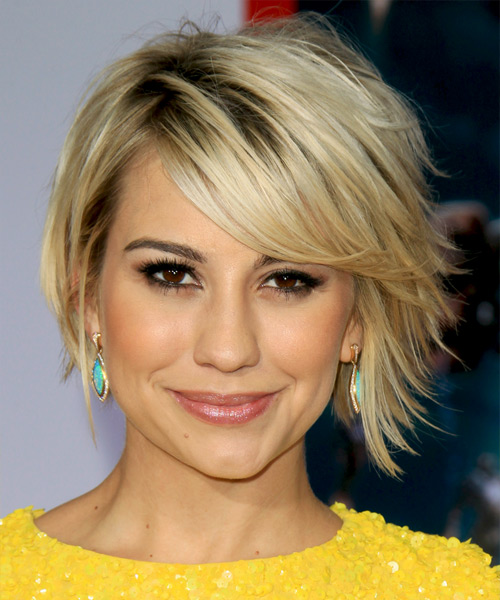 Finally, for hearts who like edgier short hairstyles, Chelsea is rocking a flicked-out asymmetrical bob here that makes the most of her heart-shaped facial features while adding a whole lotta style! This haircut has a deep side part and is longer on the side with more hair. Chelsea has the thinner side tucked behind the ear but it would look just as good styled towards the face. To get this hairstyle, you will need to have Chelsea's signature tapered bob with a long side-swept fringe. Your stylist should taper the shorter side in towards the nape of the neck and angle the cut down towards the chin on the other side. To style, use a large round brush and first blow-dry the hair in a downward motion until you get to the ends. Then, take the round brush and dry the ends upwards to get that "flick". This style will need a strong wax and spray to keep it in place.
Ladies with heart-shaped faces have a wide variety of short hairstyles to choose from, thanks to Chelsea Kane. To copy her pumped-up volume in these looks, you may want to try Kevin Murphy Powder Puff dry shampoo, one of Chelsea's must-have products.