American actress Brittany Snow is always changing up her hairstyle and experimenting with her color. Although she is known for her long light blonde locks, she has been a brunette in the past and more recently has been choosing shorter haircuts that can be worn both straight and wavy. Brittany certainly has provided us with lots of hairstyle inspiration, so if you like her looks then check out this hairstyle history and copy the one that's right for you!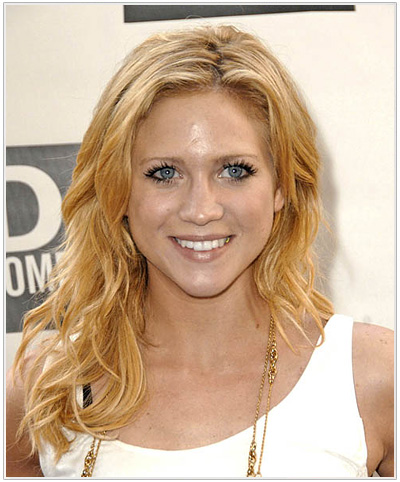 Years ago, Brittany popped onto the scene as a fresh-faced golden blonde. While this hair color matched her skin tone and blue eyes nicely, the all-over gold looked too a little too brassy for her. Her hairstyle is casual and cool, worn long and layered with her natural waves popping through. Her fringe is worn off her face and the part is jagged for an ultra-casual look. This hairstyle is best suited for the daytime rather than work or evening. Her makeup is neutral here with just a bit of black eyeliner and mascara, and a beige lipstick.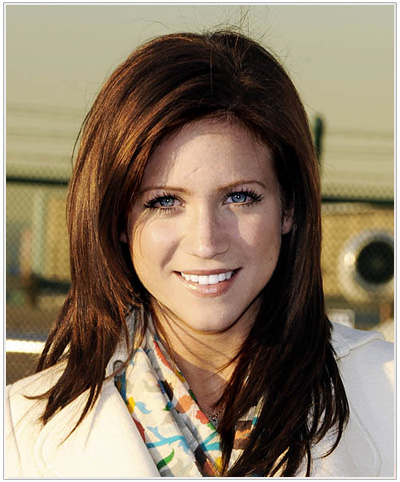 Here, Brittany is brunette! She looks almost unrecognizable in dark locks but overall this is a sophisticated look for her. The warm auburn brown shade looks fabulous with her blue eyes and her skin is instantly cooled off. Her hairstyle is much more polished here as she wears her locks straight and sleek, and the side part works great with her oval face shape too. On the makeup front, Brittany is wearing her signature shade of light pink lipstick with a neutral eye.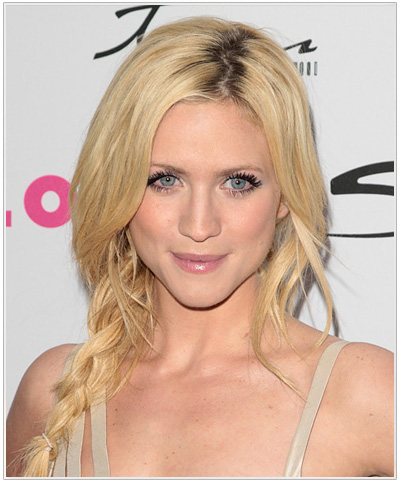 Fast forward a few months and Brittany is back to blonde, this time with much more length too. Again, she has gone for a bedhead inspired evening look with a jagged part and loose fishtail braid to one side. This wheaty blonde hue really suits Brittany's complexion and eye color, not to mention her preferred makeup palette of feminine light pink shades. In addition to her rosy cheeks and lips, she has made her eyes pop with black eyeliner and mascara which creates a subtle but glamorous makeup look for the evening.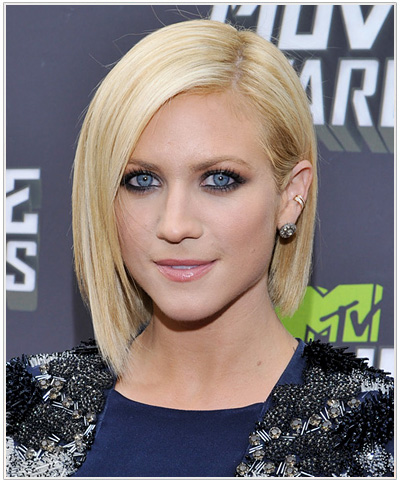 More recently, Brittany has gone for the chop and is looking fabulous in a blunt bob that graduates up at the back of the neck. Her platinum blonde color is showcased nicely with this haircut and she looks ultra-sophisticated with her hair worn sleek and straight. Brittany, being an oval shape, could also work a center part, but with this haircut a deep side part looks oh-so-stylish. Her makeup is heavier here, with dark smoky makeup around the eyes and a hint of sunset orange eye shadow.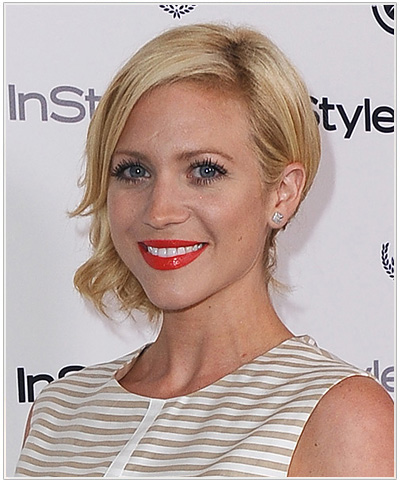 In her latest look, Brittany has kept the deep side part in her short hair but added some waves to the ends. Swept to the side, this hairstyle is trendy and cute. You can re-create this look by twisting the hair at the back of the neck towards the side, and then pinning it into place just behind the ear. You can leave some layers around the face out too. Brittany's also gone for more striking makeup here to match her new 'do, wearing a nude eye (except for some mascara) and a gorgeous shade of red lipstick.

Brittany looks fabulous in all of these hairstyles—which one is your favourite?