While most women are in a never-ending quest to look eternally youthful, there are some ladies out there who want to look older. Maybe you're underage but want to try and get into that nightclub that you know you shouldn't be going to. Or maybe you're getting ready to go to college and want a more mature look. While there isn't really much you can do to change your facial features, there are some tricks that you can use when it comes to your hair and makeup to help you out. While we can't guarantee that these techniques will add on the years, at the very least it will give you a whole new look to add to your style library. To demonstrate how hair and makeup can make you look older, let's take a peek at Bella Thorne's latest looks to see how she moves the clock forward when she needs a more mature look.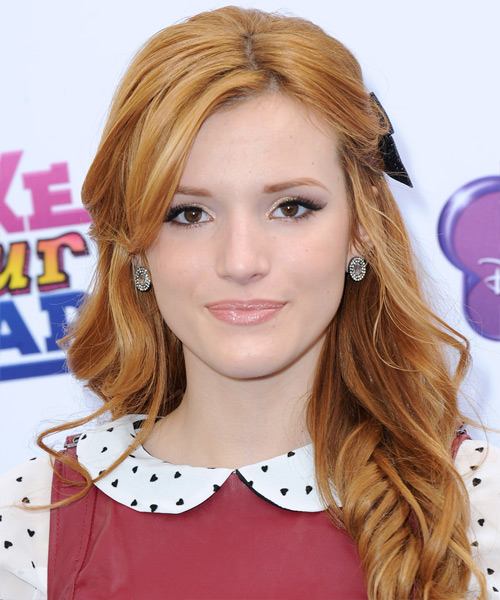 The Before Look:
Here, Bella looks her real age - 15. Her hair is worn long with curls added either by using rollers or a curling iron. Her fringe is grown out for the most part with just a few layers left down to frame her face. For an extra youthful look, she has clipped her hair back with a bow. Overall, this is a very cute hairstyle. When it comes to her makeup, Bella keeps it simple with dark eyeliner and mascara to bring out her dark brown eyes. On her lips and cheeks, she is wearing a gorgeous shade of sheer pink that sets off her fair skin nicely. Her hair and makeup are both feminine, girlie and sugary sweet, which suits her age. Side note: If you are reading this article and actually want to look younger, copy Bella's long hairstyle and light pink makeup for a fresh youthful look. But, for those who want to know how to look older, keep reading!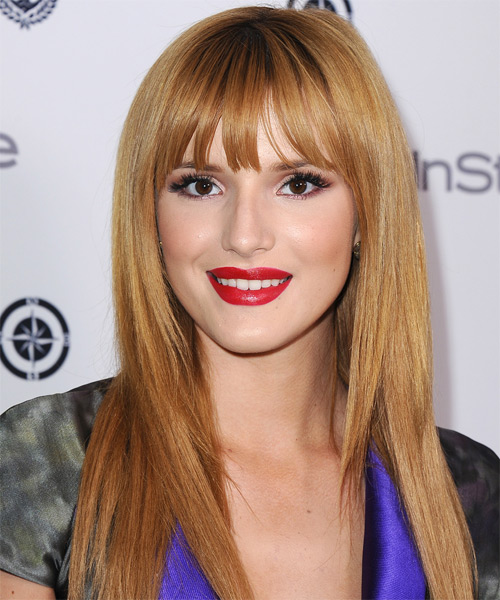 The After Look:
Rather than look like a teen, Bella looks in her mid-twenties here. What a difference hair and makeup can make! To add on the years (which she probably didn't do on purpose in this case), Bella went for a blunt, eye skimming fringe and heavily layered jagged cut. Note: blunt bangs if cut too short will make you look younger, so make sure to go for the Seventies-inspired long fringe for the opposite effect. Her flat-ironed style gives her hair a nice sheen and shows off her copper locks beautifully, but isn't as youthful looking as her previous goddess waves. Jagged cut hairstyles worn straight tend to look edgier and more modern, so try this cut out if you want to look more "with the times". As for her makeup, Bella has gone all out here - perfect for a bold evening look. On the eyes, she has created a geometric smoky eye that extends out towards her temples. This look is very Eighties looking but trendy as well, so go for it! Bella has created a more sculpted bone structure by using a bronzer just behind the apples of her cheeks and in the hollows. This is a great way to mask those chubby cheeks that many teens have. Finally, a deep glossy red lipstick completes the package. If you have always wanted to look a few years older, do a Bella and transform your look from sweet and girlie to edgy and sophisticated simply by changing your hair and makeup.