Aubrey Plaza is an American actress who is best known for her deadpan-style of comedy. This half-Puerto Rican, half-Irish beauty has featured on many shows like Portlandia and Parks and Recreation, but is also known on the improv and stand-up comedy circuit as well. When it comes to her hair and beauty, Aubrey's exotic features give her a great foundation to work with, which is essential for someone who likes to change up her style and experiment with her look. Here are some of Aubrey's best styles to date. Keep reading to find out how you can copy these hair and makeup styles at home!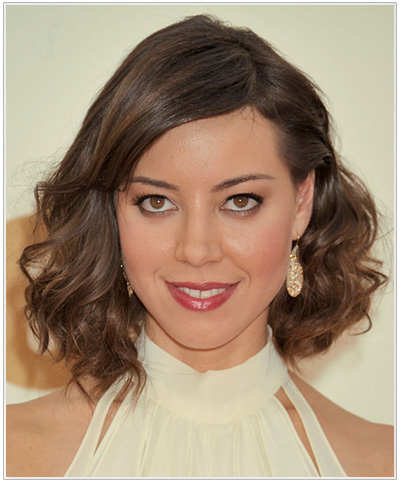 In this glamorous look, Aubrey goes for a soft wavy bob and a sophisticated makeup palette. This hairstyle works great with Aubrey's oval face and would look fab with either a center part or deep side part like the one Aubrey is flaunting. To get those gorgeous curls, blow your hair smooth and sleek, and then use a curling wand or curling iron to create large spirals in the lengths and ends. Separate the curls slightly and spray in place to give this style some volume throughout the base. As for the makeup, Aubrey keeps it simple and classy by creating a subtle smoky eye with metallic brown eye shadow and dark brown eyeliner. Plaza's cheeks are softly highlighted with a rosy blush and a beautiful wine-hued lipstick.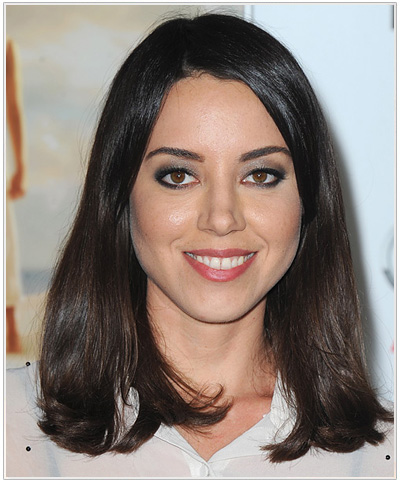 Here, Aubrey is working a sleek look that brings the focus on her glossy locks. By going a shade darker, Aubrey's eyes are instantly intensified—this is a great trick for ladies with a similar hair colour and complexion to try if they want a more exotic, dramatic look. Aubrey has also intensified her makeup by going for a dramatic black-rimmed eye and smoky silver eye shadow. A soft pink blush and lipstick complete this cool makeup look, which is a contrast to the warmer look above. Most ladies can either pull off one or the other but lucky Aubrey can go from warm to cool with ease.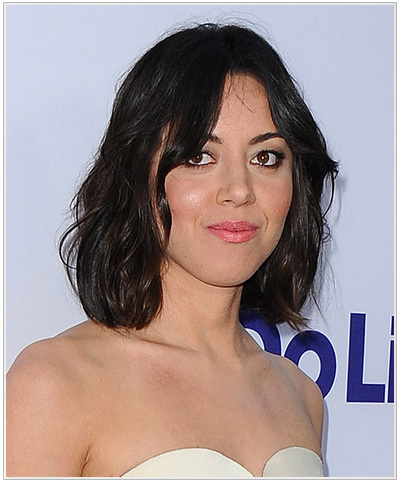 Finally, in her most recent look, Aubrey has shortened her locks into a sassy layered bob. This is a great cut for ladies with an oval face shape like Aubrey because it really pulls all of the attention to the face. The loose waves give this cut a modern, edgy feel too!

For her makeup, Aubrey has gone for a soft, neutral look that looks fabulous with her creamy complexion. A bit of brown eyeliner and mascara brings out her large dark eyes, while a coral pink blush and lipstick give her a modern, fresh look to her face. This is the perfect spring/summer look for both hair and makeup, so try this one out when you want to freshen your look up next year.

Aubrey can pull off a variety of looks because of her face as well as her personality. She never overdoes the makeup however and always chooses hairstyles and makeup that compliment her oval face shape, large eyes and high cheekbones. Even if you don't have Aubrey's features, you can try out her hairstyles and makeup techniques when you need a new look that is easy to do.