Fall is here and 'tis the time for rich autumn colors to be in vogue-think deep chocolate brown, pumpkin orange and burgundy red. A great cut can make anyone look fabulous but add a gorgeous colour to the mix and you are guaranteed to look like a million bucks! Deep and luxurious brunette is a great hair hue but don't let that stop you from trying out other shades like blonde, red, black or something wild like teal green.
Need some colour ideas? You are in the right place. Check out these cool hairstyle colors for fall and try something new this season.
Rich Brunette
In particular, brunette seems to be the color of choice in the fall. This comes as no surprise as 60% of the world's population has this hair colour naturally, with many more natural blondes and redheads dying their hair to this hue. For fall, it also makes sense to wear a richer, darker colour to match the changing seasons and fall wardrobe colours. So, whether you are a natural brunette or not, check out these beautiful brunette hairstyles to get some inspiration!
Chestnut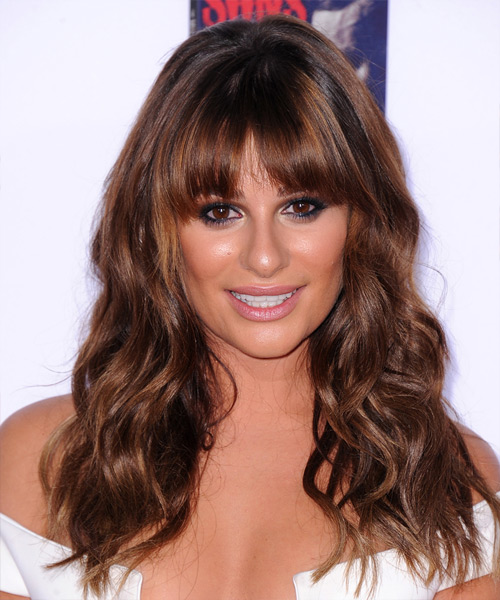 Lea Michele looks beautiful here in long wavy brunette locks that are just perfect for the fall season. Lea's base is a rich chestnut brown which has been highlighted with warm reddish-brown highlights for a high-gloss finish. This hair colour is perfect for women with a warm or tanned complexion and dark eyes, just like Lea. Her hairstyle shows off her colour flawlessly and is bang on trend this season too with the loose waves and eye-skimming fringe-a perfect fall hairstyle!
Chocolate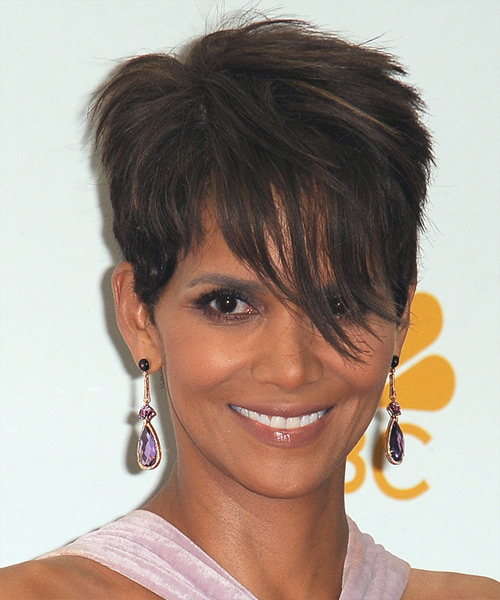 Halle Berry is working her short brunette pixie cut this season in a gorgeous chocolate brown shade that is the perfect match to her mocha skin tone and dark eyes. Halle's base colour is a neutral brown with some subtle chestnut brown highlights throughout for some added dimension. This hair color will work well with most skin tones and eye colors, and looks especially good on short 'dos like Halle's.
Espresso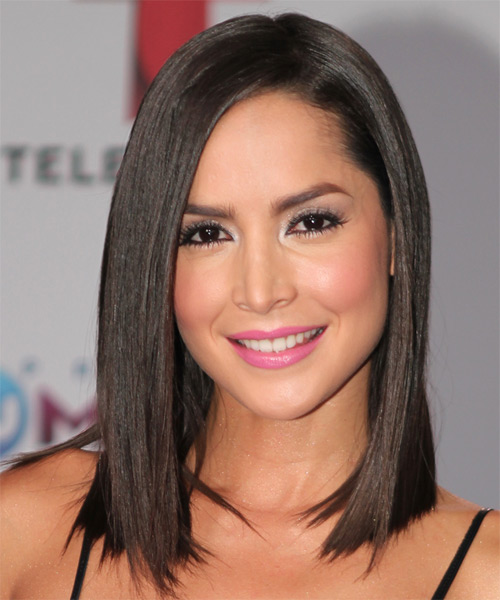 Carmen Villalobos shows us how to rock espresso brown hair for Fall with her chic straight bob. Carmen's color perfectly compliments her tanned complexion and dark brown eyes, making this a great colour option for women who also have dark and/or exotic features. Carmen's geometric cut is another stand-out feature of this hairstyle and really shows off her glossy brunette colour.
Espresso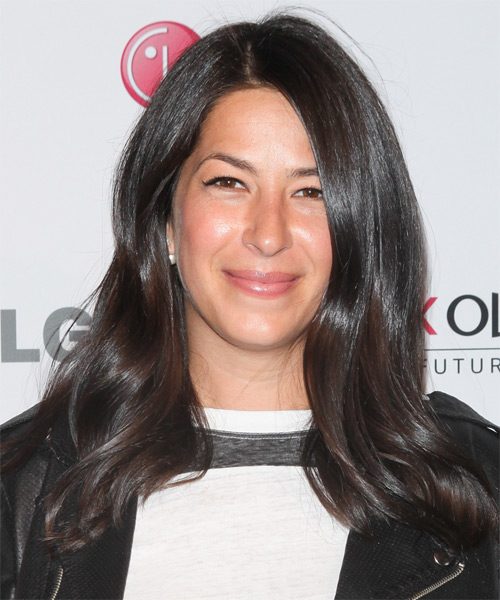 If you want something a little more demure, check out Rebecca Minkoff's glossy espresso brown locks. This gorgeous hair color will suit naturally brown and black-haired ladies but some blondes could actually pull this shade off with the right skin tone (and a brilliant colorist of course). While highlights can enhance a color, this shade looks best untouched-just look at all that shine!
Caramel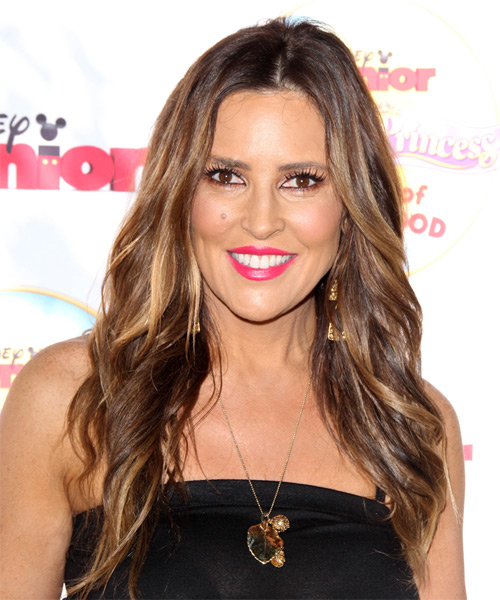 If you want a subtler take on brunette hair this season, then check out Jillian Barberie's sun kissed brown hair. This colour is a good option for women with tanned complexions and light or dark eyes, who still want a bit of a summery look throughout the winter and fall. To get this hair colour, start with a golden brown base and add some light brown caramel highlights throughout. Jillian's highlights start from the roots here but for a subtler effect, try an ombre look instead where the mid-lengths and ends are only highlighted.
As you can see, there is a wide variety of brunette shades you can wear this season. From light caramel brown to deep, dark espresso brown, being a brunette has never been so fun and versatile! The general rule to remember is to choose something warmer if your skin tone is tanned or has golden undertones, or go for a cool brown if you have fair skin or pink undertones.
Platinum Blonde
While many people think that white blonde and platinum are the same colour, this is actually not true. Platinum blonde hair has more of a golden tone to it than white blonde-think Marilyn Monroe's iconic hair colour.
The good news is that even though not everyone can pull this colour off, it does flatter more complexions than the icy white blonde that was so popular last year does. Platinum blonde has warmer undertones to it and will flatter a wider variety of complexions. If you are thinking of going platinum this fall, check out these celebs who are already rocking the trend with fabulous results!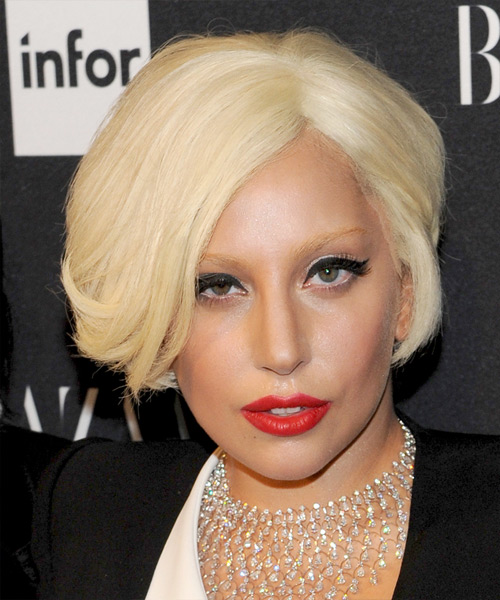 We can't talk about platinum blonde hair without mentioning the queen of blondes herself, Lady Gaga. Lady G loves to dye her natural brunette hair to this ultra light shade, which actually works very well with her skin tone. Gaga has a medium-fair complexion with golden undertones that match her platinum hair nicely. As for the style, on this occasion Gaga has gone for a demure bob that gives her a classy look…but knowing her, this look will change dramatically very soon!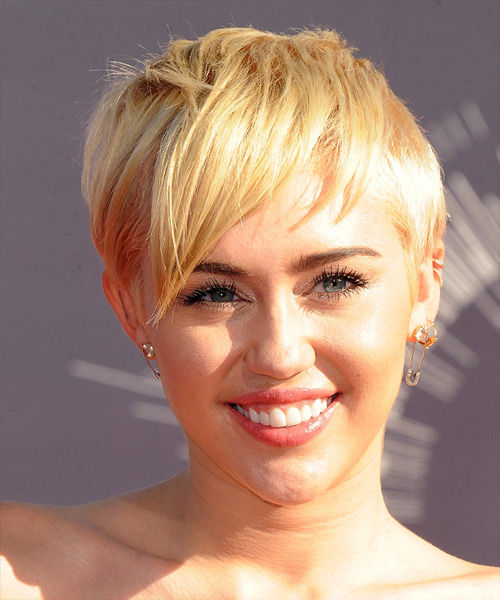 Miley Cyrus is another fan of platinum and has been colouring her natural brunette locks to this shade for quite some time now. As you can see, this hair color is a great choice to pair up with a pixie cut. Miley looks trendy and chic with this color, plus her short cut ensures that her hair always looks healthy with this color, which can be a problem for many women. Bleaching the hair to platinum does tend to make the hair look dry and dull, so stick to shorter cuts for best results.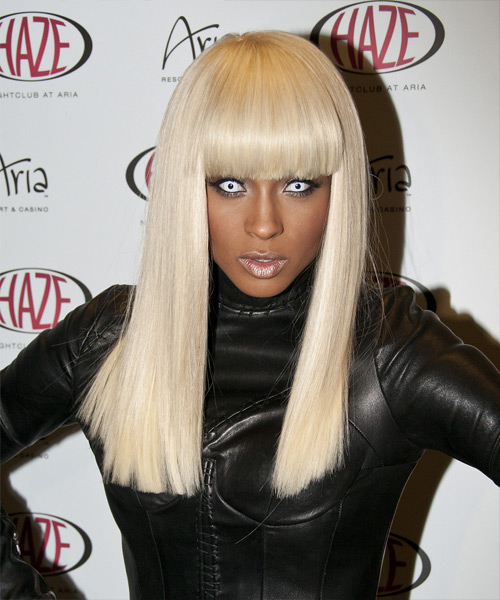 Ciara is wearing a platinum blonde wig here, showing us just how good this colour can look on darker skin tones. Natural black hair can be extremely difficult to lighten up to platinum, so a wig is the perfect solution to going blonde without the damage. Ciara's blunt fringe and long hair paired with straight up platinum blonde (no highlights) really gives her a striking look overall.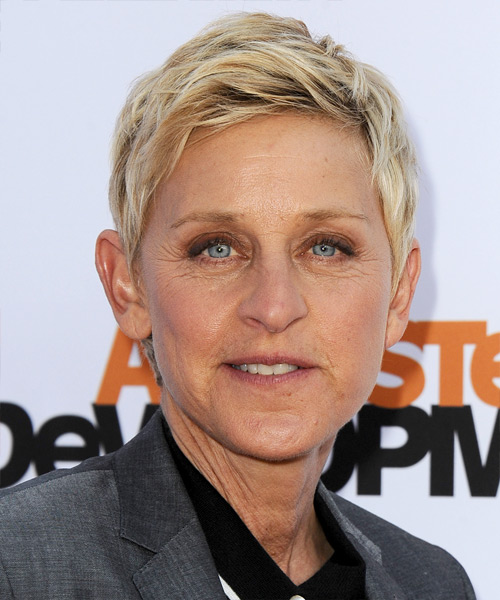 And if you want to go platinum but are worried that you're not 'wild child' enough to pull it off, just take a look at Ellen who rocks platinum locks while still looking smart and sophisticated. Ellen's pixie cut suits this hair colour perfectly, not to mention that it looks great with her ice blue eyes and fair skin tone. If you have a similar haircut and want to shake up your look, platinum hair can give you a vibrant, fresh new 'do!
Strawberry Blonde
Hot hair colors to have in fall are deep chocolate brown, and on the opposite end of the spectrum-platinum blonde. But what if you want something warm and rich for fall without the drama of ultra light or deep dark hair? The answer may be another hot hair colour for this fall that isn't usually on vogue: strawberry blonde.
Strawberry blonde hair is also known as Venetian blonde, or a light reddish blonde. Not to be confused with copper hair, strawberry blonde locks are a blend of wheaty blonde and light red tones that often result in a soft pinkish hue all over. This color will suit women with fair skin tones and light eyes the best, but of course with the right colorist it can always be modified to suit darker eyes and complexions nicely.
If you want to try out this unique hair colour, check out these stunning strawberry blonde celebs for some style inspiration.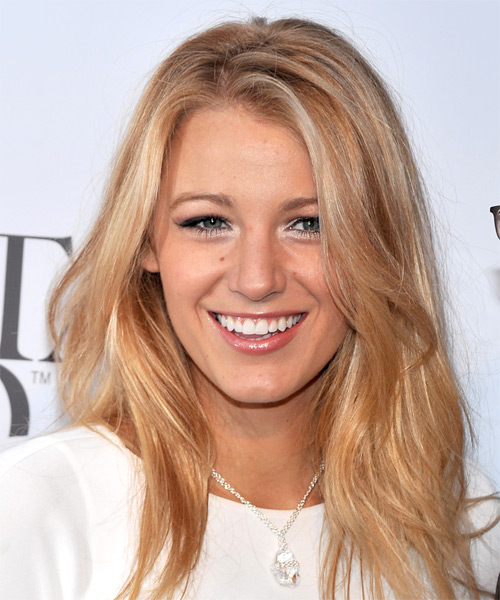 Blake Lively is one of the best-known strawberry blondes in Hollywood and with good reason. Her long layered locks always look fantastic with subtle tones of copper and blonde throughout, warming up her complexion and making her green eyes sparkle. As you can see here, strawberry blonde is a great hair colour option for natural blondes who want to 'warm up' their face and add a healthy subtle glow.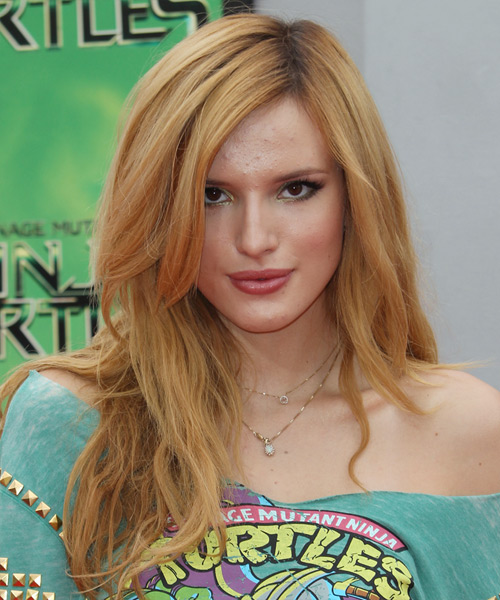 Bella Thorne is another celeb that loves to flaunt strawberry blonde hair. Bella has a fair skin tone which works nicely with this hair hue, and her dark eyes add a striking contrast to the light strawberry tones. Bella's colour is a good example of what natural redheads will look like if they add some blonde highlights throughout to create a strawberry blonde shade. She has used thicker highlights for dramatic lightening but for a more natural and subtle look, go for thin highlights all over instead.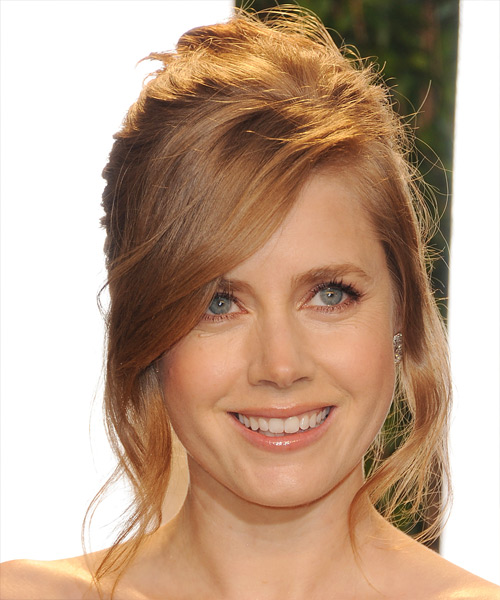 Here, Amy Adams looks gorgeous in her strawberry blonde locks that have a subtle golden sheen to them. Amy is a natural blonde but you would never guess it seeing how well she suits this hair colour! Amy has a warm complexion and blue eyes that are emphasized when she adds some red to her hair to create this soft strawberry blonde colour-this is a great tip for natural blondes who want to brighten up their complexion and make their eyes pop.
Here we have Nicole Kidman who is the quintessential strawberry blonde. Nicole has been rocking this hair colour for years whether it was in vogue or not, and has always looked flawless. Nicole's hair colour is the perfect match for her cool porcelain complexion and bright blue eyes. She has toyed with more golden, blonder shades in the past but always comes back to strawberry blonde as it gives her a gorgeous glow rather than washing her out. If you want to go blonde and have fair skin like Nicole, try a strawberry shade if you are worried about looking too washed out from straight up blonde hair-you'll love the results!
Blood Red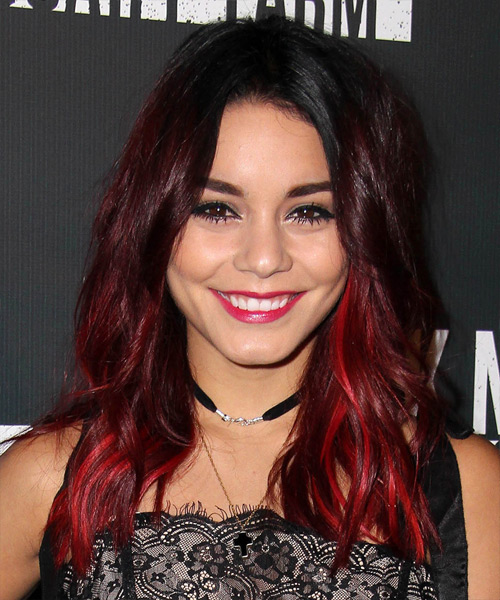 Vanessa Hudgens looks gorgeous here in her fiery long 'do. This is a great look for ladies with naturally dark hair like Vanessa who want to keep it dark but still add some variation in their color. You can achieve this effect by using a high lift color line that was designed especially for dark hair-your stylist is sure to have plenty of this on hand. Vanessa's hair has a deep red ombre effect going, starting with black at the roots moving into a deep plum shade and then blood red ends. Vanessa's nailed the makeup too with black eyeliner and matching red lipstick-this is definitely a hot look!
Cherise Pink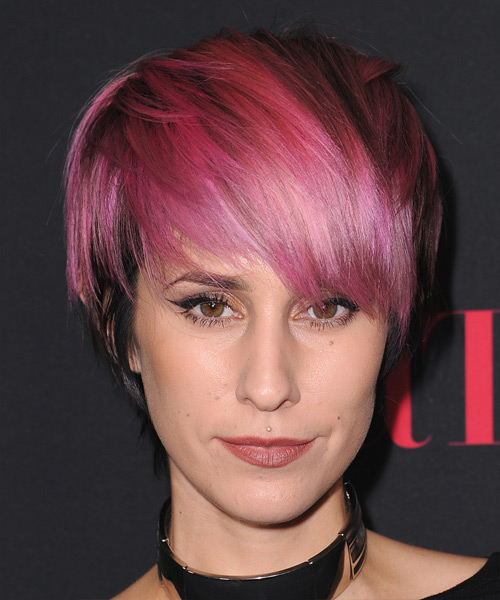 Ever thought of going pink? Check out Dev's 'do here and see how fabulous this hair color can look, especially on short haircuts. Dev's locks are her natural color on the bottom and a cool cherise pink on the top layers. To achieve this look, you will have to bleach your hair out first which is why these shades tend to stay better on short hair- there is less damage to contend with. Dev has gone for an all-over pink on her hair but if you wanted to lighten it up a bit, try leaving some platinum blonde strands out to give it a baby pink color overall.
Smokey Blonde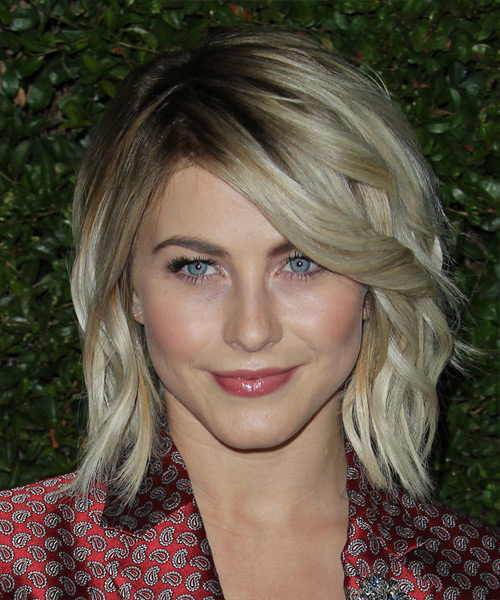 Julianne Hough has some of the best light blonde hair in Hollywood but she knows how to tone it down for fall. Julianne's locks have a couple inches of visible roots to darken up the look of her hair without losing that awesome white blonde color completely. She has also gone for an ashy toner to make her hair color more of an icy Nordic blonde rather than a buttery, summery blonde. This is a great technique for blondes to try out in the fall and winter when they want to deepen their color up without going to a darker shade.
Those are just a few of the best hair colors for Fall!