1. Bumble and bumble Creme de Coco Masque
Hot on the heels of the success of their Creme de Coco shampoo and conditioner is Bumble and bumble's Creme de Coco Masque: a weekly hair care treatment that's sure to leave your locks soft, silky and glossy. It's got a coconut and vegetable derived base with a trio of tropical butters, tropical oils and botanical extracts. This particular hair product's great for all hair types, especially the dry variety.
888-7BUMBLE | www.bumbleandbumble.com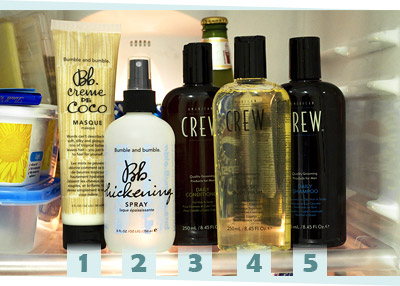 2. Bumble and bumble Thickening Spray
Bumble and bumble's Thickening Spray is a great addition to your hair products swag- no matter what your hair type. Try it for extra body and thickness, and to tame frizz and fly-aways. If you've got fine hair it'll give your roots some lift and make your hair thicker when blow-drying (not sure of your hair texture and elasticity? See our free consultation); if your hair's thick it'll give you extra control when blow-drying; and if your hair's curly it'll give hold and create separation.
888-7BUMBLE | www.bumbleandbumble.com
3. American Crew Daily Conditioner *
"No fuss" doesn't mean basic and boring- and that's definitely the case with American Crew's range of men's hair care products. Their Daily Conditioner will give your hair a soft feel and add manageability without weighing it down, and its rosemary, thyme, peppermint and menthol tone will invigorate your scalp and leave your hair feeling fresh and healthy.
* Now called Stimulating Conditioner. Formula is the same.
800-598-CREW | www.americancrew.com
4. American Crew Classic Body Wash
Your skin needs nourishment and protection too, and that's why American Crew created their men's Classic Body Wash. The main ingredients are tea tree oil, to prevent your skin drying out, and aloe vera plus vitamins A and E, for maintaining moisture. Use daily for effective all over cleansing!
800-598-CREW | www.americancrew.com
5. American Crew Daily Shampoo
You need a shampoo that doesn't strip your natural oils from your hair, so try American Crew's Daily Shampoo for men. It contains Panama bark extract for gentle cleansing, wheat protein for shine and strength, and rosemary and thyme for moisturizing the scalp and making your hair smell great. For normal to oily hair, all guys are set to benefit from American Crew's range of men's Daily Shampoo.
800-598-CREW | www.americancrew.com