Nicole Kidman and Keith Urban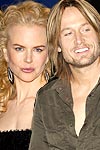 When: 25th June 2006.
Where: Sydney, Australia's Cardinal Cerretti Memorial Chapel.
The wedding: Nicole arrived at the chapel in a vintage Rolls-Royce with her sister Antonia as her maid of honor and daughter Isabella as her bridesmaid. Waiting at the alter with Keith was his brother Shane as his best man, and his long time friend Marlon Holden. The wedding was kept very traditional and there was around 230 guest in attendance, including Hugh Jackman, who also preformed that night, Russell Crowe, Naomi Watts and Rupert Murdoch.
The hair: Nicole kept her blonde tresses elegant and simple by pinning the top sections away from her face and leaving soft curls around her neck and shoulders.
The dress: Nicole's one of a kind vintage white gown was created by designer Nicolas Ghesquiere of Balenciaga.
Special moment: Nicole and Keith asked their guests to donate their gifts to the Sydney Children's Hospital.
Christina Aguilera and Jordan Bratman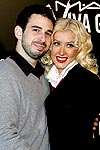 When: 19th November 2005.
Where: Northern California's Napa Valley.
The wedding: This was a three day event which commenced on Thursday and Friday with lavish dinners. On the Saturday afternoon, at sunset, Christina walked down the aisle and exchanged wedding bands with Jordan made by London-based jeweler Stephen Webster, who also created Christina's five-carat, diamond-and-platinum engagement ring.
The hair: Christina loves to impress and her hair was no exception. Soft Marilyn Monroe curls were the trend on the night for this blonde diva.
The dress: Christina wore a one of a kind Christian Lacroix creation and her 4 bridesmaids wore dresses designed by Stevie Wonder's wife, Kai Milla.
Special moment: Instead of gifts, Christina and Jordan asked their guests to donate to the Hurricane Katrina and Hurricane Rita relief efforts.
Gwen Stefani and Gavin Rossdale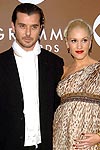 When: 14th September 2002.
Where: St Paul's Convent Garden, London.
The wedding: The cheeky groom escorted his sheep dog, Winston down the aisle, and once the ceremony had finished, the guests were transported in a double decker bus to the reception venue, Home House, which is a private club.
The hair: Gwen's hairstyle was the main attraction on her big day and was a full mohawk creation which featured soft curls for a beautiful finish.
The dress: Gwen walked down the aisle in a custom made white and pink wedding dress for Dior by John Galliano.
Special moment: Once the big London wedding was over, the couple invited their friends to a vow renewal in Los Angeles.