Marilyn Monroe vs. Christina Aguilera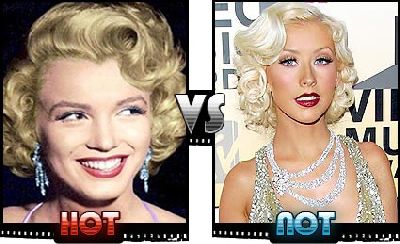 Not too much has changed since the ever so elegant and beautiful Marilyn graced us with her presence but I do have to say that you can't beat a classic. Even though Christina's style is very similar and she pulls it off nicely, Marilyn was the true owner of this look and it will always come in first. The stunning soft waves are elegant and will go well with a strapless gown and longer face shapes.
Audrey Hepburn vs. America Ferrera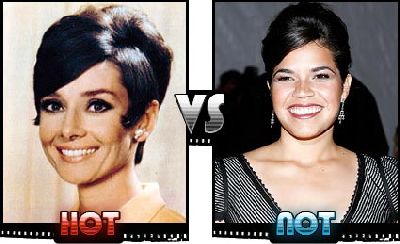 What a great classic style for this "Breakfast at Tiffany's" actress. The volume through the crown shows a graceful and sexy look, and I love the short tresses that are left around the ears. It's an innovative style that you don't really get to see anymore. America does give us a glimpse with her version, and although not much has changed, the classic feel and look of the style radiates best from Audrey.
Amy Winehouse vs. Raquel Welch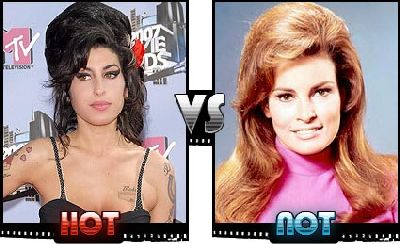 As you can see, the classic beehive is still in but it does work best on Amy. She has the right amount of height around the top to give her a great look all over and it especially works with her triangular face shape. I think that Raquel has too much hair down, which takes the shine off the beehive and makes her look too plain.
Elvis Presley vs. Brendan Fraser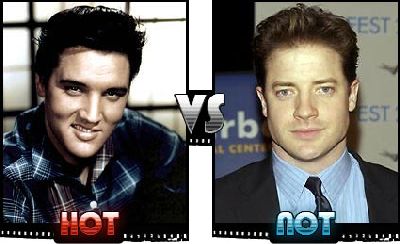 The spectacular Elvis Presley and his tresses will be in style for many years to come. This look is a classic cut with its main focus through the top sections, which gives Elvis and his longer face shape all the attention. Brendan's style is very similar and he looks great! His chiseled jaw line really comes to life with this style, but there can only be one winner and it's definitely Elvis!