Taylor Swift has really morphed into a hair, fashion and beauty icon in the last couple of years. Although Taylor was always a stunner, as she gets older her style keeps going from strength to strength.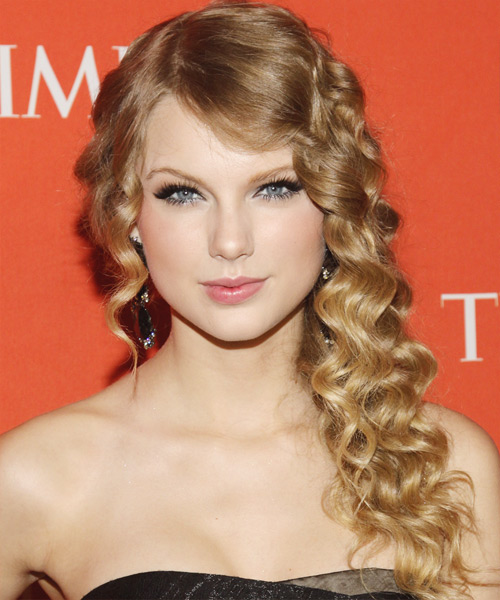 When she first broke out on the scene, Taylor was known for her long blonde mermaid waves (and catchy songs of course!). Her image was super innocent and sweet, and her tresses always looked fit for a country-singing princess! Fast-forward to today and Taylor is working a much more sophisticated look. Check out her latest hairstyles below.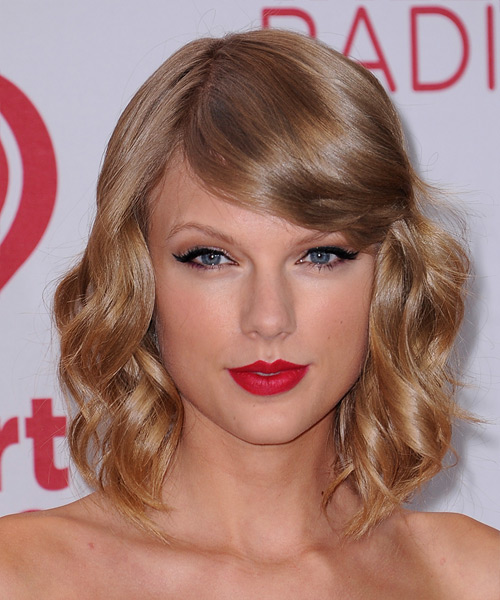 Taylor loves a good side swept fringe these days but previous to her going for the chop, she tried this look out using the faux fringe technique. To do this, she simply created a deep side part and swept her grown out fringe to the side, pinning it into place at the temple. The rest of her hair was curled into soft spirals using a curling wand. This shorter hair length looks great on Taylor and she was obviously pleased with the long fringe look as she cut her bangs shortly after! The colour is another stunning feature of this hairstyle. Taylor's base is a dark golden blonde that has light golden highlights throughout, which creates a natural sun-kissed glow. Taylor's cherry red lips finish this look off to perfection.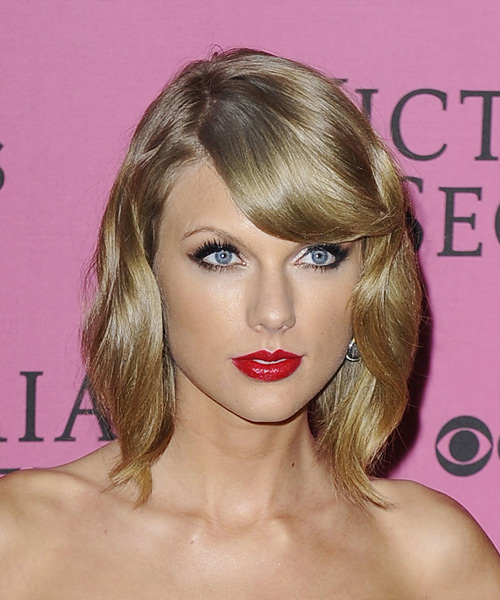 Here, Taylor is wearing her shoulder length bob and freshly cut side swept fringe in a loose, vintage inspired hairstyle. This soft look can be created using a large barrelled curling iron and creating spirals on large sections of hair. To get this soft vintage Twenties finish, try brushing through the curls with a large paddle brush. Taylor's hair colour is more of a beige blonde here, which works well with her neutral complexion. And again, Taylor is working her signature red lipstick for the perfect finish!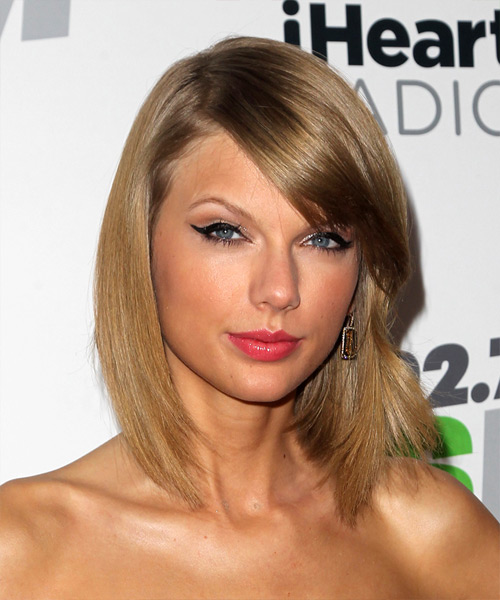 To change it up a bit, here Taylor is wearing a straight, sleek version of her new 'do. Her silky locks look fabulous with her oval face shape and honey blonde hair colour. If you love this look, you can create it at home by blow-drying your bob with a large round brush. Taylor's colour is back to a dark honey blonde base with highlights that goes well with her bronzed skin. Her makeup palette has lightened up to match her sun kissed look, and she has swapped the dark red lipsticks for a pleasing pink shade instead.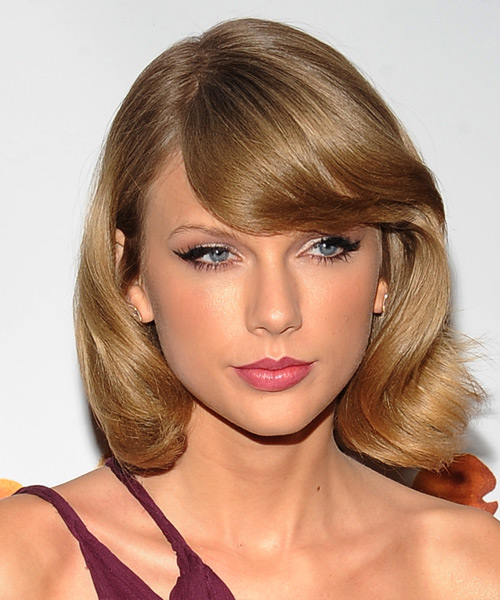 And finally, Taylor here is still rocking the shoulder length bob but has gone for more of a Seventies era vibe with her single shoulder gown and a retro-inspired bob. Taylor would've fit in right in with the Studio 54 crowd back in the day with this gorgeous look. Her bob has been side parted and waved using large rollers. She has sculpted her locks using a brush to get that smooth, silky finish. Her fringe is still long and swept to the side, and her hair is the same shade of dark honey blonde, so she is clearly still loving this look.
Whether her hair is long or short, you can always count on Taylor to look sophisticated, pretty and polished. She is one celebrity that rarely gets it wrong on the red carpet.