Paula Abdul has been a regular on the red carpet for years now, so it's no surprise she has honed her hair and makeup to perfection. Paula isn't one of the most daring women when it comes to trying out new hairstyles, but she tends to stay with what works best for her. This is a safe move for celebs because, of course, they never want to be on the worst dressed/worst hair list! If you love Paula's style, check her out below to see how she has evolved her look over the years.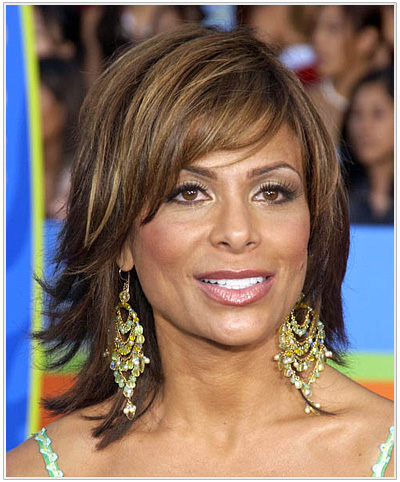 This photo was taken years ago, yet compared to her current look Paula actually looks older here! Of course, she still looks great but it is interesting to note just how much a haircut can change up your look. Here, Paula is working a medium length layered haircut and side swept fringe. This hairstyle frames her face nicely and is different from her typical voluminous looks, but overall leaves Paula looking a bit lacklustre. The warm brown colour and caramel highlights is perfect for her skin tone though.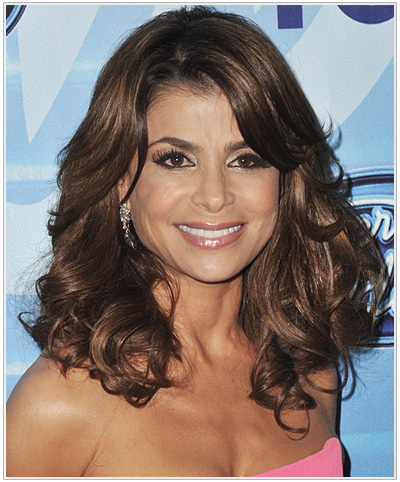 Here, Paula is wearing a gorgeous curly hairstyle in a deep mocha brown shade. She is working the natural body and bounce of her thick hair here and makes the most of it by adding additional curls throughout the ends. Paula's bangs are swept to the side slightly so as not to overpower her face. The colour is working for Paula too, with a rich brown shade that compliments her skin tone and eyes perfectly.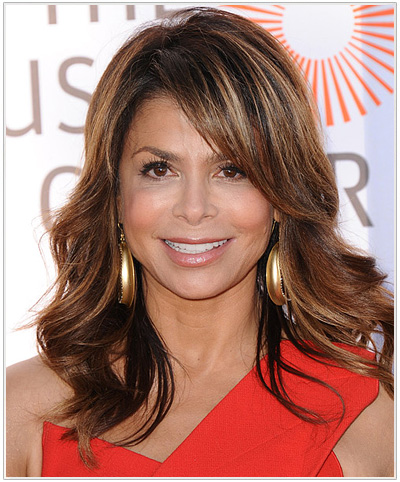 In a more recent look, Paula has reverted back to her caramel brown hair with highlights and a looser, wavier look. This hairstyle looks great on her and has just the right amount of body and wave to suit her tiny frame! Paula's fringe has been grown out and swept to the side for a sophisticated look. The length is just right for her too, with the ends just grazing her collarbone.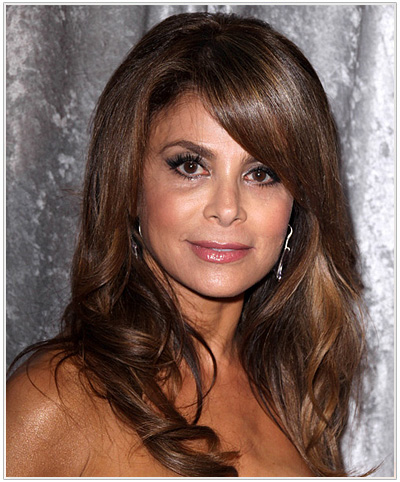 Although Paula looks great with the sun-kissed look, the deeper rich shades of brown really suit her and give her an overall more glamorous look. Here, Paula is working a dark golden brown shade that works well with her warm complexion and dark eyes. The sleek look of this 'do really suits Paula and the lift on top gives her hairstyle a Sixties feel to it.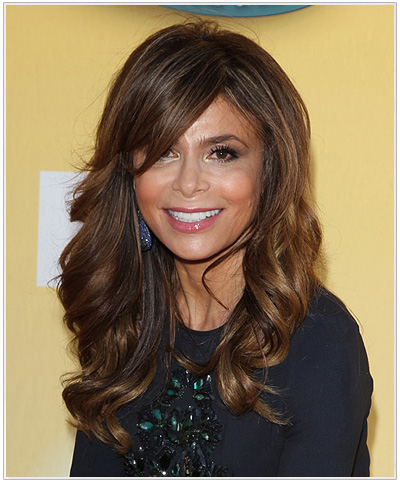 And finally, we have Paula most recently, still working that awesome dark glossy brown hair colour and sleek bouncy waves. Paula's hair looks healthy and thick, and is perfectly styled with lots of volume at the top and long loose cascading waves. Paula also changed up her part, which makes a subtle yet noticeable difference. (Try this at home if you need a quick way to update your 'do!)
As you can see, Paula has always looked great by utilizing the best features of her natural hair and by sticking with hairstyles and colours that flatter her features. Plus, she seems to have nailed the reverse aging process too and looks better than ever!