Gossip Girl actress Jessica Szohr has one of the most striking looks in Hollywood, thanks to her dark hair, piercing blue eyes and fabulous bone structure. This 29 year old actress knows what works for her face shape but isn't afraid to try new things out either. Jessica is lucky though, as she has a classic oval face shape and high cheekbones, which looks great with just about any hairdo! She uses this to her advantage and flaunts many different looks, from vintage to rock chick, pulling them all off effortlessly.
Let's take a look at some of her best hairstyles so far: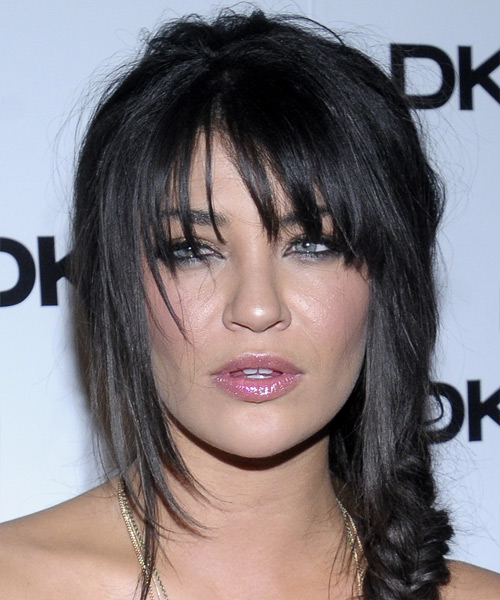 Here, Jessica has gone for a heavily layered fringe and side braid for a messy, cool evening look. Her eye skimming bangs look amazing as her dark hair creates a peek-a-boo effect, highlighting her piercing blue eyes. (Ladies with the same features may want to give these bangs a try to make their eyes pop even more!) The layers around her face are great too as they flatter her oval face shape even more. The side braid is a great way to put your hair up for a night but still retain a low key feel, so give this a shot the next time your want to go for an edgier evening look.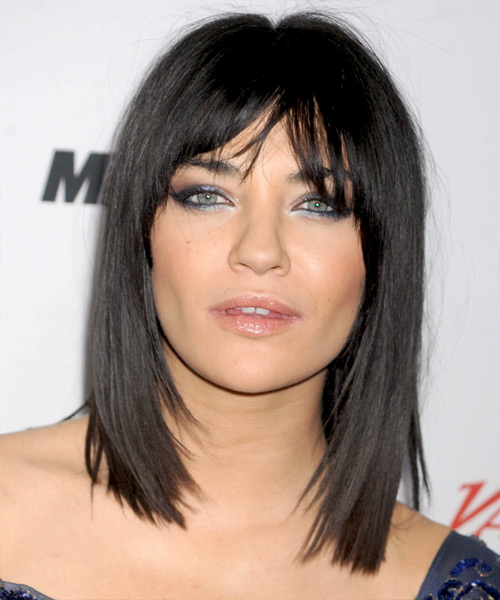 This hairstyle is a sleek and sexy look for Jessica that makes the most of her hair and facial features. The smooth finish gives her black hair extra sheen and shine, while the blunt layered cut creates the perfect frame for her face, especially around the cheekbone area. Her bangs are a bit shorter here and swept away from the face, but it is still enough to create a small peek-a-boo effect around the eyes.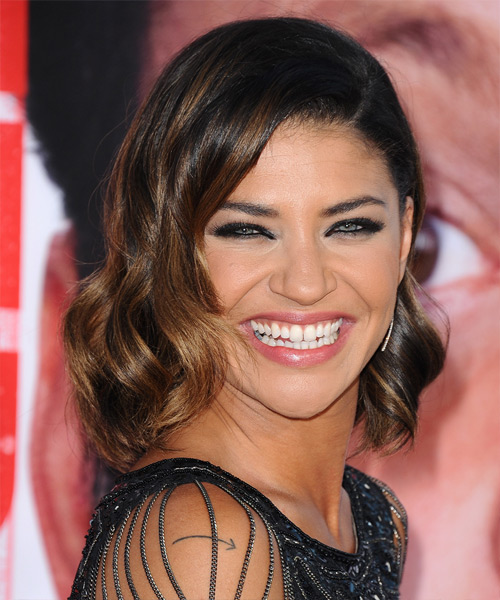 Being the style chameleon that she is, Jessica can also pull off vintage hair with ease. Here, her black locks have been softly waved and parted on the side for a gorgeous Twenties inspired look. Her hair has also been lightened with an ombre effect, moving from black at the roots to chocolate brown at the mid lengths to light golden brown at the tips. Her bangs are also grown out here and are swept to the side, which brings full attention to her eyes and that fabulous smile.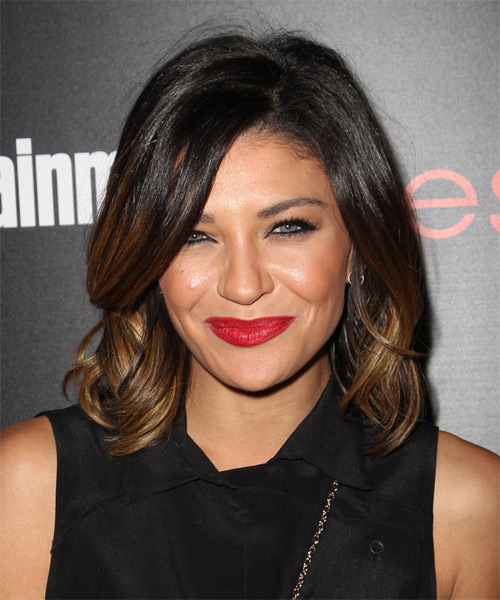 Keeping with the retro look, Jessica is flaunting a Forties style 'do in this photo. She looks ultra glamorous in this curled hairstyle with a deep side part, again with a grown out fringe. Oval face shapes can go between bangs and no bangs with ease, which Jessica uses to her advantage to try out many different looks. Although this hairstyle has a retro feel to it, the ombre hair colour modernizes it and adds in some extra style.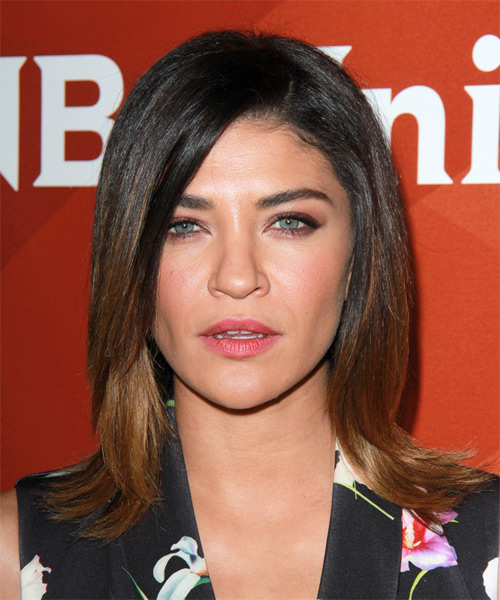 And finally, here Jessica is in a sleek layered bob. Jessica has stuck with a grown out fringe for the time being and is flaunting this simple yet sophisticated layered hairstyle. Her colour still has the ombre effect going on which warms up her complexion. The only downside is that with this lighter hair colour, her brilliant blue eyes pop out less, but overall she still has a striking look.
Check out more Jessica Szohr hairstyles!