Rose McGowan
This is a great style for Rose. Her hair length has been left sitting just below her shoulders and her hair has been layered through the ends to add volume to her hairstyle. Lots of height has also been added to her top section, which makes this style great for rounder face shapes.
Rosario Dawson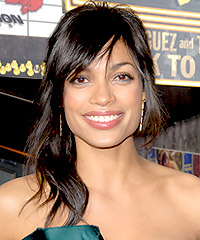 Rosario is wearing her hair in a soft and subtle style and looks great! Her hair has been styled to fall over her shoulder and lots of body and texture has been added in her very ends. Her bangs have also been styled to fall to the side, which is a great idea for high foreheads, and razored ends have been added to help achieve flicked ends.
Kurt Russell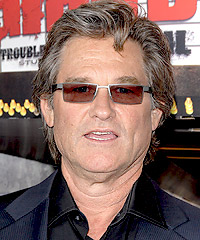 Kurt's hair has been styled into a natural looking, relaxed hairdo, and he looks great! His hair length has been left sitting at his bottom hairline and has been tapered up into longer lengths at the crown and sides. This will help the hair to fall neatly when styled to the back. His top section has been combed back to keep his hair off his face and out of the way.
Eva Mendes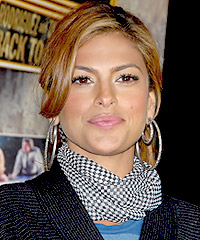 This natural looking upstyle is a great look for Eva. Long bangs have been added and styled to fall on both sides of her face to give her hair a softer finish. The rest of her hair has been pulled into a softer finish at the lower back of her head and a side part has been added, which is a great styling option for longer face shapes.