"Check this out." That's what Cameron Diaz probably said to herself when she was doing her obligatory rear end pose on the red-carpet at the Oscars this year. But, as captivating as Cameron's rear end is, there were other eye catching things at the 80th Annual Academy Awards. There were girls in flowing gowns, guys in suave suits, and of course, there were hairstyles galore. All in all, the ladies looked flawless: from top to bottom. As for the gentlemen, well, some didn't quite make it to the barber's for that preparatory cut and shave.
We've picked out some hairstyles we loved from the event, as well as a few we didn't think were so hot. Remember, you can get more detail on the stars' hairdos, as well as a taste of what you can do with your own photo at TheHairStyler.com, with our Hairstyling Tool below. Imagine wearing the same hairstyle Katherine Heigl wore to the Oscars, or the award winning Marion Cotillard's sexy hairdo. Upload your photo, try on some hairstyles, and feel like a star. You might also like to check out some hairstyles from our coverage of the 2007 Oscars and the Academy Awards 2009.
Cameron Diaz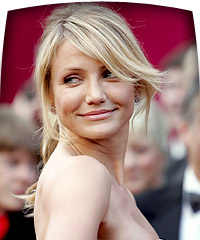 She's certainly gorgeous, but you'd be forgiven for thinking Cameron couldn't get over her days starring in Charlie's Angels. Why? It's those flared bangs she's wearing (again). This pulled-back hairdo with side-parted bangs left out to frame her face looks great if you're going to the beach, but I think the Academy Awards calls for a bit more effort. At least her dress was eye catching.

 
Renée Zellweger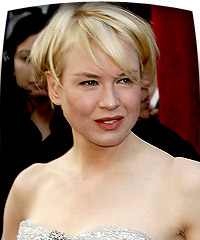 Renée Zellweger should've won an Oscar just for looking gorgeous. Her hairstyle certainly complimented her over all look. The back is cut short to the nape of her neck, with soft, sliced layers through the sides and back to create movement and elegance. There's no doubt her bangs were an important part of this look as they softened her face and added a nice flirty touch to her image.

 
Katherine Heigl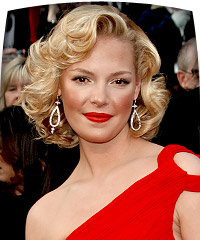 Katherine Heigl looked like she was channelling the best of the 1940s with her sexy hairstyle. The length is trimmed to sit above her shoulders with layers cut through the sides and back to create bounce and body in her mid lengths and ends. Katherine looked flawless on the night, with no one else coming close to looking so intriguing.

 
Heidi Klum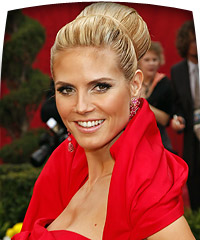 Heidi Klum walked the red-carpet like she owned it, and that's fair enough because she was more captivating than anyone. Her elegant red dress and hair pulled up in a simple-yet sensational-bun guaranteed she turned heads. It's too bad the Academy doesn't give out awards for Best Dressed.

 
Colin Farrell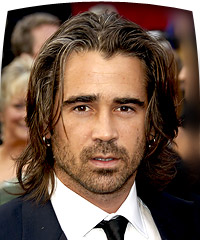 There's a good chance many people thought the same as I when Colin walked the red-carpet: "Does he know he's going to the Oscars?" A trim? A shave? "Forget it" (was probably what he was thinking). He went for a shaggy hairdo, with ends textured all over and uniform cut for balance. This wouldn't have taken Colin any time at all to style, so I guess it's an easy maintenance hairdo to say the least.

 
Cate Blanchett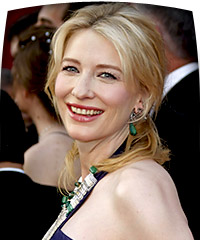 It's not easy to feel glamorous when you're seven months pregnant, but Cate certainly looked glamorous.Even though her hairstyle was casual (with half of it pulled away from her face and the rest left to tickle her shoulders), and even though-on anyone else-we might ask for a bit more effort, we've let her off the hook. She's got more important things to worry about, and at the end of the day, she looked great!