Sharon Stone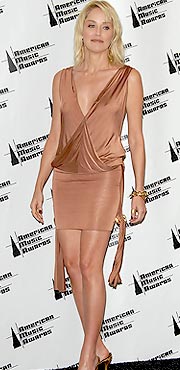 Sharon never fails to impress and this sexy peach dress with a plunging neckline is a great look for her, made even better by her simple straight hairstyle.
Carrie Underwood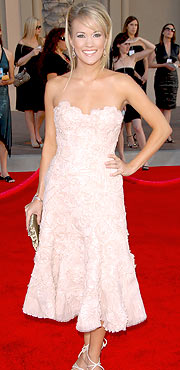 Winner of the "Breakthrough Artist" award, Carrie was also a winner on the red carpet thanks to her beautiful classic cream dress and elegant upstyle. The sweeping bangs and wispy pieces were a great feature and allowed Carrie to show off her beautiful eyes and glitzy drop shaped earrings.
Gwen Stefani and Gavin Rossdale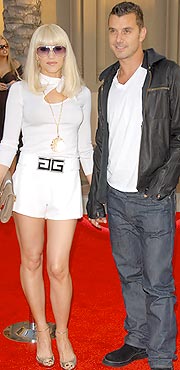 Before rocking the stage, Gwen rocked the red carpet in this white short and shirt outfit with husband Gavin who teamed his own white shirt with jeans and a black leather jacket. Gavin kept his 'do simple with a short cut and Gwen made the most of her blonde locks with this straight, long length style and full bangs.
Ashlee Simpson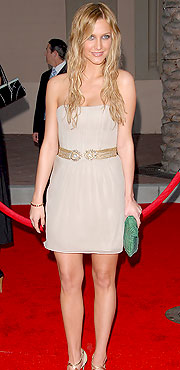 Continuing her image overhaul was Ashlee Simpson in this mini strapless dress with cute waist belt and matching strappy heels. Her hair was styled into a simple look which made the most of her natural waves and gave her look a sexy finish.
Paris Hilton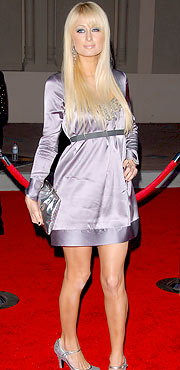 Paris hit the red carpet with lots of confidence, as usual, and added a new feature to her long blonde hair with the addition of eyebrow length solid bangs. Her purple long sleeved dress made her look complete and was matched up perfectly with her glittery silver heels.
Beyonce Knowles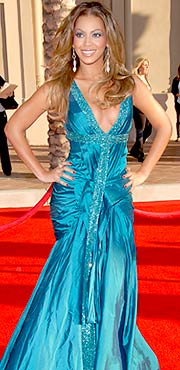 Beyonce lit up the red carpet in this stunning turquoise dress which did nothing but show off her sexy new figure. She completed her look with a simple hairdo, leaving her luscious locks to fall naturally with lots of body throughout.