Christina Aguilera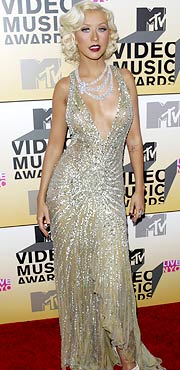 Christina may not have won any awards, but she shone on the red carpet with this very glamorous look. The vintage inspired dress looked stunning on this young diva and she carried the theme of her look into her hairstyle by styling with modernized 1920s finger waves.
Justin Timberlake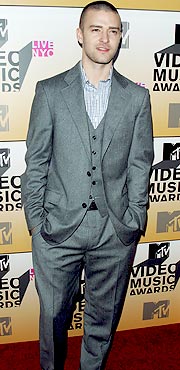 Back in the spotlight, Justin looked great on the red carpet in his dark grey suit and very simple short clippered hairdo. He kicked off the awards with a pumping performance of his new single, "Sexyback."
Paris Hilton and Nicki Hilton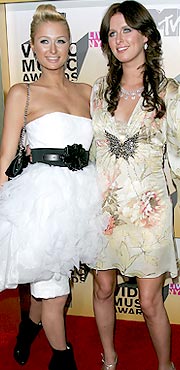 The Hilton sisters soaked up the attention on the red carpet with these sexy styles. Paris tried a unique look with this puffy white dress and a high upstyle, and Nicky was a little more subtle with her soft, long waves and stunning designer dress, complete with sparkling butterfly feature.
Jennifer Lopez and Marc Anthony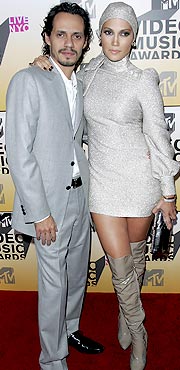 J-Lo and Marc each pulled off a stylish look with these lightly colored outfits. J-Lo looked stunning in her extra short, long sleeved dress, knee high boots and a matching headscarf. Marc was happy to allow his wife to get all the attention by dressing in a simple grey suit and brushing his hair into an easy off-the-face style.
Ciara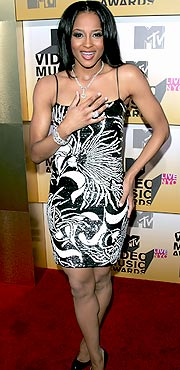 Ciara pulled off a very daring look in this short black and white designer dress. The slim fit, shoestring strapped dress fitted the singer perfectly and she teamed it well with her gorgeous long length hairstyle.
Rihanna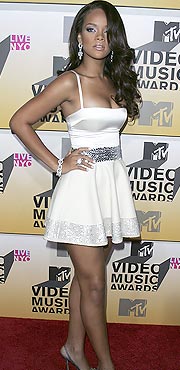 Rihanna made a stylish statement on the red carpet in this stunning white dress and proved that this sexy star definitely knows fashion. Not to be outdone by her dress, Rihanna straightened her hair and added waves into the very ends for a sultry style.