The glitz and glamour of the Academy Awards is an annual event that's not to be missed. Even if you aren't a movie buff, it's worth tuning in just to see the best hair, makeup and fashion in Hollywood paraded down the red carpet for all to see. This year's event didn't disappoint; even if your favourite actor or actress didn't pick up an award, there's no doubt that you picked up some great hair and makeup ideas!
Here are some of the best hairstyles that we saw on the red carpet this year. In your opinion, who was the best tressed in 2015?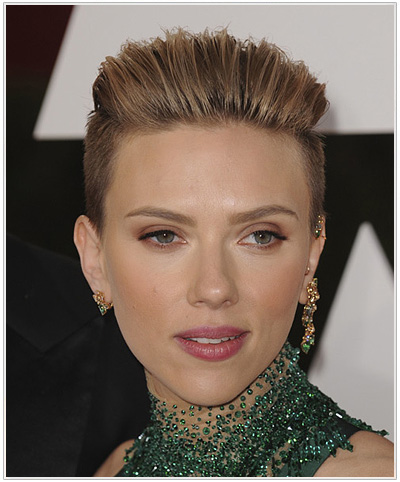 Scarlet Johansson made a surprising appearance here with her shaved 'do. This is quite a change for Scarlet, who is usually seen in longer, more sultry-looking hairstyles. This 'do, on the other hand, is edgy, chic and oozes confidence. This Hollywood beauty can pull it off without a hitch, thanks to her oval face shape, large eyes and overall fabulous bone structure. This low maintenance cut can be styled to the back, as seen here, or swept to the side. Scarlet can also use waves and curls to create different looks in the future too.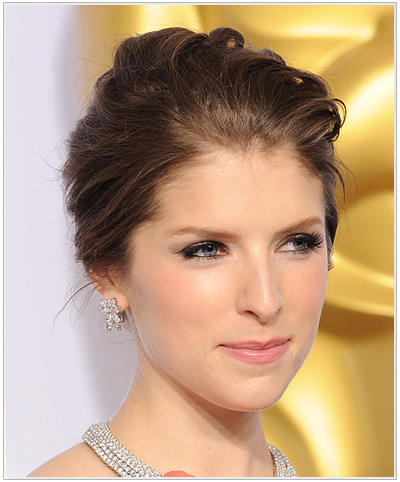 Anna Kendrick always looks flawless on the red carpet and this event was no exception. Anna's hair was pulled back into a soft up-do that had a natural windblown look to it. This effect can be created by adding lots of volume in the roots before styling, then tying the back in loose sections with a bit of twist to let the hair's natural wave and body shine through. This up-do can be created easily at home and will look great on any face shape.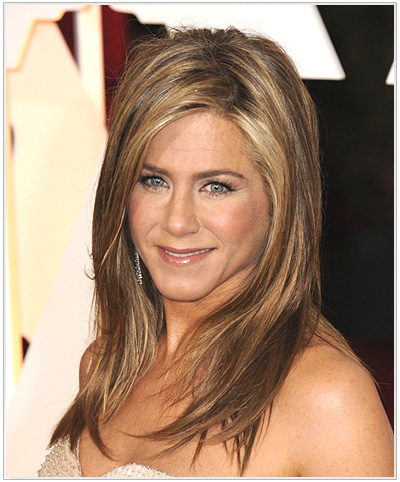 Jennifer Aniston is one of the most sought-after celebs on the red carpet, and she manages to looks great at every event. However, we can't give her full points for creativity. While her voluminous dark blonde hair does look fabulous here, it is a bit casual for the Academy Awards. This easy layered hairstyle was simply blow-dried with a good styling mousse, letting her natural waves do their thing. This is a good 'do for the daytime, but Jennifer would have looked great in a sleek up-do to show off her fabulous strapless gown and decolletage here. It's always good to stick with what works, but for fancy events it doesn't hurt to try something out of the box every now and then!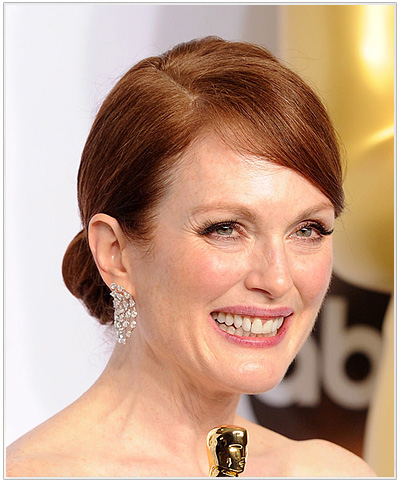 Julianne Moore is a regular on the red carpet and usually sports a sleek, sophisticated 'do. This year, she stuck with her tried-and-true hairstyle formula with fabulous results. Julianne's gorgeous red locks were swept back into a low chignon, with a side part and side-swept fringe featured at the front. This simple hairstyle let Julianne's natural beauty shine through, not to mention it showed off her amazing diamond earrings! This is one hairstyle to try out at your next formal event.
The next time you have a fancy event to go to, give one of these hairstyles a go. It may not be the Academy Awards, but it doesn't mean you can't go for a look that is fit for the red carpet!