Mandy Moore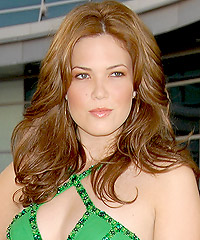 Mandy looked stunning at the world premiere of her movie, "License to Wed". Her hair length was left to fall just below her shoulders and her hair was layered heavily through the ends to add weight into her backwards directed waves. This is a fantastic hairstyle for a formal or casual evening out.
Mary J. Blige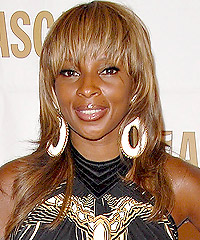 Mary wore her hair in this glammed up style at the 20th Anniversary ASCAP Rhythm & Soul Music Awards. Her hair length fell just below her shoulders and her hair was heavily textured to give her ends a feathery effect and to reduce weight. Feathery bangs were also added to help carry the textured finish up to the top of her hairstyle.
Ashlee Simpson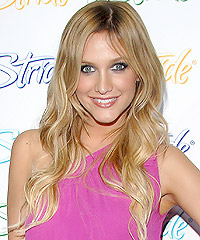 Ashlee's soft and natural looking style was at big hit as she celebrated "The Longest Day of the Year". Her long lengths were layered throughout the ends to reduce weight and to add variations of length through her waves. This is a great hairstyle which needs to be trimmed regularly to keep it looking healthy.
Miley Cyrus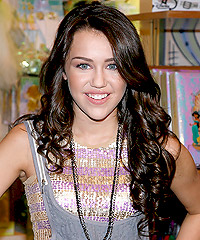 Miley's darker 'do looked fantastic as she celebrated the release of her new solo debut DVD, 'Hannah Montana'. Soft curls were added to the mid-lengths and ends of her long layered hair to add a textured and bouncy finish. The side part of her look makes this a great style for shortening the look of a long face shape.
Jenny McCarthy
Jenny was all smiles at the opening of Ripley's Believe it or Not at the Times Square Odditorium. Her hair was cut into the classic concaved bob, which is a great style for straight hair as it helps to show off the sharp edges and the shape of the style. The side part is great for Jenny as it helps to shorten the look of her longer face shape.
Taraji P. Henson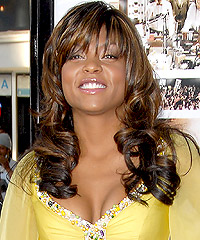 Taraji went for a very soft and sexy look at the Talk To Me Los Angeles Film Festival and looked great! Taraji combined two hair textures to pull off this great looking 'do. The top of her hair was smoothed and her ends were formed into tight curls to add weight and to create a bouncy finish for her style. Her bangs were also styled to fall onto her forehead to shorten the look of her high forehead.