Angelina Jolie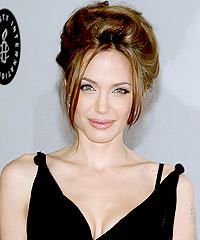 This was a full upstyle for Angelina at the New York premiere of "A Mighty Heart". Her hair was softly pinned to the back of her head into a style which boasts lots of height and volume. To finish, pieces of hair were left to fall to both sides of her face, which is a styling option that will flatter a long and thin face shape.
Alicia Keys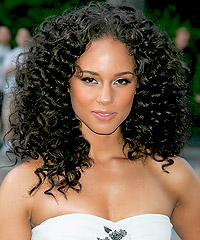 Alicia turned heads at the Fresh Air Fund's Annual Spring Gala with the help of this full 'do. Her hair length was cut below her shoulders and her hair was layered through her ends only to control a small amount of weight through her ends. To finish, her hair was curled with extra tight and piecey curls to create a huge amount of texture and height though the sides.
Sarah Michelle Gellar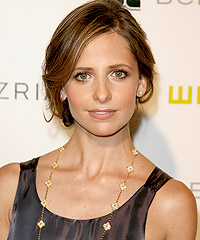 Sarah Michelle wowed the crowd with this soft style at the Whitney Museum's Art Party. Her hair was swept down from a side part and loosely pinned to the lower back section of her head, which will give finer hair a fuller look. For this style, the hair can be pinned anyway that you desire to keep your hair up and back.
Sarah Jessica Parker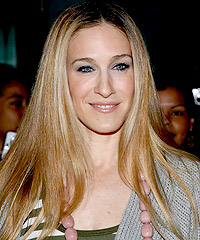 Sarah Jessica made quite an impression at the unveiling of her clothing range, "Bitten" with this stunning 'do. Her long hair was left smooth and slight layers were added through her very ends to create a small amount of movement. Lots of weight has been added through the mid-lengths and ends of this style, making it a great option for diamond face shapes as this will fill out the shape into an oval look.
Brad Pitt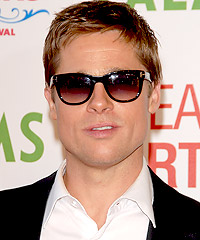 Brad may have hidden behind dark shades at the Cine Vegas Opening Night Screening of "Ocean's Thirteen", but he still pulled off a great hairstyle. His hair was cut into a very basic cut where his sides were tapered to a longer point at the top and his ends were chipped into to create a textured finish. This style is great for guys with thinning hair who are after a look with more volume.
Elisha Cuthbert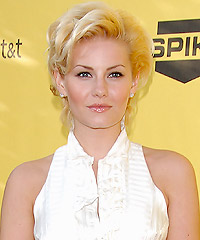 Elisha stepped out with this classic look at the First Annual Spike TV's Guys Choice Awards and looked really good. Her hair was pinned up at the back and large waves were added to create lots of body throughout her whole look. So much height makes this a great style for a rounder face shape as it will give the face a longer look.