Cynthia Nixon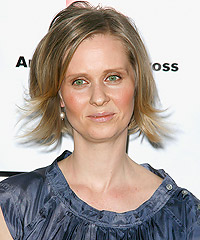 This is a great hairstyle for Cynthia from the Conde Nast Traveler's Hot List Party. Her hair was cut into an above the shoulders bob and was layered with a razor to create lots of texture. The razored ends of this hairstyle makes it easy to add shape to the hair and to create this great flicked out finish.
Tom Cruise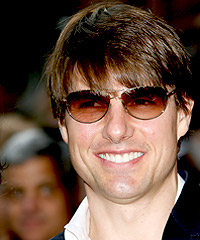 Tom's hair looked great at his fund-raising gala for his "Detox" project for 9/11 workers styled into this casual look which was cut to suit his hair type. His hair has been designed to sit over his ears and to fall down on his forehead, and his ends have been chipped to create texture and add weight into the hairstyle. This is a great style for those with fine hair.
Liz Hurley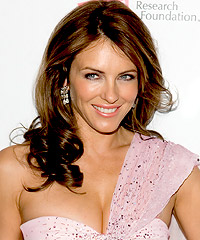 Liz made the right choice with her hairstyle at the Annual Breast Cancer Research Foundation's Hot Pink Party Goes Cool. Her hair length was left to fall just below her shoulders and layers were added through her ends to enhance her soft and bouncy waves. Waves, such as the ones seen here, are perfect for adding volume to the hair.
Christie Brinkley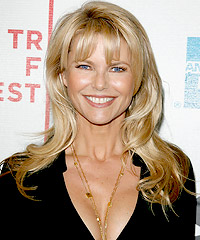 Christie proved at the Opening Night Premiere of the Tribeca Film Festival that she knows the right styling steps to use to gain as much body out of her hair as possible. Her hair length was left below her shoulders and layers were cut through her very ends to add movement through her ends and to create body. Layers were also added around her face to reduce weight and to add lift to the top section of hair around her hairline. This hairstyle is a great option for fine hair.
Ali Larter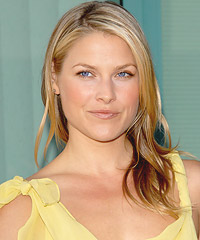 Ali looked relaxed at The Academy of Television Arts & Sciences presents "An Evening with Heroes" with the help of this simple style. Her hair length was left just a touch past her shoulders and layers were added before her hair was styled into this relaxed, easy-going look. Ali's hair is very fine, so the layers help to add as much movement as possible without reducing the weight of her hair. Regular trims are a must for this hairstyle.
Liv Tyler
Liv used this great hairstyle to make the most of her thick hair at the Free Arts NYC Art and Photography Auction Benefit. Her hair was swept to one side to show off her length and to keep her locks under control. To finish, waves were added evenly through her mid-lengths and ends to create a soft shape for this beautiful 'do.