Kelly Clarkson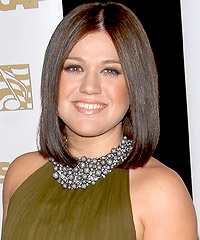 Kelly stepped out with this glamorous look at the 24th Annual ASCAP Pop Music Awards and made quite an impression. Her shoulder length bob was cut with straight, blunt edges to create a smooth and neat finish and her hair was parted in the middle. Kelly's sides were designed to fall slightly over her forehead, making this style perfect for anyone with a bigger face as this type of styling will cut down the size of a larger face shape. No layers have been cut into the ends of this style to promote a thicker finish.
Avril Lavigne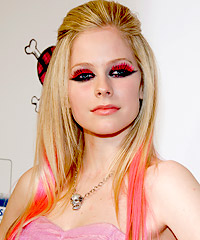 Avril made an impact at her CD release party with this long, straight hairstyle. Her great look featured pink pieces behind her ears to spice up her flat blonde hair colour and her top section of hair was lifted and pulled up to the back, adding body through the top of her hairstyle. This is a great hairstyle for anyone with a rounder face shape as the length and height will create a longer look.
Eva Longoria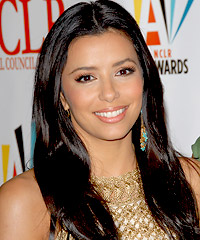 Eva opted for a very natural style at The 2007 ALMA Award Nominees Announcement and looked stunning. Her hair length was left to fall past her shoulder blades and slightly sliced layers were added through her ends to add texture into her long style. Her hair was parted in the middle to keep the hair off her face and to create a simple and easy to maintain finish.
Naomi Campbell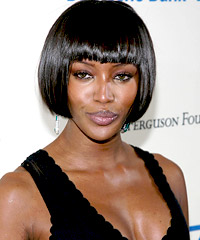 Naomi strolled the red carpet at the Cipriani & Deutsche Bank concert benefiting U.S. Funds for UNICEF with this very chic and sexy 'do. Her hair was cut into a chin level bob and blunt ends were added for a defined finish. Thick straight bangs, such as these, will create a square look and are perfect for hiding a higher forehead.
Ashlee Simpson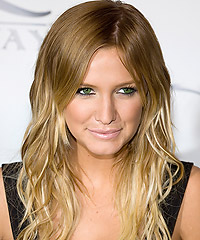 Ashlee's sexy long locks looked great at the opening of the "Runway" nightclub. Her hair was parted to the side and bangs were added and designed to fall on both sides of her forehead. This option of styling minimizes the size of the face and makes this hairstyle great for longer and bigger face shapes. Waves were also added from ear level down to the ends of her hair to create texture and fullness.
Virginia Madsen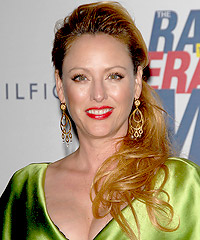 For her look at the 14th Annual Race to Erase MS Themed "Dance to Erase MS" event, Virginia's hair was swept into a simple style to keep the hair from falling onto her face. Her hair was also designed to fall to one side and over her shoulder, which is a great way to show off length. Waves were added to the ends of her hair to create lots of fullness. This hairstyle is not suitable for those with a longer face shape as the body throughout the top section will create an even longer look.