Christina Ricci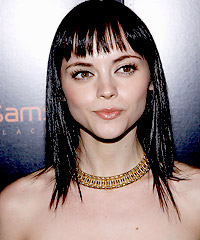 Christina went for a sharp and chic look for the launch of Samsonite's Fashionaire Collection and looked great! Razored layers were cut throughout the very ends of her slightly below shoulder length hair to create a sharp-look finish which has also been carried on into her bangs which have been feathered above her eyebrows.
Jonathan Rhys Meyers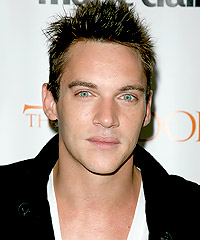 Jonathan pulled off a great look at the Premiere of Showtime's "The Tudors" with the help of this funky style. His hair was tapered from his back hairline to his crown area and his top section was cut at a longer length and chipped into to add texture to the style.
Rosario Dawson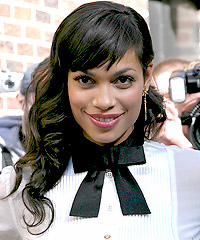 This is a great style for Rosario from her appearance at The Late Show with David Letterman which highlights her features perfectly. Full layers were cut around her top and side sections to give her waves a great shape and heavy short razored bangs were cut to give her style the perfect finish.
Charlize Theron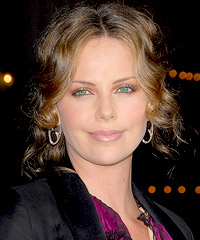 Charlize sizzled with this funky style as she arrived at "The Reaping" Premiere. Her hair was pinned back into a low upstyle and soft wavy tresses were left down around her face. This style will work best on medium to fine hair types.
Halle Berry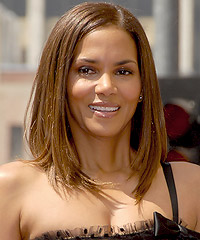 Halle pulled off an amazingly simple look as she was honored With A Star On The Hollywood Walk Of Fame. Her creative style was cut slightly concave, leaving her front section slightly longer to create length around her face. Little to no layering is necessary for this style as the weight on the ends will create a flatter look. This hairdo will work best on naturally straight hair types.
Beyonce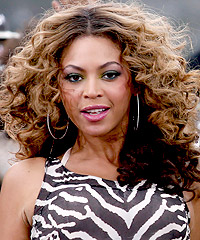 This stunning diva looked amazing with the help of this full, two-toned look as she performed on The Today Show. To create this style, short angled layers were cut around her top and side sections to add height and shape. This hairdo will work perfectly on medium to thick hair types and naturally curly hair.