American model Christine Teigen, first shot to fame as a Sports Illustrated model, and is now also known as Mrs. John Legend in addition to all of her other titles including actress, cook and writer. Christine is famous for her exotic looks, thanks to her Norwegian father and Thai mother, and when it comes to her hair, she is always working it to show off her best features. Let's take a look at Christine's hairstyles throughout the years and see what works for her, and what doesn't.
Chrissy has an oval shape to her face, however she is also has a very full face, which gives her a predominantly round shape. She is the perfect example of why having a round or full face doesn't equal being chubby or fat, it's just genetics. Chrissy said to The Daily Mail, "To be honest, I couldn't be an hourglass if I tried,' she said. 'It's all Asian face!", referring to the fact that when she gains weight it tends to show in her face. So for all the ladies out there that have the same problem, this celebrity spotlight will show you some tips and tricks to help you work your round or fuller face shape.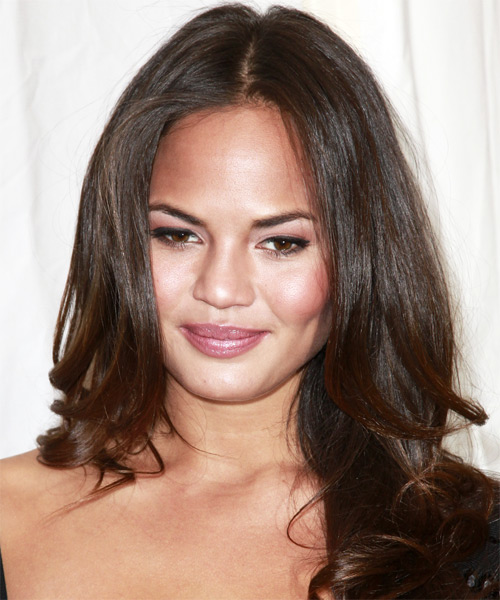 In this look from a few years ago, Christine is rocking long curled layers and a center part. This is a simple hairstyle that works well with her facial features, but doesn't provide many benefits for a round/full face. Side parts are usually better in this case and can have a powerful slimming and sculpting effect. In any case, Christine looks gorgeous in dark chocolate brown curls that fall past the shoulder.
Style Tip: Round/full faces should aim for longer, layered styles to balance out their proportions.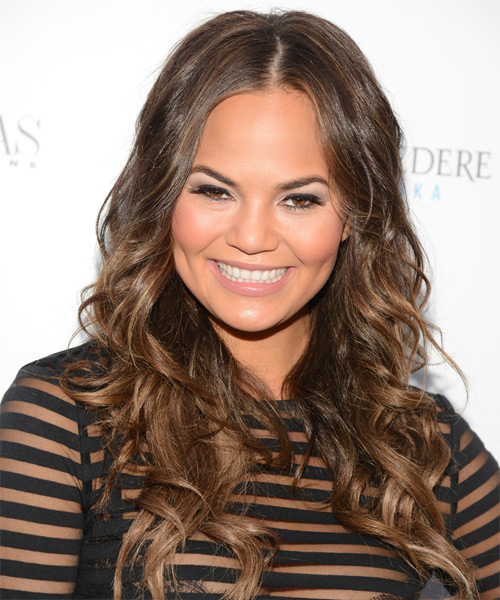 Here, Chrissy is rocking a similar look but this time it's longer and lighter. Again, she is wearing a center part, which highlights her high, broad forehead, but a deep side part would really work wonders here. Other than that, her long spiral curls look fantastic and the length is great for her face shape. Chrissy has chosen a beautiful colour here as well. The light honey brown shade looks flawless with her skin tone and really brings out the warmth in her complexion.
Style Tip: If you have a similar skin tone to Chrissy's, stick to colours that have a golden base to them for best results.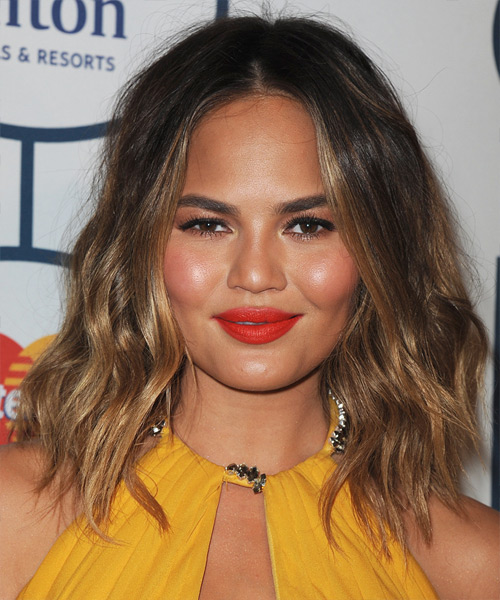 This is a shorter look for Christine that really highlights her fabulous cheekbones, lips and eyes. This chic wavy bob gives her a cool look with a bit more style than her previous long, layered 'dos. She has also changed her colour up to an ombre effect, moving from dark brown at the roots to dark golden blonde at the tips. The loose waves in this hairstyle really suit Christine's face shape while giving her an extra dose of good style. Her proportions are also more balanced here, as the shorter length minimizes the appearance of her forehead compared to her previous longer styles.
Style Tip: Use jagged, random waves in your hair to minimize the appearance of a full face.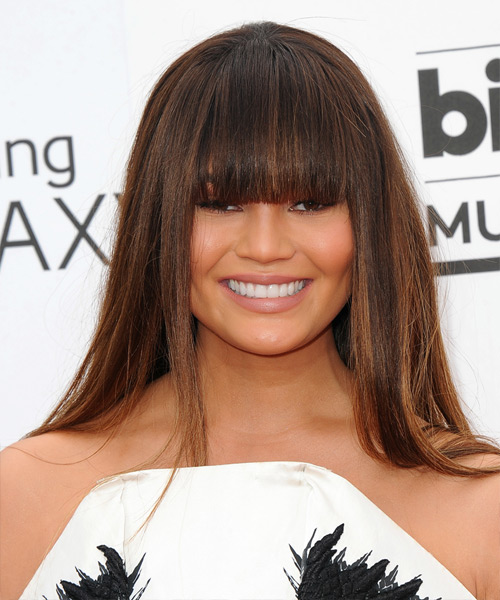 Here, Christine is demonstrating a hair "don't" for women with round or full faces. While the bangs do work to camouflage her high forehead, the bluntness of them creates a boxy look that adds width to her face. A jagged arced fringe would have done wonders to hide her forehead and flatter the rest of her face here.

Style Tip: Square, round and full faces should avoid a heavy, eye-skimming fringe. Go for a rounded shape instead.
Finally, in her latest look, Chrissy has gone for a side part, which looks much better with her face shape. Plus, the colour is gorgeous here with a soft brown base and dark blonde highlights. Overall, this is a summery, bronzed look that suits Christine perfectly. Her long and luminous waves add the finishing touch!
As you can see, even models have issues to deal with when it comes to making the most of their face shapes. If you have a round or full face, take a note from these style tips and find the perfect look for you!