Christina Aguilera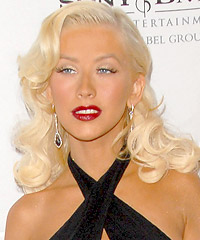 Roy's Opinion
This is a very sexy and sensual look for Christina. She really has grown up with her image in the last 12 months. The curls are soft, while the side part with her hair pulled and pinned back shows off her high cheek bone structure. The color is soft and actually looks almost natural. I like it!
9/10
Sarah's Opinion
I think this look is really great on Christina. The soft curls create a softer look, especially around her face, and the height through the top as well as the ends makes her hair more even all over. This is a great change for Christina; let's hope she keeps it this way
10/10
Paola's Opinion
Christina loves these vintage fashion hairstyles. Her sassy blonde tresses suit her complexion perfectly, and unlike her other color choices, this one is worth keeping! Soft waves have been left down and around her neck with soft bangs around her face; this will soften her face shape and features flawlessly.
10/10
Jessica Simpson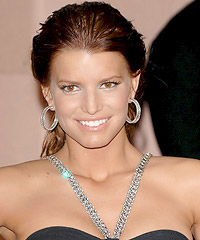 Roy's Opinion
I believe that Jessica Simpson will be remembered as the celebrity with the most hairstyle changes in history. I am usually a big fan of her hairstyle extravaganzas, but unfortunately not this one. For starters, having it just pulled back and across is too boring and the darker color dulls the look completely. Perhaps Jessica wanted to draw emphasize to her accessories or other attributes and not her hair?
1/10
Sarah's Opinion
I think that this new look Jess has gone for looks absolutely fantastic and that pulling off different styles is definitely her thing. The style pulls her hair back off her face and leaves lots of height through her top and sides. This shows off Jess's beautiful facial features well.
10/10
Paola's Opinion
Jessica's new look isn't my favorite compared to all her other styles. I like the color but I am not too sure on the style as it is a little boring and there is not much to it. I am sure, however, that we will see better styles in the near future for her new brown tresses.
3/10
Penelope Cruz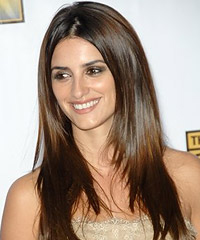 Roy's Opinion
This is probably the healthiest Penelope's hair has looked in ages. The mocha brown color really compliments her olive complexion and adds intensity to her eyes. The shape of the haircut is good and the soft face framing layers balance Penelope's heart face shape and places hair below her chin, where she needs it most. My only criticism is that there is just way too much hair! She needs about 8 inches cut off. All this hair is suffocating her tiny face and petite body frame.
8/10
Sarah's Opinion
Penelope's hair looks great smooth and shiny, but I feel as though her hair is too flat on the top and around her face. This style needs height on top or a zig zag part to add more height to her heart face shape.
8/10
Paola's Opinion
I love this style on Penelope. It's simple yet stylish and the layers around her front sections give her just the right amount of shape around her face. I do like the color as well, it is glossy and healthy looking and matches Penelope's complexion perfectly.
8/10
Scarlett Johansson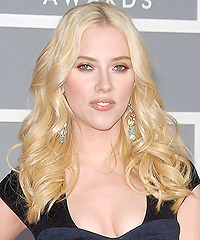 Roy's Opinion
I am a big fan of Scarlett and have been watching and monitoring her "Predominately Diva" looking hairstyles for the last few years now. She seems to have changed direction here with this simple long wavy hairstyle. I really believe that she needs some hair pulled back off her face (even on just one side) to dress up the look. Next, the golden blonde color is all wrong for her light complexion resulting in her skin color appearing pinker than normal. It needs to be a cooler blonde. Go back to sophisticated, elegant looks, please.
1/10
Sarah's Opinion
I think that this style is a little to full through the ends of Scarlett's hair and is too flattened down on the top. I feel like her hair needs to be parted on the side to break up her longer face.
7/10
Paola's Opinion
The often stylish, Scarlett always impresses me with her great hairstyles. From up to down and blonde to brown, they all look great! Here we see Scarlett going for a subtle look with long, wavy, golden blonde tresses which feature long layers through the mid-lengths to give her height and shape. I do think, however, that this style needed a little more height on top.
9/10