Teri Hatcher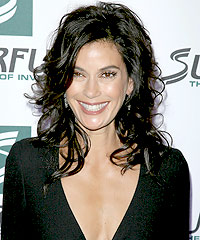 Roy's Opinion
I think that curls are softer looking on Teri than straight hair. This style is a perfect one for her and adds body and bounce throughout, literally bringing her face to life. The dark color is stunning and really makes the entire look shine and stand out on Teri's blemish free complexion.
8/10
Sarah's Opinion
I think this is a great hairstyle that Teri has gone for. She has taken great care of her hair and it's obvious from the shine in her locks. The style is a mix of predictable curls throughout the ends and flicked out layers. This is a great change for this Desperate Housewife.
7/10
Paola's Opinion
Teri generally keeps her style smooth and simple but this look is a cut above the rest. The long swept bangs give her face shape and lift while the side part adds height to all the right areas. By keeping her tresses dark, Teri has ensured that her look is very seductive, and the strong layers cut around her back and sides do a great job of creating her luscious curls.
9/10
Lucy Lui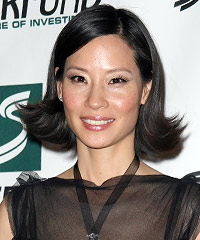 Roy's Opinion
It's nice to see that Lucy has tried something new here with this chin length graduation cut. The shape of the hairstyle suits her diamond face shape and adds width through the sides and back, placing hair where she needs it most. I am not crazy on the color, in my opinion it needs something extra to personalize the look like a fine weft in the front top hairline in a bright red tone.
6/10
Sarah's Opinion
Lucy has chopped her locks off and opted for this chic, flicked out bob. It's a great change from her usual soft flowing length. She has stayed her same natural color which looks great with her skin tone. I much prefer her longer lengths but think that the textured flick is also a good look for her.
5/10
Paola's Opinion
This not a real favorite of mine, I adore Lucy with her exquisite long tresses and here she has chosen a short,"Brady Bunch" type style. I think that it's a little too flat on top and too full with the layered cut on the ends, but hey, this is Lucy Lui and anything usually looks great on her.
4/10
Jenna Elfman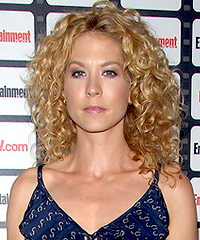 Roy's Opinion
Jenna's hair always looks great and this is no exception. Her natural curls combined with a terrific cut just fall into a beautiful shape. I also like the fact that her stylist has not gone overboard with using styling products. The color appears more honey and a little darker than what we have seen Jenna wear lately, but it's a perfect combination of cut, color and Mother Nature.
9/10
Sarah's Opinion
I love this look on Jenna! This is a very natural looking style which gives her plenty of body and volume, not only through the ends, but also through the top of her hairstyle. The soft golden tones blend in well with Jenna's soft bronzed skin.
8/10
Paola's Opinion
I really love this style on Jenna and she really shines with these elegant swooping curls which have been layered up just enough to give her plenty of volume throughout. I also love the gorgeous golden tone of this hairstyle because it suits Jenna's complexion perfectly.
8/10
Owen Wilson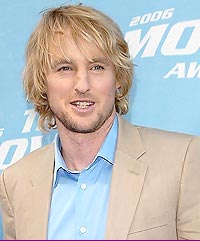 Roy's Opinion
I think that this casual hairstyle has become the Owen Wilson signature look. Although it draws attention right to the middle of his face and nose, it really suits him. The sides are also longer than normal which has a rounding off effect that is softening to his face .The color is good and the heavier than normal blonde tips create extra texture.
8/10
Sarah's Opinion
I think this style really suits Owen and especially like that it has been kept soft, not only with the style, but also with the color The heavy layers also look great and help to tame and position his natural waves.
8/10
Paola's Opinion
This blond shag is a great style for Owen and is perfect for a formal event or for hanging out at the beach. His long shaggy bangs are fashionable and look great because they suit his face shape perfectly.
8/10