When you've got the right hair color, it's easy to pull off a great look. One way to really ensure that your look is on point is to also complement your hair color with the right makeup. For some great makeup ideas that will bring out the best in a dark or light red hair colors, give these ideas a try!

Light Red Hair Color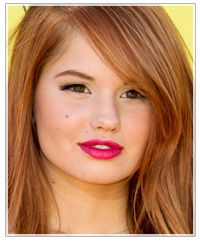 When you've got a light hair color, you can play it up with some more dramatic makeup looks. The key though, is to ensure that you don't overdo it. A look similar to the one seen here on light redhead Debby Ryan is ideal. Her foundation is applied flawlessly, there's minimal color on her eyes and cheeks and she's highlighted her best features - her eyes and lips - with a punch of color. The black eyeliner winged out across her top lash line, the lashings of black mascara and the fantastic bold pink lipstick brings attention but doesn't overdo it. The color choices also work with her red hair color and don't clash against it. A red lipstick would have been a go-to color for bringing out the lips, but she played it smart by choosing pink instead so her lipstick wasn't competing with her hair color.
Dark Red Hair Color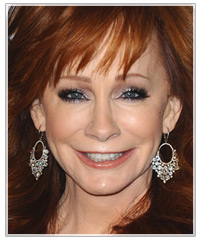 For makeup to suit your dark hair color, keep to light, natural tones and you'll be onto a winning look. Reba McEntire knows the key to playing up her dark hair color is applying perfectly blended foundation as a great base. A natural peach blush on the cheeks will bring some color to your face and isn't red enough to clash with your hair color. Keep your lips just as neutral with a light pink color and plenty of gloss. For the eyes, make them your feature and line them with dark eyeliner, black mascara, remembering to curl your lashes to make them stand out, and then apply a shimmer shade subtly on the inner corners and around the lash lines of each eye. This will add a youthful touch to your eye area.
To see how you'd look with any of the hairstyles pictured in this article, click on the above images to try the virtual hairstyles with your own photo!