I like Megan Fox, but it seems a lot of other people don't. Reports are coming from websites like The Sydney Morning Herald claiming that "the real Megan Fox" isn't that intelligent and is pretty nasty and unpleasant on set. Others have been criticizing her for what seems to be her constant off-screen attention-grabbing tactics.
Obviously I can't make my own assessment because I'm not in the film business, but this is what The Sydney Morning Herald reports. They say certain crew members from Transformers have been saying some nasty things in response to some stuff Megan said about Michael Bay being a bit of a tyrant on set. They say she's grumpy at work, dumb, a terrible actor and "a thankless, classless, graceless [...] unfriendly bitch." Ouch!
And when talking to the press, crew members say she's such a poser she may as well pursue a career as a porn star...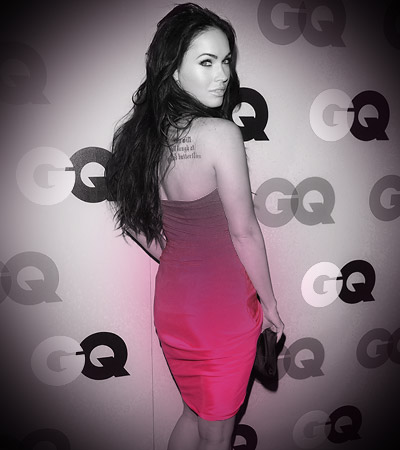 Megan does seem to spend a lot of time hanging out with the press trying to generate controversy. Recently she talked-up her temper and claimed that she often "threatens to kill her boyfriend," ex-Beverly Hills 90210 celebrity Brian Austin Green. In a related remark she said that she could never own a gun because her temper's so bad she may shoot him in the leg. (Aren't alarm bells ringing for Brian?). And in "news" a couple of weeks ago Megan was attempting to generate yet more media interest by claiming she feels most comfortable kissing women.
If you believe what you read Megan Fox seems like quite a package. I must admit I'm getting a bit over her continued BIG claims about her sexuality or temper or whatever... and her attention-grabbing antics are starting to remind me a little of Lady GaGa. What do you think?
Megan's definitely got good hair though (check out the blog "Megan Fox vs Angelina Jolie")...