If you have been following our fall trend series, you'll know that this season, there are so many hot hairstyles to choose from. Some require more work and commitment than others, but this particular trend is easy to do and doesn't require spending money at the salon (bonus!) It's nothing new, but it will be one of the essential ways to wear you hair this fall—that's right, it's the good old ponytail!
Now you may be thinking—how can something as common as a ponytail go in and out of fashion? While the ponytail is always a staple hairstyle for those with medium to long hair, there are ways to jazz them up a bit to look more fashionable. This season, it's all about chic ponytails though, not your run-of-the-mill gym look! Here are some ideas to get you going:
Casual
Torrey DeVitto shows us how to do a casual cool ponytail this season while still looking stylish and sexy. Her shoulder length bob has been swept back into a simple low ponytail in the back, while in the front she is working a deep side part that allows her fringe to cascade to the side. A few layers have been left out around her face to create a soft frame and polish this look off perfectly. This hairstyle would be perfect for that weekend coffee date!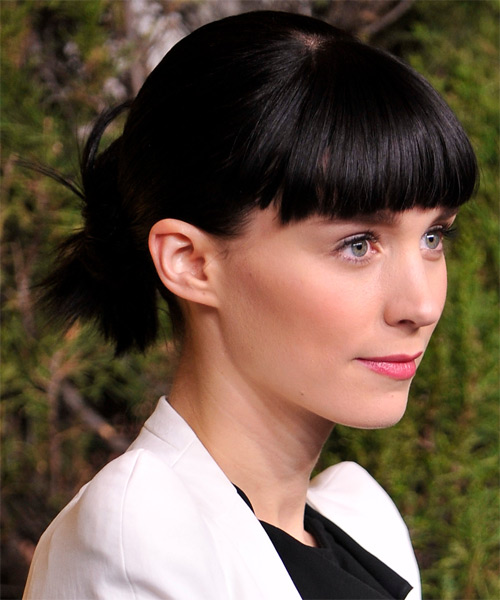 Work
Rooney Mara looks effortlessly cool here in her low ponytail with a heavy fringe. Her raven black locks look edgy when paired up with her blunt cut and no-nonsense ponytail. This is a good hairstyle option for women with short haircuts that can't pull their hair into a high ponytail but still want to wear their hair off their face. Although a grown out fringe or side swept bangs would also look good here, Rooney's blunt fringe creates a striking look that gives an added air of sophistication to this hairstyle. This look would work well for a day at the office.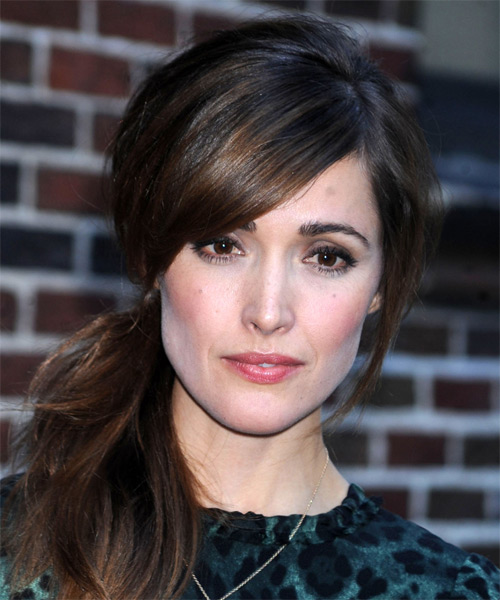 Formal
Rose Byrne has nailed this trend here with a super long, Sixties-style side ponytail. This 'do will work well for ladies with long to medium hair that has some natural volume to it. To create this look at home, first set your hair in rollers and then backcomb the roots for extra volume. Make a deep side part in the front and sweep the bangs to one side. Add extra volume in the crown to create a bouffant effect and then sculpt the hair back while securing a ponytail at the nape of the neck. This ponytail looks great worn to the side or the back and would suit a night on the town or formal occasion.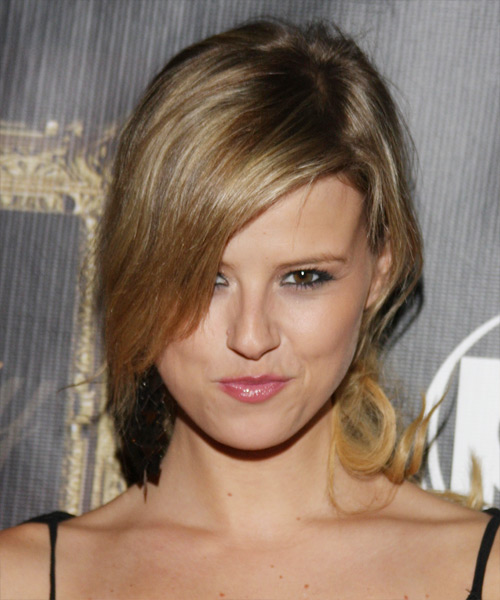 Party Time
Sasha Jackson is rocking the party ponytail here which is another fun way to wear this trend. Her hair has been curled, with backcombing added throughout to create volume and texture. Her long fringe and face-framing layers have been left out while the rest of the hair has been pulled back into a low ponytail and then teased for added drama. This is the must-have ponytail for a wild night out!