Jane Austen novels always seemed to me to be girls' novels, like chick-flicks but in book form. I read a few because I had to, but I never really understood them. It appeared there was nothing in them for me. Until now.
I never really cared but apparently Jane was writing in the Regency period in the UK (1811-1820)- named that way because George IV was instated as Prince Regent. The Regency period had some pretty cool fashion and hairstyles, so much so that some elements of Regency- particularly men's hairstyles- are enjoying a rebirth today as "Neo Regency" fashion. As a result I've been scouring the pages of Austen to stay a step ahead of the Neo Regency hair trend.
Regency Hairstyles: King George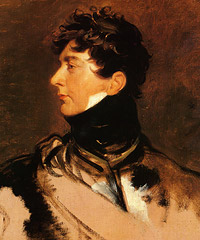 King George IV had cool Regency hair. Check it out: it's typical of the period in so far as it's cropped quite short and has a distict wind-blown look about it... his hair's all combed forward onto the forehead and kind of tousled. I guess the bangs are the central element and they're cut at brow length with plenty of texture.
Neo Regency Hairstyles: Chace Crawford
Chace Crawford's hair is an example of Neo Regency today. It's short on the back and sides with a longer textured fringe, swept forward and piecey, making his hair a bit like an updated Caesar cut too. Some hair product is essential for creating the texture and making the bangs a little wispy, but don't use too much or you'll risk looking greasy.
Chace's Neo Regency look has been a popular men's hairstyle on the catwalks too, and I reckon it's a good look. It's not too conservative but just trendy enough for pretty boys and regular guys alike. And like I said, this Neo Regency stuff is apparently all throughout the pages of Austen; so gents, you may want to dip in to Persuasion or something again too (but I don't blame you if you really can't muster the energy).