Kelly Rowland has become a real hair and beauty icon in her own right. Along with her big bright eyes, high cheekbones and megawatt smile, what's not to envy about this girl's look? And lately, Kelly has been looking extra fine with a new hairstyle and flawless makeup palette. If you are a fan of Kelly's and want to copy her look, here's how you can get it: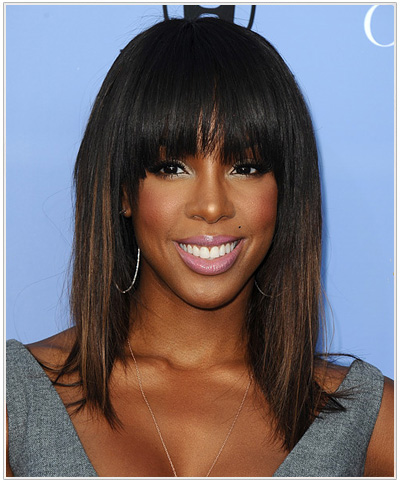 The Hair:
Kelly has the classic oval face shape, where her cheekbone area is the widest part of her face and her forehead and chin area taper in. This is known as the 'best' face shape to have if you are a woman, since you can pull off pretty much any hairstyle and make it look amazing. Kelly is no different in this case, and has gone from short to long, curly to straight and back again, changing her color up here and there along the way. Currently, Kelly's cut frames her face nicely and also brings attention to her toned decolletage area - check out that collarbone! To get this cut at the salon, ask your stylist for a shoulder skimming bob that is slightly longer in the front, with jagged layers cut into the ends. When it comes to the fringe, ask for eye skimming bangs that angle down towards the cheekbones on either side. This will create a blended style rather than the boxy look that often results from bangs that are cut straight across.

Color-wise, Kelly is looking fabulous in shiny black tresses with subtle golden brown highlights throughout the lengths and ends for a natural sun-kissed look. This is a great color combination for ladies with a similar complexion as Kelly's- dark skin with warm undertones. Make sure to keep the highlights thin and well-blended for best results.

When it comes to her makeup, Kelly knows what to wear to compliment her radiant medium-dark complexion and deep brown eyes. In this particular look, Kelly is wearing a beige-gold metallic eye shadow across the top lid and around the lower lash line for a futuristic take on the smoky eye. She further defines her eyes with black liquid eyeliner that has been applied with precision, on both the top and bottom lash lines. To add some drama, smoky eye shadow has been applied to the top lid on the outer corners to create a feline look. On her cheeks, rosy blush highlights her bone structure and sculpts her cheeks, while on her lips, a light rose pink lipstick gives an overall soft and feminine appearance to her makeup. This is the perfect makeup palette to wear with a grey outfit, so if you have a similar complexion to Kelly's, give this look a try on your next night out! Or, to tone it down for the daytime, simply go for a neutral matte eye shadow instead, followed by a soft pencil eyeliner and a light coating of mascara. Skip the blush and lippie if you want a really natural look, or go for a simple tinted pink lip gloss if you want to add a slight pop of color to your lips.