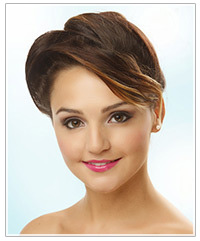 The scenario: you need a killer hairstyle to wear to your prom, or another fancy event. Buns and braids just aren't you…what's a girl to do? Well, you could try out this voluminous rolled 'do, if you dare! This hairstyle has a little bit of everything going on—rolls, twists, sweeping bangs, a bouffant, and more. And while it is definitely interesting to look at, would you wear it? Is this a cute take on a retro Fifties' style hairdo, or is it just plain "ugh"…it's hard to decide. If you are contemplating this style for your next event, ask yourself the following: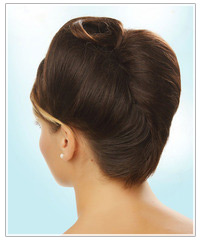 • Do I have a high forehead? If so, this piled-high hairdo is not for you.
• Do I have a rectangular or long face shape? This style is better suited to hearts, ovals and triangular shapes.
• Will this match my outfit? This is a tricky one. Obviously, this is for formal occasions. But without modern, funky accessories and an outfit to match, this hairstyle could end up look more country bumpkin that vintage princess.
• Will I be moving around a lot? If you're heading to a wild party after your big event, beware—this style is prone to flopping in hot, humid environments. Paired with throwing shapes on the dance floor and this style would be gone in 60 seconds. On the other hand, if your evening is a subdued, sophisticated event, this would work out well.
Let us know if you give this 'do a try and tell us how it held up!