In the midst of all of the brunettes and blondes in Hollywood, a new color is becoming the "must have" shade - copper! A lighter version of the typical medium orange-red shade, copper hair can provide a dash of brightness and warmth for those who want to lighten their hair, but not to the extent of going blonde. Copper is a great option for brunettes who want to warm up their complexions and go lighter, but also for blondes who want to add some more depth to their look and darken up their hair without going brown. If you think that copper hair may be for you, check out these helpful tips first:
Copper hair suits those with blue or green eyes best but will also work with brown eyes.
Cool complexions look best in this shade. If you have more pink than yellow in your skin tone, this color is made for you!
Fair skin sets off copper hair the best, but tanned and ruddy (freckled) complexions can pull this shade off as well. Dark skin tones may have a harder time making copper hair work for them.
Change your hair color, change your makeup! Be prepared to invest in light pink and peach palettes to match your new shade.
Choose the right copper tone for you. You want to make sure that the tone you choose not only suits your skin tone, but it also has to suit your personality. If you are an outgoing person then a more in your face tone would suit you better.
How Easy Is It To Dye Your Hair Copper?
You might know that some colors are easier to dye than others. Keep in mind, the further away you go from your natural hair color, the more time you are going to spend coloring your hair to get the right shade of copper.
If your hair is blonde or dark, then it is going to take longer to get the right shade of copper than if your hair is strawberry blonde. Be patient! It might take you a few trips to the salon before you get the right shade, but once you get there, it will be worth it!
It is ok if you are nervous committing to a full head of hair color. You can dip your toes into the water and try a two tone copper color. This means that you only dye half your hair length. This is also a great option for someone who might not be able to commit to touching up their roots every 6 weeks with color.
Consider Your Budget Before Going Copper
Every major hair color change comes at a cost if you go to a professional. Going to a professional is always advised over doing it yourself with a box color.
When it comes to doing a full head of color, you are going to need to color your roots every 6 weeks to ensure that the color stays vibrant.
If you want a low cost color, then you can go for highlights or you can do a two tone. You can also color the ends of your hair and let the color grow out if you want it as a once off color change.
Now, to get some style inspiration, check out these copper-topped celebs who are looking fresh and fabulous: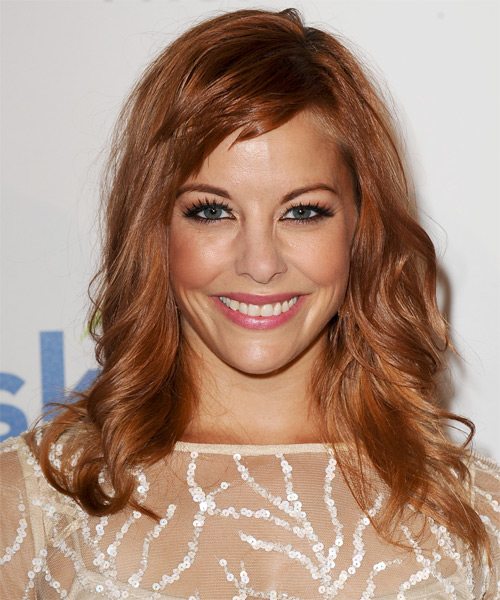 Amy Paffrath is glowing in her medium copper hair color. This shade of copper works well for women with warm, tanned or freckled skin and light eyes. Amy has set her hair color off by using bronze shades on her cheeks and eyes, with a matching neutral pink lippie finishing it all off.
A smokey eye for your nights out will look gorgeous with this look! False lashes will tie the whole look together which is great but keep in mind, your eyes should be done in order for you to wear false lashes so make sure your eye makeup can be seen through the lashes.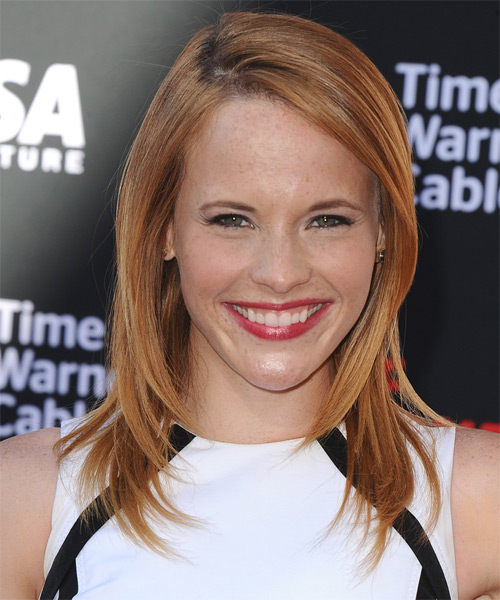 Katie Leclerc is working her freckled complexion by lightening her natural ash brown hair to a warm copper tone. Unlike Amy Praffrath's deep monotone copper shade, Katie has used subtle sun-kissed highlights to break up her color and add dimension to her fine hair. This is a great trick for ladies with a similar hair texture - regardless of what color you are, use highlights and lowlights to create the illusion of thicker hair.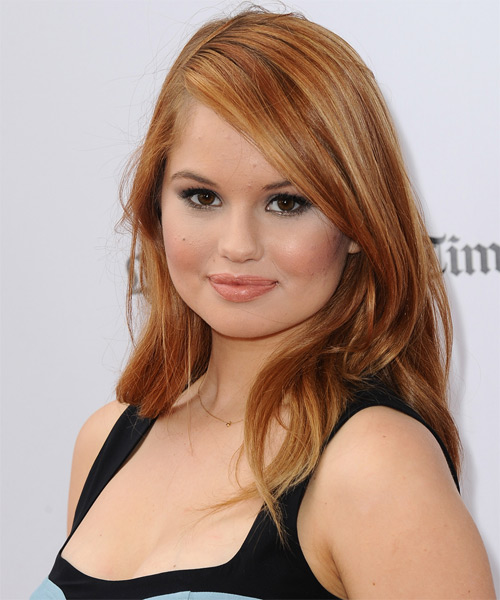 Here, Debby Ryan goes for a light copper shade to match her fair ivory skin tone. This is a great shade for ladies with a light complexion. In this case, it also makes Debby's dark eyes pop! She has perfected this look with stunning makeup, using dark brown shades to create a smoky eye look, and soft peach on the cheeks and lips.
Debby is showing us that copper can be pulled off at a younger age and it really complements her skin tone as well as her personality. She is an outgoing person and her hair reflects that.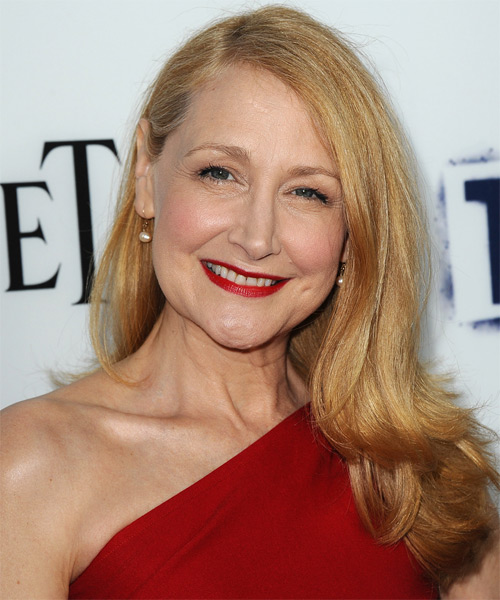 If you are naturaly blonde and want to add a hint of copper for warmth - go for it! Patricia Clarkson looks ravishing in a soft copper blonde shade that instantly gives her skin a warm glow. Blondes can ask their stylist for a copper glaze for just a hint of warm shine, or go for copper lowlights for a permanent change.
Makeup wise, less is better with this hair color but you can do a nice bright lip as you can see, because Patricia has done it. Play around with gorgeous lip colors for this hair color but do not forget to highlight and contour your face and neck area when doing your makeup.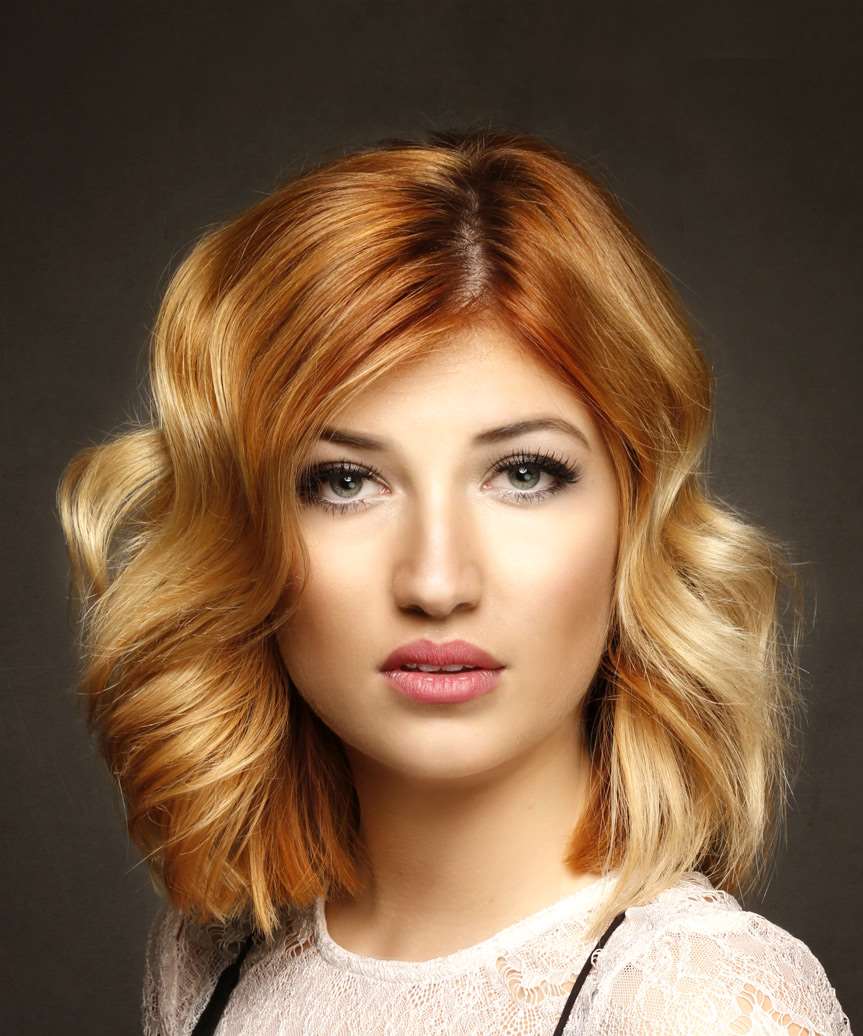 Our model is showing off a gorgeous two tone hairstyle. This is nice to do if your natural hair color has more of a copper tinge to it. As you can see, the lighter tips really compliment the copper color nicely. This is a nice hairstyle for you to do if you want to have shorter hair but are not ready for a short bob.
This hairstyle is ideal for all ages which is great. You can get away with wearing glasses with this look which is something you want to consider but without the glasses will look best.
Her makeup is very subtle which is nice with these tones but she has used a darker bronzer to help highlight her hair color.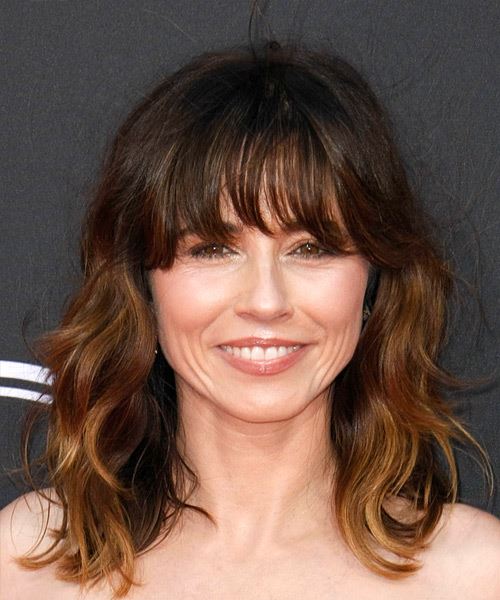 Now, this two tone look that Linda is rocking so effortlessly is a great option for someone who wants to color their hair but is not yet ready to go to a full head of color. It is also a great option for someone on a budget because you cannot see the regrowth. All you need to make sure is that you touch up your color when it starts to fade. The color fades normally within 6 weeks, however, if you are like me, color loves my hair and it never seems to fade!
When it comes to the hairstyle itself, it is a lovely hairstyle for you to have. It shapes your face nicely and is easy to maintain. The only downside to this look is that the bangs are going to get in the way of glasses. If you wear glasses, you are going to have to invest in contact lenses if you want the look to have the same feel as Linda's' does in this picture.
Our model is tying a few hair trends into one look and we love it! Firstly, the copper roots going into the blonde Ombre feel is magnificent. The color is inviting and brightens up her face nicely.
The full looking bob is also stunning! Make sure that when you style this look, you lift your hair up from the roots when drying your hair. This is going to help you give the fuller look to your hair. This hairstyle is all about color and volume!
It is a great way for you to show off your new hairstyle as well as your gorgeous new color! Summer, autumn, winter or spring... these colors are going to turn heads! The colors are warm and inviting and yet exciting at the same time.
Copper hair has the ability to really warm up your skin tone and change your appearance if that's what you crave. Which of these ladies is sporting the best shade of copper for you?
How To Maintain Your Copper Hairstyle
You are going to want to wash your hair less frequent. Wash your hair twice a week. This is going to help you preserve your hair color. The more you wash your hair, the quicker your color will strip and start to look pastel instead of bright and vibrant.
If you have bangs, you want to make sure that you wash your bangs daily as they sit on a surface of your face that produces a lot of oil. If you bangs have color in them, then you can use a dry shampoo on the days where your bangs look oily. Make sure that you use a dry shampoo that is designed for colored hair.
Use professional grade "color save" shampoo and conditioner. This is going to help keep your color looking bright for longer.
I always find that it works best if you do not color your hair right to the roots. This is going to give you a bit of a leeway when it comes to your roots growing out. It gives you some time between your color treatments if you cannot get to them every 6 weeks.
You also want to use sulphate free shampoo and conditioner. This is going to help preserve your color.
You are going to need to touch up your color once every 6 weeks or so to ensure that your color stays vibrant and bright.
Cut your hair once every 4 weeks or so. Your color sticks better to ends that are healthy so keeping up with your trims are very important to ensuring that your end color matches the color towards your roots.
To help ensure that your hair stays healthy, a hair masque is ideal to help keep your hair smooth and shiny. You can do a hair masque once a month and your hair is going to look salon ready every day!
When it comes to trends, copper hair color is a trend that we are loving and hope does not leave us too soon! The color is warm and inviting and yet at the same time, shows that you have a fun and exciting side at the same time.
Keep in mind that some shades of copper can fade a lot quicker than others. You want to make sure that you speak to your hair colorist and ensure that you choose the right shade of copper for your skin tone as well as your personality.
If you want to see what you will look like with copper hair before you go and get the color done, all you need to do is upload a picture of yourself onto our site. Once you have done that, our virtual hairstyer will show you what you will look like with one of the images in this article. How cool is that?
If you do not like any of the color choices or images in this article, do not worry. We have thousands of other images for you to choose from. Our virtual hairstyler will help give you a better idea of what you like and what you do not like. You can take the images with you to your colorist to give them a better idea of what you are looking for as well.
Changing your hair color can be a drastic step. Personally, I love it! It makes me feel fresh and excited. You are going to love going copper! It is a decision you are not going to regret if done properly.