Agyness Deyn has a cool short hairstyle, that's true. I particularly like her spikey quiff hairstyles, and I'm going to pass on some tips that will help you style a quiff yourself. But as I write these tips and I look at pictures of Agyness, I can't help but wonder what's so special about Agyness after all? I mean, she's in mags every time there's a feature on short hair... but is she the only short hair model out there or something?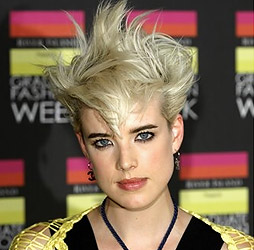 Like I said though, I'm going to pass on some tips about her short hairstyle (maybe looking closer at her hair might help me get to the bottom of what's so amazing about her). This particular hairstyle is super high, textured and messy and it's the kind of hairstyle that will totally get you noticed. Achieving a look like this is relatively simple but your hair products are essential because you really just need to use the fingers to work through the hair with some gel, sculpture lotion or lacquer and mist with a little hairspray to set the style. An easy trick to get more height is to backcomb the mid lengths to roots and smooth upwards with your comb.
But really, there's nothing that special about this hairstyle, is there? It's the kind of short hairstyle Pink's been getting for years, so what makes Agyness so special that her name always comes up when someone talks or thinks about short hair? Has she got some amazing personality or charisma or something and so all the discussion of her "va-va-voom edgy hairstyles" [that's actually a quote from Hair mag] is really more just about people swooning over her? Is it because she's a model with a hairstyle that doesn't look this a typical model's hairstyle, something like:
Doutzen Kroes' hairstyle, my current fave Victoria's Secret model?
Maybe it is; maybe everyone thinks Agyness is breaking the model mold so we're all applauding her hairstyle... but if that's the case then does that possibly mean that Agyness' hair really isn't that hot?
Hmmmmm I really dunno. What do you think of Agyness Deyn's short hairstyle?