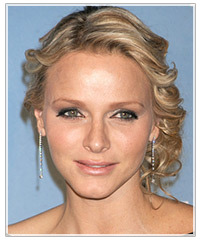 Everything from her hair to her shoes (and now her baby bump) is ogled and praised. But what about the equally, if not more lovely, Princess Charlene of Monaco? This South African beauty is a knockout—tall, blonde, and a former Olympic swimmer who has the grace of a dolphin. She always look fabulously chic, whether she's attending a black tie event, sitting in the front row at Paris Fashion Week or doing charity work.
The biggest difference between Kate and Charlene's looks is that Kate looks very, very styled. Big curly hair and heavy makeup are her trademarks. Charlene, on the other hand, keeps her look natural and timeless. Her makeup is usually soft, light and feminine (no harsh and heavy black eyeliner here!) but from time to time she will glam it up with a bold red lipstick. She is a big fan of updos and, before her famous hair chop, was nearly always seen with her hair rolled up into chic chignons and buns. Now, with her short Diana-esque hairstyle, she looks even more sophisticated, and doesn't have to bother with an intricate updo to get her hair off her face!
What are your thoughts on Princess Charlene of Monaco? Does the princess outshine the duchess?
To see how you'd look with the great hairstyle pictured in this blog, click on the above image to try the virtual hairstyle with your own photo!