Along with her fluctuating weight and ever-changing hair color, Mischa Barton has been trying out many looks-some that worked, some that didn't-and has finally found one that suits her perfectly. Mischa is looking happier and healthier than she been in ages.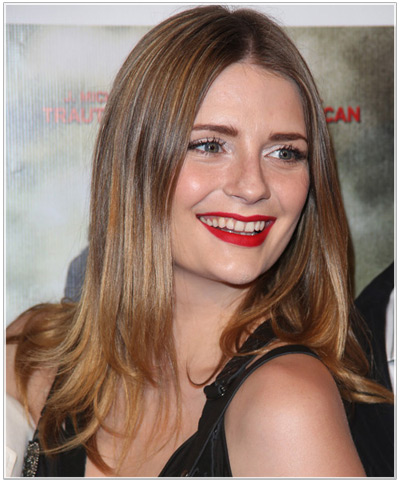 Her glossy hair color is one reason why she is looking so glam as of late. Mischa's golden brown hair with honey blonde highlights is close to her natural color and looks flawless with her ivory skin tone and blue eyes. Her simple layered shoulder length style with a centre hair part keeps her look understated and classy.
Mischa is wearing a light pearl eye shadow that brightens up her eye area, with a bit of black eyeliner to make them more pronounced. She has just a hint of pink sheen on her cheeks and a fabulous matte cherry red lipstick to ensure she has a trendy pop of color in her makeup.
Mischa looks made up, but not covered up-this is the perfect example of how to enhance your natural assets with simple, glam hair and makeup. Give it a try on your next night out!
For even more helpful makeup hints, see our full range of beauty articles and beauty blogs. You can even try some virtual makeup on your own photo or our model using our Virtual Hairstyler!